**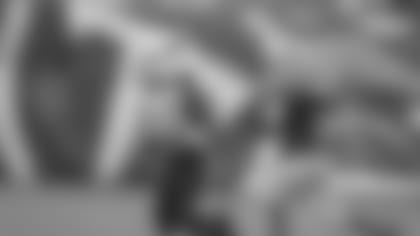 Youth football continues to be a high priority for team owner K.S. "Bud" Adams, Jr. and the Tennessee Titans.
NASHVILLE, Tenn. --** The Tennessee Titans and USA Football have partnered to award $50,000 in football equipment grants to Nashville-area grassroots football programs whose equipment and facilities were damaged by devastating floods this spring.
The Bellevue Steelers, Donelson-Hermitage Warriors, Flatrock Vols, Goodlettsville Trojans, Hendersonville Titans Youth Football Program and the Old Hickory Bulldogs will benefit from the grant award.  The groups have submitted requests for specific equipment packages that will be shipped to them prior to their opening games.
During the first two days of May this year, Middle Tennessee was hit with historic floods due to 14 inches of rain. Rivers, lakes and creeks reached record levels, causing more than $2 billion in damage to homes and businesses.
USA Football, the sport's national governing body on youth and amateur levels, partners with the Titans and all NFL clubs to award equipment grants to youth and high school football programs throughout the United States based on merit and need.  The program will have awarded more than $3 million in equipment since 2006 by the start of this football season. 
Tennessee Titans owner K.S. "Bud" Adams, Jr., his fellow NFL owners and the NFL Players Association are making this grant available through the NFL Youth Football Fund (YFF). Through support from the YFF, managed jointly by the NFL and the NFL Players Association, approximately 800 football programs across the United States will earn an equipment grant from USA Football and NFL teams this year. USA Football is the official youth football development partner of the Titans, the NFL, the NFL Players Association and each of the league's other 31 teams.
The six football programs receiving the grants saw flood waters ruin or wash away uniforms, pads, helmets, blocking and tackling dummies, down markers, fencing and concession stands. The programs are relying mainly on grants, fundraisers and donations to replace equipment and recover in time for the upcoming season.
All equipment grants awarded by USA Football and NFL teams are fulfilled by industry-leading sports equipment provider Riddell.
"We are pleased to offer assistance to these groups who suffered so greatly during the floods," said Adams..  "The youngsters that play our great game of football are very deserving of this help and we wish all of them well during their upcoming youth football season.  Our game enjoys a very rich tradition throughout the Mid-South and of course, it all begins with these young players!"
"We are proud to partner with the Titans to help these leagues' hard-working volunteers overcome the terrible devastation they have encountered," USA Football Executive Director SCOTT HALLENBECK said. "The entire youth sports community, particularly youth football, is inspired by the Nashville area's commitment to rebuild these programs for the thousands of kids who look forward to playing football in Middle Tennessee this fall."
Adams previously donated $200,000 from the Tennessee Titans Foundation to the Community Foundation of Middle Tennessee to assist families who suffered damages from the floods.  The NFL and the NFL Players' Association agreed to match that amount for a $400,000 total flood relief gift to the Community Foundation of Middle Tennessee.
About USA FootballUSA Football, the sport's national governing body on youth and amateur levels, leads the game's development, inspires participation and ensures a positive experience for youth, high school and other amateur players. The independent non-profit hosts more than 80 football training events annually for coaches, players and youth football league commissioners. USA Football is the official youth football development partner of the NFL, its 32 teams and the NFL Players Association and manages U.S. national teams for international competition. Endowed by the NFL and NFLPA in 2002 through the NFL Youth Football Fund, USA Football's chairman is former NFL team executive Carl Peterson.
"The FLATROCK VOL ORGANIZATION would like to wholeheartedly thank Mr. Bud Adams, the Tennessee Titan players and staff and USA Football for once again being the organization that the Nashville community and surrounding areas have come to respect and love. Your generosity in replacing our equipment lost in the flood has brought a joy and comfort to the kids, parents and volunteers in our organization that has been missing since that time. We are grateful and fortunate to have Mr. Adams and the Tennessee Titans in our midst.  Thanks Again and LET'S GO TITANS.
-- Kevin Rimmer-President,  Flatrock Vols
"I want to thank USA Football, Mr. Adams and the NFL players that have made this possible for our league.  It is nice to see older players and owners give back to the game.  Our players at Old Hickory will benefit from your generosity.  I am elated at the response to help leagues that were affected by the devastation of the Nashville flood…Thanks and God Bless for your help."
-- David Gamble --  Athletic Director, Old Hickory Bulldogs
"We cannot express enough gratitude to Mr. Adams, the Titans players and USA Football for this grant.  It was an answer to all our prayers.  The Goodlettsville Trojans Football program lost over $25,000 worth of equipment due to the flood in May.  We were devastated!  This equipment will definitely re-establish our stability and ensure this programs' future."
-- Dwayne Davis, Goodlettsville Trojans
"On behalf of the entire Bellevue Steelers organization, we would like to thank the Tennessee Titans and USA Football for this incredible equipment grant.  This is a game changer to say the least; and in a year where quite a few of our players lost everything to the flood, it helps them to still be able to play the game of football that we all love.  Your contribution allows us to serve the Bellevue community and create another generation of Titans fans, as well as keeping our kids dreams alive of becoming Titan players. Thank you." 
-- Roger Jackson, Vice President, Bellevue Steelers Football
"Thank you for your support. The donations will enable us to provide equipment for children that could not provide their own due to financial and flood related issues. Your generosity is greatly appreciated."
-- Mike Martin – Donelson / Hermitage Warriors