NASHVILLE, Tenn. —** Shonn Greene hasn't minded sharing the load during his four seasons in the NFL and said that will continue next year as he joins "CJ's backfield."
Greene, a powerful runner who just finished his fourth pro season with the New York Jets, and the Titans agreed to a multi-year contract. He arrived at Baptist Sports Park Wednesday and was introduced along with G Andy Levitre, TE Delanie Walker and DT Sammie Lee Hill. The Titans also announced they reached a deal with LB Moise Fokou after the news conference.
Greene backed up Thomas Jones and also shared carries with Leon Washington in 2009. He backed up All Pro LaDainian Tomlinson in 2010 before rising above "LT" on the depth chart in 2011. Greene shared carries with backup Bilal Powell last season and logged his second straight 1,000-yard season.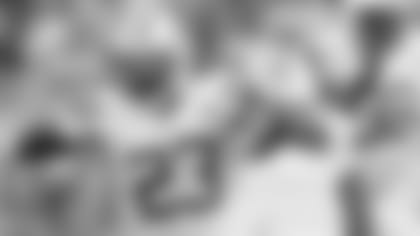 ](http://www.titansonline.com/media-center/photo-gallery/Career-of-RB-Shonn-Greene/e58708e1-c743-4942-a8ce-779c014ae6db#9619c50e-cf46-46da-b0d2-84ec5bf5d2ba)
Shonn Greene signed a multi-year contract with the Titans and looks forward to sharing a backfield with Chris Johnson
. Click here for a slideshow of Greene's NFL career.
Greene said his decision to sign with the Titans was based on the way the team reached out to him and the "very sincere" conversation he had with Titans coach Mike Munchak.
"When you get that, you can't describe it," Greene said. "A lot of teams say this, that and the other, but then you don't hear from them. Tennessee stuck with me, so that was my main thing."
Greene said he anticipates no problems between him and Johnson, who each rushed 276 times in 2012.
"I think we just both got to know our role. Coach (Munchak) has explained that to me," Greene said. "Then you get the hot hand at times, whoever has the hot hand is going to go. I know for me that this is CJ's backfield and I'm just here willing to help this team get wins. I'm pretty fine with that."
Greene said he thinks Chris Johnson is a "phenomenal player."
"He is very explosive. He is very talented.  He can take off whenever," Greene said. "I think just with our different styles, we can keep defenses on their toes. You have to prepare for him with his speed and getting to the outside and then coming with me with the power and the downhill stuff.  I think it just gives defenses a lot to worry about."
Greene is 5-foot-11 and about 225 pounds, approximately 25 to 30 pounds more than Johnson. He's expected to provide a thump on short yardage and provide a "Smash" element to Johnson's "Dash" abilities, similar to the way the Titans used LenDale White and Johnson together.
Greene, a native of Sicklerville, N.J., played collegiately at Iowa where he set the school record with 1,850 yards rushing in 2008 and scored 20 touchdowns as a senior. Greene became Iowa's first consensus All-American running back since Nile Kinnick in 1939 and won the Doak Walker Award that is given annually to the nation's top college running back.
Titans general manager Ruston Webster said he remembered watching Greene play in college, including a bowl game in Tampa. Webster also recalled a more recent example, citing the Monday Night Football game between the Titans and Jets last December.
"We were looking for a big back to complement Chris (Johnson), and Shonn is the back that we targeted," Webster said.
Greene's 3,423 rushing yards rank 25th among active players and his 4.2 yards per carry rank 26th among active players, according to www.pro-football-reference.com. Here's a look at some of Greene's pro stats.
Additionally, Greene was a key member of playoff teams that reached back-to-back AFC Championship games after the 2009 and 2010 seasons.  Appearing in six total games during those two postseasons, he rushed for 502 yards and three touchdowns on 99 attempts.
Munchak said Greene will help the Titans become a more physical football team, but will not be limited to power run situations.
"We feel that Shonn can play all three downs. He's not here for a particular reason," Munchak said. "Obviously, he's good in short-yard, goal-line situations, but we feel he's a back that's good in all three downs. I love the way he runs. It's downhill, it's second-and-six, second-and-four, second-and-five when you look up after a first-down run. That's the game that was missing in our offense, so we felt that was a great addition."