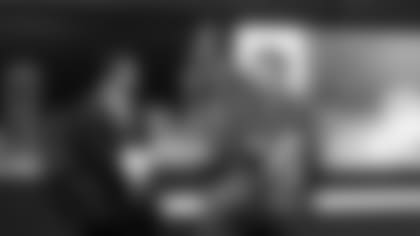 Linebacker Barrett Ruud pictured on Fox 17's Tennessee Mornings to talk about his efforts with the American Heart Association.
NASHVILLE, Tenn. -- Titans linebacker Barrett Ruud is spending his off-season rehabbing a shoulder and giving back to the community.  Ruud is a long-time supporter of the American Heart Association (AHA) and recently made an appearance on Fox 17's Tennessee Mornings to talk about his passion of the heart. 
Ruud's mother, Jaime, died of a massive heart attack on June 30, 2006 at the age of 52.   Her death came as a shock to her friends and family, not just because of her age, but Jaime was a nutritionist and lived a lifestyle that promoted good health.  
One in three women die of heart disease and many women don't even realize that it's a threat.   Ruud says that all of us – men and women – need to be conscious of heart health and do everything we can to speak up, be healthy and reduce heart disease risk.   Since his mother's death, Ruud has been a supporter of the AHA and has tried to make an impact in the fight against heart disease and educate the public.  While he was in Tampa, Ruud hosted a charity golf tournament to benefit the AHA and make a difference in the lives of people that have been—or could be—impacted by heart disease. 
Cardiovascular diseases and stroke are the number one cause of death in Tennessee.  To learn about the lifesaving work of the American Heart Association in Tennessee, visit www.heart.org.
The following are few of the upcoming American Heart Association events that help raise funds and awareness:
Feb. 25 – Go Red For Women / IADT "Imagine Red" Fashion Show  – tickets at 615.232.7384
April 2 – National Start Walking Day
April 27 – Go Red For Women Luncheon, featuring Leann Tuohey, inspiration for The Blind Side – tickets and information at erin.link@heart.org  or 615-340-4139