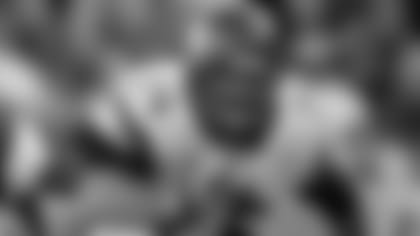 Steve Hutchinson, a five-time first-team All-Pro, would bolster the team's offensive line.
NASHVILLE, Tenn. -Titans coach Mike Munchak is meeting with a potential free agent who's a hot target for Tennessee - guard Steve Hutchinson, not quarterback Peyton Manning.
Munchak left the Titans' headquarters just before noon Tuesday and headed to the Nashville airport to pick up Hutchinson. Munchak returned with the veteran guard within the hour and drove past reporters without speaking.
Hutchinson, who played with Minnesota last year, is a five-time first-team All-Pro and a player who could boost the offense line for the Titans. Tennessee ranked 31st in rushing last year averaging 89.9 yards per game. Chris Johnson had a career-low 1,047 yards.
Munchak will meet with Manning soon in a visit scheduled after owner Bud Adams made it known he wants to sign the four-time NFL MVP. An airplane with a Titans' emblem flew into Nashville on Tuesday afternoon and was refueling with the door open, but Munchak remained at the Titans' offices Tuesday afternoon after a brief trip out.
As reporters staked out across the street from the Titans' facility, people driving by slowed down and asked for updates on Manning. One jogger asked, "They signing Peyton?'' as he ran past.
That's what everyone wants to know, and nobody with the Titans is talking.
Manning certainly has plenty of connections to Tennessee, the state where he starred at the University of Tennessee, and where his name remains a popular choice for children. His wife is from Memphis, and Manning already knows the Titans' facility a bit, having practiced against Tennessee a few years ago when the Colts came to town for some joint practices.
Munchak also was a teammate of Archie Manning in 1982 and briefly in 1983 with the then-Houston Oilers. Munchak just hired Dennis Polian - son of former Colts general manager Bill Polian - as his assistant.
The biggest key is Adams, the 89-year-old billionaire who wants back in the playoffs. His Titans have been only twice since 2004 with both trips in 2007 and 2008 lasting only one game each. When he wants a quarterback, he gets him whether it was having his Titans draft Vince Young in 2006 or signing Warren Moon away from the CFL.
"I want Manning,'' Adams told The Tennessean. "I'd love to see him in Titan blue after watching him so many years with the Colts. ... I want him. I am ready to do what it takes to get him aboard, and I think he'd be the guy to get us into the playoffs.''
The Titans already have veteran Matt Hasselbeck, signed to a three-year contract last July, and Jake Locker picked with the No. 8 overall selection in the 2011 draft. But Hasselbeck is due $5.5 million in salary this year after getting a chunk of his deal last season.
Tennessee did make a couple moves Tuesday, signing linebacker Patrick Bailey to a multi-year contract before free agency opened to boost special teams. Guard Fernando Velasco and defensive end Malcolm Sheppard signed deals as exclusive rights free agents.
Manning has met with the Denver Broncos and Arizona Cardinals. ESPN.com reported Manning met with Miami coach Joe Philbin for a few hours Monday night in Indianapolis.