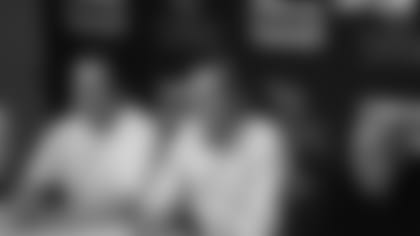 Beddingfield, Reinfeldt and Brocato*
I want to thank you all for being here today and taking the time to visit with us. As you know, we've been in draft meetings for the last couple weeks. I'm up here today with members of our scouting staff. We've completed our main scouting meetings, and now we're having the medical meetings, the security meetings and meetings with the coaches, stacking the board and re-stacking the board. The process is ongoing, and it's a little bit different this year with the different schedule, so I think we've adjusted pretty well. What we'd like to do is to kind of throw it open for questions. If you all have any questions, direct them to Mike Ackerley, eastern supervisor who double-checks on the east; C.O. (Brocato), kind of our national supervisor; Blake (Beddingfield) does more of the local guys, plus coordinates the scouting efforts; and Phil (Neri) on the end is more the western region, anything west of the Mississippi he crosschecks. So if you have a specific question about a certain player and you can kind of direct it to the appropriate person, it would be great.
(on how the draft's new three-day, primetime format changes how they operate)
It's going to be interesting. I think it's made the last couple of weeks a little bit interesting. I think we're a little bit more pressed for time. I think we're concerned that we're not getting everything done, but the reality is that I think we are. But I do think what's going to happen is I think when you re-stack twice, I think it's going to improve the value of those top picks the following day. That's one thing that'll happen. I think you're also going to see a lot more trading. I think we've already started to see this, where players that don't fit with a certain team, or a restricted player that's signed a tender, I think you're going to see a lot more trades, especially after the first, second and third rounds. In that time period there, teams have time to evaluate where they are.
(on if there's any chance the Titans are involved in a trade)
I think there's a chance. You know, we've had discussions with a number of people, and I think that's the good thing about the way it's set up now. You've got time to kick those around and really evaluate if it makes sense or not.
(on if he anticipates being involved in a trade before Thursday)
I think you're always open to the idea; I don't necessarily anticipate it. I think we're probably in more of a mode to kind of see how it unfolds a little bit, but I think there are teams that are willing to do things already at this point in time.
(on if the rumored future possibility of changing the rookie pay scale changes the way they approach the draft)
I don't think so. I think you've got to just assume it's business as usual, quite honestly, and that's how we're approaching it.
SCOUTING COORDINATOR BLAKE BEDDINGFIELD
(on how much safety Eric Berry can impact a team)
I think in a player like Eric, if you can get a player with special qualities, he can impact a team, and I think that is why Eric is thought of pretty highly. He's a good cover guy, but he's also good in the run game. He's been a good player for three years for Tennessee and really had a nice career there and should go on to the league and have one as well.
DIRECTOR OF COLLEGE SCOUTING—EASTERN REGION MIKE ACKERLEY
(on some of the top defensive ends in the draft)
This year, it seems like there's a large number of defensive ends, and there's some quality at the top. Those three guys that you mentioned, probably J.P.P. (Jason Pierre-Paul) is probably a little bit behind the other two just from an experience factor. You're talking about a junior college kid who's only played one year in a four-year school, so he's a junior coming out. Obviously that is a little bit of a concern, I guess you could say. (Brandon) Graham playing in a Michigan program four years, a solid program, he's been a contributor over his whole career, probably has a little bit of an edge if you were going to give an edge to anybody. And the same goes for (Derrick) Morgan. Although he's a junior coming out, he's been playing for a couple years in solid programs and consistency. So you can see that, all three of those guys, there's just a whisker between them if you were going to measure that. They're all good football players in their own right. They all bring something to the table, and it's exciting for people that are looking for defensive ends, that's for sure.
(on if the team can afford to draft a player in Round 1 who is not as ready to play immediately)
Well, I think both the last two years, or two of the last three years for sure, I think you look at Kenny Britt last year, he contributed early. As the season went on, he contributed more and more, and the same with Michael Griffin. So I think out of the first-round pick, I think you'd like to see him contribute some early out of the gate, be involved, be somewhat productive, and then maybe as the season goes along take on a bigger and bigger role.
(on if Jason Pierre-Paul would be ready to contribute immediately)
I would think all of the guys that you contemplate taking in the first round have certain skills that should be able to step in and help you at certain points during the season.
(on how difficult it is to determine whether a player is a 3-4 outside linebacker or a 4-3 defensive end)
I think that's difficult, and I think you have to look carefully at what they do and know that some guys are capable of doing both and they would be pretty good in either system. When we interview the kids, we try to ask them what their preference is, and of course they tell us what we want to hear: 'I'm a 4-3 end because you're a 4-3 team.' So I think that's part of the challenge of the whole thing, not only looking at the skill set of the guys but how they fit specifically what you do.
(on how many players they have graded as first-round picks and if they limit the number to 32)
There's not a quota on first-round (grades on) draft picks. I wouldn't tell you the specific number, but it's less than 32, and it usually is, quite honestly, Paul.
(on if the number of first-round grades is greater than 16)
Yeah, it's between 16 and 32, that's fair. I'll go there. It's a number that works for us.
(on if there are typically players with first-round grades that are available after the first round)
Yes. Beauty is kind of in the eye of the beholder. There will be some guys that are taken that we had made a second-round grade in the first round, and there will be some guys that we view as a first-round pick that will slide into the second.
(on how difficult it is to operate without a second-round pick and if they would be willing to trade to acquire one)
I think there's always that chance, that with people being willing to move around, that there's a possibility we could move back and pick up an additional second-round pick. I think the fact that we have two thirds takes some of the pressure off that.
(on what it would take in a trade to yield a second-round pick)
If you go toward the tail end of the (first) round, you could probably get a second-round pick, a fairly late second-round pick, but you could sneak into the second round.
(on if the Titans would be inclined to move down in the first round)
At this point in time, I think there's some players that we really like at 16, a number of them, and I think we'd want to see things develop. But if someone makes an offer that's too good to pass up, we would certainly take that into consideration.
(on if they would be willing to deal next year's picks to get a second-rounder this year)
On the surface, you're question to get a second-rounder this year would take a first-round (pick) next year, and I think that's something we would be hesitant to do.
(on if teams are more likely to drop down in the draft for less value this year than in years past)
Yeah, I get the feeling that people may pay less attention to the draft chart this year. If they have a certain agenda in mind and it lets them accomplish what they've got to do, they're willing to take less than perceived value and kind of ignore the draft chart a little bit.
(on the willingness to take less in a trade because teams below are not offering as much)
**Exactly right, it's supply and demand.
SCOUT (WESTERN UNITED STATES) PHIL NERI
(on what the future will be for safety Earl Thomas)
His future will be as a good football player. I mean, it's kind of hard to sit there and dictate if he'd play free or strong. With his cover ability and skills he has that way, matching up against different sets, doubles, trips, things like that, he's going to make a major contribution. How that's necessarily going to fit would depend upon what we do here with some of the other personnel.
(on Neri's evaluation of Earl Thomas)
If I could add one thing to that, Phil, if you don't mind. We don't do "strong" and "free" safeties. We throw all the safeties together because we expect our safeties to be able to do both sets of things. So when we look at a guy, he's a safety, not a free or a strong.
SCOUT (WESTERN UNITED STATES) PHIL NERI
And normally, depending on the player, he's stronger suited toward the run game and some are a little better, but he's a great combination of both, which makes it a very intriguing pick.
DIRECTOR OF COLLEGE SCOUTING—EASTERN REGION MIKE ACKERLEY
(on quarterback Tim Tebow)
He's a very good athlete. He's obviously, all the intangibles are there that you're looking for. Everything that you read about is all documented and all that kind of stuff, so we all know that. Athletically, he's got to be at the top of the list of athletes as far as quarterback goes just on what he was able to do there at Florida and what they asked him to do. I mean, he ran their offense exactly the way they wanted it to be done. Now coming into the NFL, he's going to be asked to do some different things, and he's well aware of that and he's preparing for it. And I think he's capable of doing it. I don't know if I'm answering your question, but if you're asking me if I think he can play quarterback, I think he can because I think he has all the skill set that's necessary. It's just a matter of the emphasis and developing him. There's going to be a learning curve just like there is with all these kids coming in, there's a learning curve. I don't think a kid like Tebow is going to jump right in the middle of it, but he's already demonstrated that he's going to do everything he can to prepare himself. So I think he'll make an impact wherever he goes.
NATIONAL SUPERVISOR OF COLLEGE SCOUTING C.O. BROCATO
(on what stands out about this draft)
A lot of people talk about the draft being strong or weak. I think if you have your pick and you get a good pick and you make a good choice of picking the player, you'll eventually say, 'I had a good draft.' If the guy didn't pan out, 'Well, we didn't have a good draft.' I think this year's draft is not bad. I think they've got some real good football players, enough for everybody to take one.
(on what position is the strongest in the draft)
Oh, boy. I think there are quite a few defensive linemen, I think, that are pretty good. I feel like there will probably be more defensive linemen taken in the early rounds, more so than the other positions.
(on finding defensive ends)
I think you can find one there. You take this kid, Suh, from Nebraska. Everybody talks about him being a defensive tackle, but with the ability that he has, he could play defensive end. A lot of people might just say, 'We don't want to take him because he's a defensive tackle.' But if you look at the ability that he has, he's just as quick and just as fast at doing things as any of the defensive ends were doing, like on the pass-rush times that they have at the combine. I mean, his was right up there with the defensive ends. So you probably could do a lot of things with him and do whatever you want to do with him.
DIRECTOR OF COLLEGE SCOUTING—EASTERN REGION MIKE ACKERLEY
(on if they root for other teams to take players that the Titans don't want to draft)
Obviously you're hoping that certain people go off the board that you're not interested in, so that pushes a player down to you. I mean, you're always going to be looking at that, whether that's rooting for one team or another or rooting for one player or another, I don't know. But you always want to see the guys that you want to be there when the time comes, so whenever teams mess around and pick somebody that you're not counting on going off at that point, that pushes a guy down to you, closer to you, and that makes you feel good about your chances of getting the guy you want.
SCOUT (WESTERN UNITED STATES) PHIL NERI
(on if they root for other teams to take players that the Titans don't want to draft)
And there's always a surprise in there. There's always a few wild cards.
DIRECTOR OF COLLEGE SCOUTING—EASTERN REGION MIKE ACKERLEY
Yeah, just ask Oakland about that.
SCOUTING COORDINATOR BLAKE BEDDINGFIELD
(on Alabama players Rolando McClain and Javier Arenas)
Both come from winning teams, the National Championship team. Highly competitive individuals, but both very intelligent football players, very productive over their career there—Rolando a three-year player, Javier a four-year player there. Javier was a returner as well as a corner. He started a little bit at nickel back as well as outside corner and punt/kick returner, highly productive at both. Rolando was kind of the bell cow of their defense, you know, the starting inside backer, but kind of the leader on that time. Both were very successful, and that's what we want to be here. We want to be a winning team, so you like winning players sometimes.
(on the possibility of taking an offensive player)
I don't think you rule out anything at this time. I think it goes back to what Paul said. We're going to take the best player, but you'd like to match that best player with some need, is the way you want to go about it. But if you get into the position where that best player is an offensive player, you certainly have got to put him into the decision-making process.
(on if the Titans can afford to take a pure returner who can't play another position because of roster limitations)
I don't know if he has to be able to play a position, and it's what you're referring to. It gets tough when you cut to 45 for gameday. You've got to make sure you can get that guy active. So when you take a return guy that can't really play the position—he can't be your third or fourth corner or be your fourth receiver—you've got to make sure he's a special return guy, really special.
(on the possibility of drafting a quarterback)
That's a position that we could look at. I'm not ruling out any position at this point. I think the good thing is we've got nine picks. It affords us the opportunity to stack good players if that's what the board says at different positions.
(on how much the commissioner's stance on off-field behavior plays into drafting players)
I think these guys up here and our other scouts do a great job of really looking at the players, talking to people at their schools, investigating their backgrounds, and I think that's always been an important part of it. I think there's probably even more stress on it at this point in time.
(on whether age and contract situations have created a need on defense)
I think it's kind of a puzzle each year when you put it together, and I think things do happen—injuries happen, contracts, free agency. To your point, at the end of this season, we'll have more emphasis on defense. That's probably something that will happen based on where we are contract-wise with some of our players.
SCOUTING COORDINATOR BLAKE BEDDINGFIELD
(on whether Vanderbilt cornerback Myron Lewis is more of an outside or inside player)
I think he could do either one. He's a big corner, and those are rare. So he's got good height, he's got good length, he has good speed, and he's had a good last couple years at Vanderbilt. He's a guy that I think could play either one.
(on how much concussion issues play into decision making)
It's something that the doctors at the combine, the trainers, something they investigate. They learn the history of the players. It's something we do put particular emphasis on now, understanding exactly the person's history. It's an important part of the decision-making process.
(on the need for tight ends based on Alge Crumpler's departure)
We're still pretty good at tight end though. We lost Alge. That was unfortunate, but I think it's time for Craig Stevens, Jared Cook, Bo Scaife. We've got three tight ends that we're pretty comfortable with.
(on any regrets for trading this year's second-round pick for the selection that netted Jared Cook last year)
If you look at the board, and you put him on the board, you would have taken him in the second round anyway. What we do is, we have a more experienced guy that we would have taken in the second round, and I think we're OK with that.
(on if he was speaking earlier of trades regarding picks or players)
I'm talking both ways. I think you're going to see more picks for picks. I also think you're going to see, just as we've seen, some of the restricted guys, as teams do get through the first round, get through the second or third round, I think you're going to see veteran players maybe traded for picks. But I do think there will be more activity this year.
(on the potential to trade for Albert Haynesworth)
He's under contract to another team, so I can't talk about him.
(on if anything is eminent with Haynesworth)
Again, I can't talk about other players that are under contract. I couldn't do that. That's not fair.
(on whether he's gotten closer to Bruce Allen)
I've known Bruce a long time. He's a good man. Bruce and I are friends, and we'll continue to be friends.
(on if any players could be acquired prior to the draft)
You want me to guarantee that we're going to make a trade before the draft? I can't guarantee that. We'll have a number of discussions over the next couple days, and we'll see where it goes.
(on how much acquiring a veteran could change draft strategy)
It could. It depends upon the magnitude of the trade. It's possible you could do something that doesn't affect you at all, and it's possible that you could do something that would affect you greatly. It depends upon the magnitude of it.
(on if it's a "losing proposition" to trade a restricted free agent for a lower draft pick than that with which he was originally selected)
I think at some point in time, that's kind of history. You can't really look at it. You've got to look at where you are today, and going forward what makes the most sense for your football club. I think in the last couple days, we've seen some guys that were first-round picks traded for far less than first-round value. It's part of the NFL. If you go three or four years into a guy's career, those things happen.
(on if he has agreed on a trade with another club)
** No, I have not. Do you want to ask me one more time?