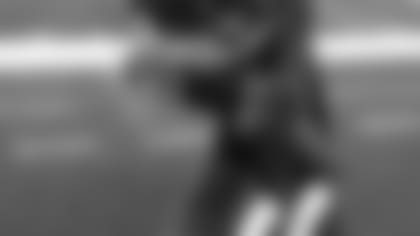 Gameday was just so amazing. From the moment we arrived at the stadium to the time I went to sleep last night, I was just on such an adrenaline rush. When we first got to the stadium we quickly ran through a few routines, then we danced at a VIP tailgate party. The fans were incredible and just so excited to cheer us on.
Getting ready for this game was like no other. I was a mix of emotions, but mainly just so excited to get out there, perform and most importantly be a great ambassador for our Tennessee Titans.
It was such a different type of game flow. They really wanted us to interact with the fans and just have fun. We all bring such different styles and talents to this new team of 26 women. It was great to see everyone doing what feels comfortable to them and to get a glimpse into the other NFL organizations.
The game went by too fast. Before I knew it, I had danced a Pregame with Train, danced on three different stages built between the stadium sections, and even got to be silly and dance with T-Rac.
I absolutely had the time of my life and the whole experience is something I will treasure forever. I've formed friendships that I know will last a lifetime. I hate to see this week end.
We ended our day with a lovely meal at Wolfgangs. It was so delicious!
The highlight of the night was receiving our Pro Bowl rings. We all opened them at the same time and squealed like little girls. I love the idea of having a piece of jewelry that symbolizes this entire experience.
I'm forever grateful to my teammates, coach and staff for selecting me to represent our Titans. I hope they are as proud of me as I am to be their teammate and friend.