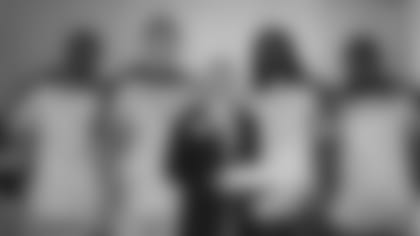 Gordon Ferguson, CEO of Middle Tennessee Medical Center, receives autograph ball from players during visit. From left: Gerald McGrath, Patrick Bailey, Ferguson, Jacob Ford and Jovan Haye.
NASHVILLE, Tenn. --** Titans players made surprise visits to multiple area hospitals that fall under the Saint Thomas Health Services umbrella on Tuesday to encourage patients and wish them a speedy recovery.  Many were still reeling from the Titans victory over Dallas last Sunday and were thrilled to actually meet the players in person.

Titans players Cortland Finnegan, Vincent Fuller, Pete Ittersagen, Jason McCourty, Tim Shaw and Alterraun Verner greeted patients at Baptist Hospital, while Patrick Bailey, Jacob Ford, Jovan Haye and Gerald McRath visited the new campus of Middle Tennessee Medical Center (MTMC) in Murfreesboro that opened earlier this month.

"The players came in and greeted our managers and then visited numerous patients," said Gordon Ferguson, CEO of Middle Tennessee Medical Center. "In addition to lifting the spirits of our patients, the visit was also a real treat for many of our associates."

During an MTMC leadership meeting, the players presented Ferguson a football signed by themselves and Jeff Fisher to commemorate the team's inaugural visit to that hospital.

McRath shared that he enjoyed making the visit in Murfreesboro because the team has fans across the region and wanted to say thank you for their support.  Both groups participated in Titans Tuesday, where players make appearances in the community, autographing posters for patients, taking photos and spending time with their fans.

"We try to bring joy to them during a difficult time," Finnegan said. "It's something God put on my heart to do and when you can put a smile on someone's face, whether it's playing football or making a hospital visit, it's a humbling and wonderful experience."

Wanda Lofton of Nashville recently had an operation at Baptist Hospital, but her demeanor changed as Finnegan, Verner and Ittersagen walked in her hospital room.

"I was ecstatic," Lofton said. "In Nashville everybody loves the Titans.  I'm just beside myself."

Carol Allen, who's been in the hospital for a second straight week, now has multiple autographs from various visits.  She wore her autographed Titans t-shirt during her physical therapy and during Tennessee's game last Sunday for luck.

Ittersagen, a member of the Titans practice squad, has become a regular and favorite on Tuesday hospital visits and says he enjoys getting to know the fans, encouraging them and letting them know that their support is appreciated by the entire Titans organization.

"It's an honor to come out and be there for the people in need to bring a smile to their face," Ittersagen said.

Carl Menako reached a milestone when he gave the players a handshake with his right hand after suffering a recent stroke.  Menako lost strength and movement in his arm but remains optimistic about his recovery.

"It was very uplifting to see and talk with them," Menako said.

Titans players' demeanor change as they enter the Beaman Neonatal Intensive Care Unit (NICU) for premature babies, to see the infants and encourage the parents.   Natalie Orr of Franklin and her newborn triplets got a visit from multiple players on Tuesday.  The triplets were expected to arrive around Thanksgiving but have been in the NICU at Baptist Hospital since their arrival. Orr said one might be able to go home by the end of this week, and all three children are expected to be home by Thanksgiving.

Verner admitted that he was personally encouraged by making the visits and inspired by their optimism.

"It was definitely a great feeling to visit patients today," Verner said. "They give me inspiration that you can always smile about something, no matter what's going on in your life."

Sheila Perry, a patient who lives near the Titans' practice facility at Baptist Sports Park, was being released from the hospital on Tuesday.  Perry admits she's a Titans fan and that the visit was a real treat for her as she watches every Titans game.  After meeting the players during the visit, she described them as "down to earth and very personable people."