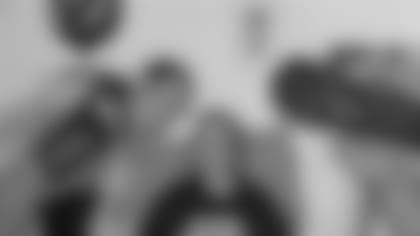 Dave Ball (left) and Shaun Smith (right) were among the Titans players kicking off 2011 season visits to Baptist and Saint Thomas Hospitals.
NASHVILLE, Tenn. -- The Titans began their annual tradition of "Titans Tuesday" this week as four players visited patients at Baptist Hospital.  Dave Ball, Karl Klug, Sen'Derrick Marks and Shaun Smith spent their morning greeting a number of patients and their families, maintaining the tradition that began when the team moved to Nashville in 1997.
Klug and Marks spent their morning visiting families with newborns while Ball and Smith visited patients hospitalized for a variety of reasons.
All four of these Titans are defensive lineman and on each and every play, they typically have a "collision" with a member of the opponent's offensive line.   Ball and Smith met one young patient who likely encountered a tougher collision than any of these Titans will ever endure.
Elaine Staggs, 24 of Lebanon, TN, was recently traveling to Boston for a family reunion.  Staggs is in the final year of nursing school at Roane State Community College and also works as an EMT for Rural Metro Knox County.   While on the trip, Staggs saw an automobile accident near White Plains, NY and stopped to render aid and was then hit by another vehicle, crushing both of her legs from the knees down.
Staggs was subsequently hospitalized for 31 days in New York before her co-workers sent an ambulance to bring her home and she has been in Baptist Hospital since Sept. 1.
"I'm scheduled to go home in a couple of weeks, and then I'll begin home health and rehab," said Staggs.  "I hope to go back to school to complete nursing school in about a year and then continue with my career."
Staggs was excited to learn on Monday that she would have Titans players visit her on Tuesday morning. 
"My sisters, Becky and Linda, and I have been to several Titans games and are big fans," she said.  "It was exciting to see those guys. They were both very personable and I enjoyed meeting them!"
Following Wednesday's practice, Smith was asked to reflect on his visit with Staggs.
"First of all, I'm happy she wants to continue her studies and keep her career goals," said Smith.  "As defensive linemen, we have collisions in the game and think we can't get up.  Her willingness to get back up and continue her life after that injury shows the type of person she really is – a true fighter."
There was something about the look on Smith's face when he was describing Staggs' accident and her recovery that makes this writer think that Smith won't view his "collisions in the trenches" on gameday quite the same anymore.