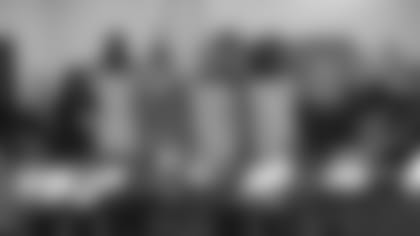 Titans players and cheerleaders helped deliver turkeys for country music star Tracy Lawrence's sixth annual "Mission Possible" Turkey Fry at the Nashville Rescue Mission.
NASHVILLE, Tenn. —Twelve Titans players teamed up to help local families have a happy Thanksgiving by combining their personal contributions to provide an estimated 5,752 meals for those in need this holiday.
The players made donations to assist two local non-profit organizations, the Nashville Rescue Mission downtown and the Martha O'Bryan Center in east Nashville, with providing turkeys and meals.
Titans kicker Rob Bironas
, tight end Daniel Graham
and safety Jordan Babineaux
met at the Nashville Rescue Mission Tuesday to donate turkeys and lend a hand with country music star Tracy Lawrence's sixth annual "Mission Possible" Turkey Fry.  Titans cheerleaders Brooke, Erica, Jessi and Jessica were also on hand to cheer on the donation and visit with recipients at the mission.
Rain in the area delayed the deep frying until Wednesday, but that didn't dampen the spirit of helping others.
"You've got to give thanks. You've got to take care of those that are less fortunate," Bironas said. "We're blessed to be doing what we're doing."
Bironas and Lawrence were working together this past spring on another charity event when the musician asked Bironas to help out this fall. The seventh-year kicker gladly did so and recruited Graham and Babineaux, who are both new to the Titans this season.
"It's a good cause and I just wanted to be able to give back," Graham said. "It's our first year here, and we both live downtown and see a lot of homeless people. This is something that we've talked about for a while."
The players were going to assist with the deep frying on their day off, but will have to return to work Wednesday. Members of the cheerleading squad, however, will be able to make it for the fifth straight frying and will serve lunch Thursday at the mission for the ninth straight Thanksgiving.
Lawrence said this year's fry will put the effort at more than 3,000 turkeys cooked in the parking lot of the Nashville Rescue Mission. Lawrence, a big Titans fan, said he appreciated the help and the assistance he receives from friends in the music industry and other volunteers each year.
"It's great to do an event that not only helps the Mission but gives them an opportunity to contribute," Lawrence said. "I think the guys that live (in Nashville) that help us every year really get excited because they actually get to cook with us and feel the excitement of people coming through."
The mission prepares and serves more than 660,000 meals each year through donations. It also provides clothing and shelter when people in need walk through its doors and offers a life recovery program for people who are battling an addiction.
Lawrence said having the grease at the right temperature is the most important part.
"That's the biggest thing—making sure the grease doesn't get too hot," Lawrence said. "I always get excited watching new guys come in that have never done this before. By the time you leave, after cooking all these turkeys, you will go home a professional. You will not be afraid to fry a turkey at your house when you get through with this event."
Just down the street, Titans players Lavelle Hawkins
, Jason Jones
, Sen'Derrick Marks, Anthony Smith
, Shaun Smith
, William Hayes
, Chris Hope
and Fernando Velasco
helped distribute entire meals for 500 families served by the Martha O'Bryan Center in east Nashville.  The family resource center has been in operation for more than 100 years and helps strengthen families through multiple forms of assistance.  These players teamed up to purchase meals that will serve an estimated 2,500 on Thanksgiving Day.
Jones said he enjoyed seeing smiles on the faces of children as their families walked through the line.
"It's very important to give back," Jones said. "All of us are blessed to be in the position that we're in right now, to play football and make good money."
Marks agreed, saying, "If I'm blessed to have it, I'm blessed to give it."
Marks said his favorite Thanksgiving memory happened when his uncle tried to fry a turkey but didn't know how to do it right and got the grease too hot, so the outside was cooked but the inside wasn't.
"It didn't turn out well, but other than that, we've always had a pretty good Thanksgiving," Marks said.
Shaun Smith was critical in rallying his defensive teammates together to help make the donation possible.  "I've done events like this in the past and wanted to see something similar happen in Nashville this year."
Jordan Babineaux, Rob Bironas, Daniel Graham, Chris Hope and Shaun Smith have all been recently named Titans Community All-Stars in 2011 for efforts such as these.