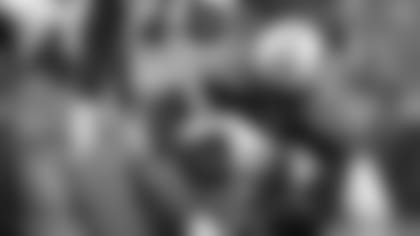 The selection came in 1997 as the franchise was making its move from Houston to its new home in Tennessee, and the choice was defensive end Kenny Holmes out of Miami.
After the transitional years as the Tennessee Oilers, Holmes helped the Tennessee Titans emerge with two of the best seasons in franchise history with back-to-back 13-3 records in the 1999 and 2000 regular seasons and Tennessee's trip to Super Bowl XXXIV.
Holmes recorded seven sacks in his rookie campaign when he played in all 16 games and made five starts.
The Vero Beach, Fla., native started 11 of 14 games in 1998 and seven of 14 games in 1999 when he had four sacks and two interceptions. Holmes started 13 of games in 2000 when he recorded eight sacks and forced fumbles in four consecutive games.
Holmes totaled 21.5 sacks and 36 starts in 58 games in four seasons with the Titans before signing as a free agent with the New York Giants and playing an additional three years.