SAN FRANCISCO – As a youngster growing up in Atlanta, Cam Newton watched Steve McNair from afar.
Back then, he loved the way the Titans quarterback played the game. As he grew older, he appreciated McNair even more, especially after attending one of McNair's football camps in Nashville.
"Air McNair,'' the Panthers quarterback said with a smile when asked about McNair. "What didn't I like about him? He was a person that I idolized for obvious reasons. He gave me an opportunity, he knocked down doors way before I thought about having the skill-set to come to the NFL. I remember I went to his camp in Nashville and I was just amazed at how much he took to the kids and talked to the kids.
"I hope I am leaving a good mark, just like he did."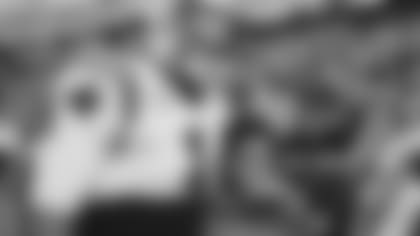 Panthers QB Cam Newton pictured with Trenton McNair, the son of late Titans QB Steve McNair, at Nissan Stadium last season.
Newton, set to lead the Panthers in Super Bowl 50 on Sunday, had a chance to repay McNair a debt of gratitude when the Panthers visited Nissan Stadium back on November 15. Prior to the team's game against the Titans, Newton spent time with McNair's young son, Trenton, on the sideline.
Trenton McNair was decked out in a No.1 Panthers jersey, for Newton, his favorite player. Newton sprinted over and signed the back of the jersey that day, and posed for pictures with the young McNair. Newton recalled the moment here this week.
Agent Bus Cook witnessed Newton's gesture. Cook represents Newton, and he also represented McNair, who passed away in 2009. McNair played 11 NFL seasons with the Titans.
"Trenton was excited as he could be, and Cam was super with him,'' Cook recalled. "(Trenton) is a big fan of Cam's, just like Cam was a fan of Steve. Cam was young, but he remembers Steve. Seeing that (interaction) between the two of them, it was really neat of Cam to do that. That's something (Trenton) will never forget, I can promise you that."
Former Titans tight end Frank Wycheck said he sees some similarities in Newton and McNair, a three-time Pro Bowler who was named the NFL's co-MVP in 2003.
Newton, the No.1 overall pick in the 2011 draft, has emerged as one of the NFL's stars in recent seasons. He threw for nearly 4,000 yards in 2015, while also racking up over 600 yards on the ground.
"I know Cam has said, "No one has ever seen a guy like me," Wycheck said. "Well, Steve McNair was as close to being a freak and as tough and as talented as Cam. Steve, with his passing, I think he gets lost in the great quarterbacks of his time. He gets overlooked.
"Cam should hope to be as tough as Steve McNair. He could emulate Steve. He wasn't as flashy as Cam, but Steve was the Cam Newton of his time."
Newton said himself he appreciates McNair's impact on his life, and the game.
"And I love to hear (Cook) talk about how Steve was, and the things he used to do,'' Newton said.
On Sunday, Newton hopes he can finish off the Super Bowl with a win. Newton was just 10 years old when the Titans faced the Rams in Super Bowl XXXIV, and came up just short.
"I remember when the Super Bowl was in Atlanta and Steve McNair was there,'' Newton said. "It just goes to show you that this is a game of inches. (McNair) threw the slant at the end and (Kevin Dyson) reached out and didn't get it, one of my all-time favorite Super Bowl moments.
"Yet that just makes you prepare even more so that you'll be on the winning side of the pendulum."
A first-round pick (3rd overall) by the Houston Oilers in the 1995 NFL Draft, Steve McNair led the Titans to the playoffs four times, including an appearance in Super Bowl XXXIV, while passing for 27,141 yards and 156 TDs in 11 seasons with the franchise. (Photos: Donn Jones, AP, Mike Mu)