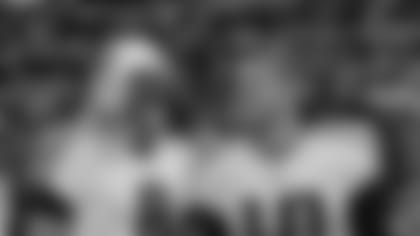 Titans owner Bud Adams says he likes the team's quarterback situation with Matt Hasselbeck (8) and Jake Locker (10).
NASHVILLE, Tenn. — Now it's time for the Titans to smooth over everything with the quarterbacks on their roster since they have lost out on the Peyton Manning sweepstakes.
With Manning telling Tennessee he's going elsewhere, the Titans need to move forward as previously planned with Matt Hasselbeck and Jake Locker as their signal-callers.
Titans owner Bud Adams, the man who told his executives to change their free agency plans and chase Manning, started the healing process Monday. He released a statement saying he likes the team's quarterback situation.
The Titans signed Hasselbeck to a three-year deal last July, and the veteran led the Titans to a 9-7 record just missing the playoffs. Locker was the eighth pick overall out of Washington last April. Adams said he wanted to commend Hasselbeck and Locker.
"They were thrown into a very difficult situation," Adams said. "Matt was very good for us last year. And at some point, we expect Jake to be our future franchise quarterback."
Titans general manager Ruston Webster said twice in February that they were confident in Hasselbeck and Locker at quarterback. Coach Mike Munchak said once the season wrapped up that the two quarterbacks would compete for the starting job this offseason, giving both plenty of motivation to work hard.
Then the Colts released Manning, and Adams told his execs he wanted to sign the four-time NFL MVP.
Tennessee met with Manning for a total of eight hours last Wednesday and watched him work out in Knoxville on Saturday morning. Then Manning called Adams on Monday morning telling him of his decision to go to Denver instead of returning to the state where he starred in college at the University of Tennessee.
The Titans' offseason program does not start until mid-April, and team officials may have helped the process already.
They signed five-time All Pro guard Steve Hutchinson to a multi-year deal Thursday, and the veteran guard started his career in Seattle where he helped protect Hasselbeck for five seasons between 2001 and 2005 before leaving for Minnesota. That move strengthens an offensive line that allowed Hasselbeck to be sacked only 19 times in 2011 with Locker sacked only four times himself.
Hasselbeck, a three-time Pro Bowler, is coming off one of his best seasons in his career and one of Tennessee's best by a quarterback. Hasselbeck threw for 3,571 yards, which was the fourth-highest total in team history. His 319 completions ranked third-highest, while his 18 touchdown passes were the highest since 2004. Hasselbeck also had 28 completions go for 25 yards or longer, the most big plays by a Titans quarterback since Steve McNair had 33 in 2001.
The veteran did all that after losing his top receiver Kenny Britt to a torn ACL in September.
Then there's Locker, who came off the bench in relief of Locker in his rookie season. Locker threw four touchdowns, and his next interception will be the first of his pro career. He posted a 99.5 passer rating and looked exciting enough with his mobility to have fans calling for the Titans to tab him as the starter for 2012 even once Adams declared he wanted Manning.
"I want our fans to know that our expectations haven't changed," Adams said in his statement. "Winning a championship is still the goal. I like our quarterback situation moving forward, and we will continue to build the team through free agency and the draft with that goal in mind."
That's the challenge now for a team that went 9-7 in Munchak's first season as head coach and missed out on its first playoff berth since 2008 on tiebreakers to Cincinnati.
The Titans turned their attention back to defense on Monday.
Tennessee was visiting with linebacker Kamerion Wimbley, his agent Joe Linta told The Associated Press. Wimbley was released by Oakland on Friday.