**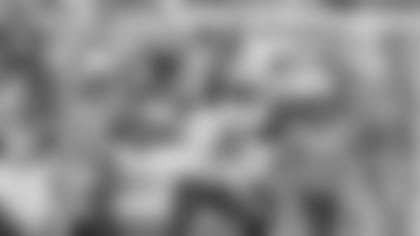 Strong performances by both the offense and defense have propelled the Titans to three straight wins and into first place in the AFC South at 5-2.
NASHVILLE, Tenn. --** The Titans kept their composure when they trailed by two scores in the fourth quarter Sunday.  It was the calm before Tennessee's storm.
The Titans reeled off 27 unanswered points in the final 13-plus minutes, breaking a franchise record for scoring in the fourth quarter. The previous record of 24 points occurred three times in Oilers/Titans history.
"Twenty-seven points in the fourth quarter is kind of unheard of in the NFL," tight end Bo Scaife said Sunday. "We don't need to put ourselves in that position too many more times."
The Titans turned momentum with a critical defensive play and an explosive score. Defensive tackle Jason Jones forced a fumble that was recovered by cornerback Alterraun Verner at the Philadelphia three-yard-line. It kept the Eagles from building on a 16-7 lead.
After each team kicked a field goal, reserve quarterback Kerry Collins heaved the ball from the Titans' 20-yard-line, and Kenny Britt corralled it at the Philadelphia 38 as one defender fell down and outran another defender for a touchdown that electrified the sell-out crowd with 13:13 to play. Tennessee allowed Philadelphia just 14 yards the rest of the way, forcing three straight three-and-out possessions and capping the game with a 41-yard interception return for a touchdown by Cortland Finnegan.
Titans coach Jeff Fisher said Monday that the defense kept the game within reach so that the coaching staff's plans could be enacted on both sides of the ball.
"The staff did a good job offensively with the protections and giving Kerry options based on everything we could put into motion," Fisher said. "(Defensive coordinator Chuck Cecil's) plan and the defensive staff's plan against that offense was good. We didn't do too much against them because you can't against them because you risk giving up good plays. All we had to do was get things going offensively and we had a chance to win it. The defense also contributed because we had to get the ball back."
Collins, a 37-year-old in his 16th NFL season, started for Vince Young, who was sidelined with ankle and knee sprains that Young suffered against Jacksonville. Fisher said Collins finished Sunday's game despite suffering a torn tendon in the middle finger of his throwing hand against Jacksonville.
"It's difficult to do what he did, considering that he had to have it drained and couldn't take a snap on Wednesday," Fisher said.
Britt made Collins' day a little easier. The 22-year-old second-year pro tied his career high of seven catches and set career benchmarks of 225 yards and three touchdowns. Britt scored on passes of 26 yards in the first half and followed the 80-yarder with a 16-yard scoring pass from Collins.
Britt's 225 yards are the fifth most in a game in franchise history and the most by an NFL receiver this season.
Nickel back Vincent Fuller said Britt's attributes are "rare."
"His size, strength and speed ratio is right up there with some of the upper echelon guys, and you're starting to see him play like that," Fuller said.
The Titans moved up to second in the NFL in scoring average (28.4 points per game) and rank third in scoring defense (16.7 points per game). Fisher said he wants to see more protection.
"The points (Sunday) were what we needed to win that ball game," Fisher said. "We got off to a slow start. You could see, you could just kind of feel the offense coming around against a very, very talented defensive team."
The Titans improved to 5-2, moving one half-game ahead of Indianapolis and Houston in the AFC South. The Colts and Texans were both idle Sunday. Tennessee is on a three-game win streak and has won all three of its road games this season.
Fisher said he's continuing to evaluate the Titans as they prepare this week to visit San Diego.
"What I'm looking at is improvement and production in the key areas: third down efficiency on both sides of the ball; getting turnovers but protecting the football," Fisher said. "We're improving in a lot of those areas. We're doing good things defensively in the red zone, which you absolutely have to do to win ball games."
Tennessee's offense ranks 16th in third-down completion percentage (40), and its defense ranks fourth in allowing teams to convert on third down 34 percent of the time.
The Titans forced four turnovers by the Eagles and held Philadelphia to 0-for-4 on third downs in the fourth quarter. Fuller said both aspects are important for Tennessee's defense.
"I think it's definitely a confidence thing," Fuller said. "We feel confident that when we step on the field we can get turnovers. I also feel like we're forcing those turnovers. It all starts up front (with pressure on quarterbacks). You definitely have to get off the field on third down, but the style of defense we play is one that forces turnovers.
Offensive lineman Jake Scott said Sunday that confidence is important on the other side of the ball, too.
"As you start to win, you get more and more confidence," Scott said. "Every week, you expect to win so when you get adversity like we had (Sunday), people don't start looking for ways to lose, they start looking for ways to overcome it and win."