**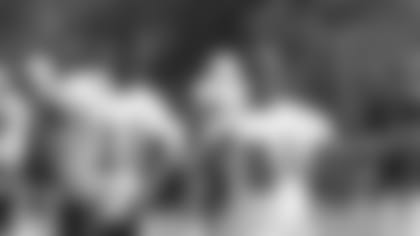 Finally healthy, Mark Jones (84) is ready to showcase his skills as a kick returner to Titans coaches.
NASHVILLE, Tenn. --** Mark Jones has been hurt most of training camp and unable to show the Tennessee Titans that he is capable of doing the job they signed him to do.
That doesn't make for strong job security.
Now Jones has two exhibitions to prove he's worthy of a roster spot.
The Titans signed him this offseason to replace departed free agent Chris Carr as their punt and kick returner. But Jones hurt his right hamstring on the first day of training camp and didn't return to full practice until this week.
"It's not how you start, it's how you finish," said Jones, now finally healthy. "I know what I did in the offseason, that's in the past. I know I didn't start strong this training camp, but I plan to finish strong and I get a chance to do it Saturday night and again next week against Green Bay."
Jones is a five-year NFL veteran now with his fourth team, five if counting the training camp he spent with San Diego in 2008. He has played in 59 games with the New York Giants, Tampa Bay Buccaneers and the Carolina Panthers. He played in all 16 games last season in Carolina along with the Panthers' playoff loss.
Tennessee needed someone after Carr signed with Baltimore this offseason. With Carr, the Titans led the NFL in kickoff return average. He also handled all but two of their punt returns, and that is why the Titans signed Jones looking for someone to handle both kickoffs and punts. Playing a position also is a must.
"In the perfect world, you'd get a guy like Chris Carr last year where he played corner and helped when we needed it, but he also did the punts and the kickoff returns," coach Jeff Fisher said Thursday.
The 5-foot-9, 185-pound Jones showed he could do that in Carolina in 2008. He ranked third in the NFC with 11.4 yards per punt return and 11th in kickoffs, averaging 24 yards per return. Jones, who played four years in college at Tennessee, had the longest returns of his career with Carolina with a 55-yard punt return and a 59-yarder on a kickoff.
Jones describes himself as a vertical runner who takes the ball and heads straight upfield. He learned as a rookie not to stretch a return.
"Most returners who I look at in this league who are successful in this league, put one foot in the ground and get upfield. They can read the block and if it's not there, it's not there," Jones said. "They're patient with it, and that's what I learned over the years is to be patient. Make the first guy miss and get upfield."
The competition became a bit easier this week when the Titans cut receiver Chris Davis. He also had an injured hamstring that would've kept him from playing again in the preseason, and a DUI charge last week while the rest of the team was in Dallas for an exhibition didn't help.
But the Titans also have other options. Rookie running back Javon Ringer has been productive on kickoffs, while rookie cornerback Ryan Mouton and defensive back Tuff Harris both flashed some ability on punt returns.
That puts a premium on being able to play another position. That is why Jones must show he also can perform at receiver, especially now that Nate Washington is recovering from a strained hamstring -- so the coaches will be looking for production from Jones on Saturday night at Cleveland (1-1).
"He's got two games where he's going to get the opportunity to return and play offense," Fisher said.
Jones can't wait for the chance.
"As soon as I can get my hands on the ball, hands on the steering wheel, don't let go of it," Jones said.
NOTES: Fisher added RT David Stewart (left knee) to the list of those not playing Saturday night. That also includes WR Nate Washington (left hamstring), Mouton (left ankle), DT Jason Jones (foot). DT Sen'Derrick Marks (left foot) was in a boot Thursday but Fisher said he still has a chance. Mouton has swapped his walking boot for a brace. CB Nick Harper did not practice again, DE Jevon Kearse (left hamstring) sat out along with LB Josh Stamer. DB Tuff Harris hurt his leg during practice, and TE Alge Crumpler was excused for personal reasons.