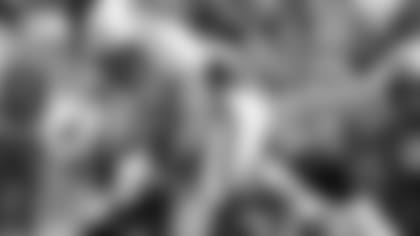 Rookie DT Karl Klug played a big part in Tennessee's defensive success, here sacking Bills QB Ryan Fitzpatrick in the third quarter.
BUFFALO, N.Y. -- The ball flew harmlessly to the ground, and Titans coach Mike Munchak took a deep breath.
Tennessee's defense withstood a last-gasp effort for the second straight week in a row for a 23-17 win Sunday at Buffalo.  
The Titans secured the victory by forcing a turnover on downs after three straight incompletions by Bills quarterback Ryan Fitzpatrick, and regained the ball with 12 seconds remaining. Tennessee QB Matt Hasselbeck kneeled the ball to run out the clock, and the Titans exhaled.
Tennessee (7-5) scored on its first three possessions — a 48-yard field goal by Rob Bironas and two rushing touchdowns by Chris Johnson — and added two more field goals by Bironas in the second half.
"When we can run the ball that well, we become a tough team to stop," Munchak said. "It makes you feel good about what you're doing, so that was a great way for us to start."   
Johnson gave the Titans a 10-7 lead late in the first quarter with a 48-yard scamper. Johnson nudged through a hole that guard Leroy Harris opened at the line of scrimmage, veered to the outside, picked up speed and streaked past tacklers for his longest gain of the season.
"I think he's getting more clean looks, more opportunities," Munchak said of the improvements in the run game. "He's getting some nice yards after contact."
Johnson capped Tennessee's third possession with a 4-yard score when he eased into the end zone for his second score of the day thanks to a block by fullback Ahmard Hall and another one by receiver Nate Washington.
Johnson finished with 153 yards on 23 carries (6.7 per attempt), notching his second straight game with more than 100 yards rushing and fourth such performance this season. He found the end zone twice for the first time since October 2010 at Dallas, and moved ahead of Steve McNair for third-place on the Titans/Oilers career rushing touchdown list, scoring the 36th and 37th of his four-year career.
Johnson, however, said the Titans must keep the focus on winning games because AFC South leader Houston (9-3) won Sunday.
"We've got to continue winning if we want to stay in the playoff hunt," Johnson said. "Houston, right now, is in control and in order for it to be a showdown in the last game of the season, we've got to continue to handle our own business."
MCCARTHY FORCES, RECOVERS FUMBLES: Rookie Colin McCarthy made his third start at middle linebacker and continued to deliver big plays. McCarthy broke up Fitzpatrick's first pass attempt of the game. McCarthy also forced a fumble with a crushing hit on Fitzpatrick, got up and recovered the ball to end Buffalo's third possession. The turnover set up Tennessee's second touchdown drive.
McCarthy recovered another fumble in the third quarter after Sen'Derrick Marks pried the ball away from Scott Chandler during a pass completion. The second fumble led to the second field goal by Bironas. McCarthy led the Titans with nine tackles, according to press box statistics.
TITANS SURVIVE THIRD-DOWN DIFFICULTIES: Tennessee failed to convert any of the first seven third downs it faced, but strung together two conversions on the drive that led to a 44-yard field goal by Bironas in the fourth quarter.
Hasselbeck completed a 12-yard pass to Nate Washington on third-and-eight and completed an 18-yarder to Damian Williams on third-and-10 to move the ball to the Buffalo 30-yard-line. Washington injured his left ankle earlier in the game and left after making the key reception. He had four catches for 40 yards, and Williams had four catches for 62 yards. Hasselbeck finished 16-of-25 passing for 140 yards.
The Titans were 2-for-11 on third down (18 percent) in the game. Tennessee's defense also struggled on third down, allowing the Bills (5-7) to covert seven of the 16 third downs (44 percent) that Buffalo faced.
"Buffalo is a tough place to come get a win," Hasselbeck said. "They were 4-1 at home this year, so we knew the importance of it, not only the challenge, but how important it was going to be for us to get two in a row."
HAWKINS RELIEVES MCCOURTY: Titans cornerback Jason McCourty left the game in the first half after suffering an injury while making a tackle. Chris Hawkins entered the game and delivered solid play, posting four tackles and helping the Titans secondary against four- and five-wide receiver sets used by the Bills in the second half.
Hawkins bounced between the Jaguars and Ravens in his rookie year before joining the Titans' practice squad in the final two weeks of the 2010 season. The Titans re-signed him in January, but Hawkins was inactive the first five games of the season before making his debut against Houston on Oct. 23. He played special teams in a reserve role for three straight weeks, but was inactive at Carolina and at Atlanta.
TITANS TIGHTEN RUN DEFENSE: Buffalo running back C.J. Spiller rushed 11 times for 80 yards, including a career-long 35-yard touchdown, in the first half. He appeared to have trumped that with a 41-yard TD later in the first quarter, but the play was negated because of a holding penalty.
The showdown between "CJ's" didn't materialize in the second half, however. Tennessee held Spiller to three yards on three carries after halftime.
NET PUNTING HELPS: Tennessee averaged 47.8 yards on five punts, and Buffalo averaged 48.5 yards on four punts, but the Titans netted 45.8 yards per punt, while Buffalo netted 30.5 per punt.
The difference is a credit to directional kicking by Brett Kern, who grew up near Buffalo, solid kick coverage, and three punt returns by Marc Mariani for 72 yards. Kern pinned the Bills inside their own 20-yard-line on four of his five punts.