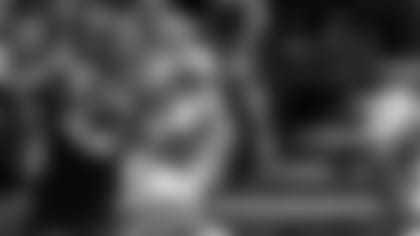 WR Kenny Britt hauls in a 21-yard TD pass, tying the score at 13 in the third quarter.
INDIANAPOLIS -- Titans defensive tackle Sen'Derrick Marks forced a fumble by Colts running back Dominic Rhodes, and Tennessee safety Michael Griffin scooped the ball and weaved 20 yards to the Indianapolis 37-yard-line with 1:34 remaining and the score tied at 20.
The Titans planned to run the ball on three straight plays to use up clock before sending Rob Bironas in for a game-winning field goal attempt, but the exchange between quarterback Kerry Collins, a 16-year NFL veteran, and rookie center Kevin Matthews, who made his first career start, was lost and recovered by Colts defensive end Robert Mathis at the Indianapolis 38 with 1:25 left.
Collins, who has been playing through thumb and finger injuries, and Matthews each took responsibility for the exchange, but Titans coach Jeff Fisher said he hadn't had a chance to deeply examine the play. He said Matthews, who started the season on the practice squad and was called into duty after injuries to Eugene Amano and Fernando Velasco, delivered a "pretty impressive performance" that included long snapping duties in the second half after Ken Amato left with an injury on the final play of the first half.
"We'll sort out how it happened. It's unfortunate," Fisher said. "There were two turnovers in the game and they take place in three plays. That's the difference, clearly. You get the ball back and hang on to it and you have a chance to win."
Peyton Manning quickly led the Colts to the Tennessee 25, and Adam Vinatieri accurately kicked a 43-yard field goal as time expired for the 23-20 win. It was the lone score by either team in the fourth quarter.
"We thought we had the game in our hands," Griffin said. "You run one, two, three plays and get that clock going down and kick a field goal from there. We should have a win right now but it didn't happen. We showed we didn't give up. We played hard, fought hard, and that's how we can hang our heads, with us fighting hard."
Titans defensive end Jason Babin said the shift between the teams swapping fumbles was "a big valley of emotion" but added that NFL games should be close until the last second. Others said the play was a microcosm of how a season that started with such potential—the Titans led the AFC South with a 5-2 record—sputtered into a frustrating pattern that Tennessee's coaches and players couldn't fix.
The Titans (6-10) lost eight of their final nine games to finish with their first losing season since 2005. The Colts (10-6) won the division when Jacksonville lost at Houston, and secured the No. 3 seed in the AFC playoffs by defeating Tennessee.
The five points between the Colts and Titans (30-28 on Dec. 9 and Sunday's score) were the difference in the Titans finishing first in the AFC South through tiebreakers and last in the division through tiebreakers.
In the first meeting, Indianapolis stormed to a 21-7 halftime lead before Tennessee mounted a comeback in the second half that ended with a touchdown as time expired. Titans players said they built on what they did well last month against the Colts in Sunday's game.
"We had a good (pass) rush plan; the secondary and linebackers covered great," Babin said. "You can't ask for much more. … After playing them once this year, we felt like we had a good plan defensively—covering them, disrupting the timing, rushing them. You could tell (Manning) was frustrated. They're such a timing offense, and we were getting three-and-outs."
Titans cornerbacks Cortland Finnegan and Jason McCourty said the Titans had better execution this time around. The Colts' first possession of the game started with Stephen Tulloch's sack of Manning, who went to the ground for a loss of 7 yards, amidst pressure from the Titans' linebacker.
"We got in Peyton's face the first play of the game," Finnegan said. "We pressured them. We got them off the spot when we needed to."
Tennessee didn't sack Manning again, but disrupted the Colts' offensive rhythm, forcing five punts.
Tennessee never trailed by more than seven points Sunday. The Titans tied the Colts four times, but never seized the lead and stagnated in the fourth quarter. Tennessee had one first down in the final period and none in the last seven-plus minutes of the game.
Britt catches TD, injures groin
Second-year pro Kenny Britt caught his career-best ninth touchdown—a 21-yarder from Collins to tie the game at 13 with 11:29 left in the third quarter but left the game with a groin injury. Britt caught five passes for 85 yards Sunday but left a game with an injury for the second time this season. He finished his second campaign with the same number of receptions as he did as a rookie (42) but tripled his touchdown production and went from 701 yards to 775 yards, despite missing four entire games and most of another with a hamstring injury suffered Oct. 31 at San Diego.
The Titans lost that game to the Chargers, beginning a six-game losing streak, that included starts by Collins, Vince Young and rookie Rusty Smith at quarterback because of injuries.
Johnson concludes rushing bid
Titans running back Chris Johnson was unable to become the first player in NFL history with consecutive 2,000-yard seasons but became the second closest running back to the feat. Johnson had 39 yards rushing on 20 attempts against Indianapolis Sunday and finished with 1,364 yards on 316 attempts (4.3 yards per carry). Johnson's encore performance of his 2,006 rushing yards in 2009, is second only to Barry Sanders, who rushed for 2,053 yards in 1997 and 1,491 yards on 343 attempts (4.3 per carry) in 1998.
Johnson's 1,364 yards was the fourth best total in the NFL this season behind Arian Foster (1,616), Jamaal Charles (1,467) and Michael Turner (1,371). The former first-round pick has 4,598 rushing yards in his first three seasons, which is the fourth highest total behind Eric Dickerson (5,147), Earl Campbell (5,081) and Jamal Lewis (4,757).
Johnson had just one rush of more than 10 yards against the Colts and had four rushes that lost 11 yards and three more for no gain Sunday.
"I feel like I could have had way more yards," Johnson said. "Just at times we weren't on the same page as far as running back, offensive line, receivers."
Playing hard until the end
Although Tennessee didn't have a shot at the postseason, Tulloch said it was important for the Titans to put forth maximum effort in their final game.
"I'm happy because we showed we didn't give up," Tulloch said. "We kept on fighting. Although it didn't go our way, we hung in there and competed throughout the game."
Babin, who was chosen to his first Pro Bowl after recording a career-high 12.5 sacks in his first season with the Titans, said the team showed character during adversity.
"I know there were times when we weren't happy with the way things were going, but everybody fought, stayed together," Babin said. "No one pointed fingers. Everybody was working together—offense, defense, coaches, the guys upstairs, trainers—so it speaks volumes about what kind of character we have on this team."
Collins reaches passing milestone
Collins, who started this season in a reserve role behind Young, passed former Colts quarterback and NFL Hall of Famer Johnny Unitas for 11th on the all-time passing yards list. Collins started the game 98 yards shy of Unitas (40,239) and completed 28 of 39 passes for 300 yards with two touchdowns for a rating of 111.1.
The 38-year-old Collins has 40,441 career passing yards, which trails Joe Montana by 110 yards for 10th-best all-time, and said he wants to keep playing next season. Collins moved into ninth on the all-time completions (3,439) and attempts (6,163) lists this season.
Bironas ties franchise FG record
Bironas tied the Oilers/Titans franchise record for 20 consecutive field goals without a miss in the first half. The six-year pro connected on field goals of 26 yards in the first quarter and 42 yards in the second quarter, matching a streak set by Al Del Greco (1998-99) and matched by Bironas (2007-08).
Bironas' streak, however, came to an end on the final play of the first half when the Titans attempted a 61-yard kick.
Bironas kicked his career long of 60 yards to beat Indianapolis at LP Field in 2006, but Sunday's 61-yarder was short, off the mark and fielded 8 yards deep in one end zone by Antoine Bethea, who returned the ball 101 yards before Tennessee tight end Craig Stevens prevented a touchdown by dragging Bethea down 7 yards shy of the goal line.
Mariani sets return record
Titans rookie kickoff and punt returner Marc Mariani set the franchise record for kick return yards in a season. Mariani returned four kickoffs Sunday for 119 yards, including a 49-yarder, returned two punts 7 yards and fair caught two other punts.
Mariani, who along with Babin was selected to the Pro Bowl, finished with 1,859 kickoff and punt return yards. It is one of the top 20 performances in NFL history and broke Derrick Mason's record of 1,794 kick and punt return yards in 2000. A fumble lost by the Titans' offense trumped a fumble recovery by Tennessee's defense in nine scoreboard seconds Sunday.