NASHVILLE – Ola Adeniyi was born in Lagos, Nigeria.
On Sunday, the Titans outside linebacker will represent his country proudly with a helmet decal as the NFL celebrates its international diversity.
"That's love, man," Adeniyi said. "Any time I get to represent where I am from and my homeland, where I come from, it is always good. It is something I always carry with me, even without the flag. To be able to represent the culture in the game that we play, it is going to be lit. It's amazing."
Adeniyi, who was eight years old when his mother moved him to the United States, won't be alone.
At least nine Titans will pay homage to their heritage with international flag display on helmets during Weeks 4 and 5.
Across the league, over 200 players, coaches and executives are scheduled to take part as the league celebrates the growing number of nationalities and cultures that make up the fabric of the league with an initiative that will see players take the field with international flags on their helmets.
Players across the league will wear a helmet decal of the country or territory's flag that represents their nationality or cultural heritage across Weeks 4 and 5.
Players can choose to wear, alongside the American flag, the flag of an international country or territory if they lived there for two years or more, or have a parent or grandparent who were born there.
Titans rookie tight end Chigoziem "Chig" Okonkwo, whose mother, Isioma, emigrated from Nigeria, will wear a helmet decal representing Nigeria as well.
"That's me at a core," Okonkwo said. "It's going to be an amazing opportunity. I think it's great the league is doing this, and it will show how many people from the league are from different backgrounds. It is really cool."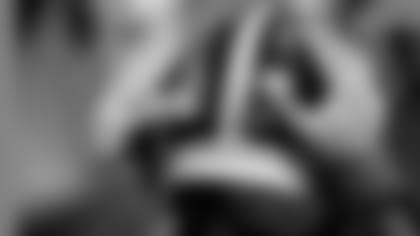 Here's a list of all the Titans scheduled to take part in the initiative:
TE Chig Okonkwo – Nigeria
OLB Ola Adeniyi – Nigeria
WR Nick Westbrook-Ikhine – Nigeria
OL Dennis Daley – Jamaica
OL Nick Petit-Frere Haiti
TE Thomas Odukoya - Netherlands
On Thursday afternoon, an equipment manager with the Titans placed the flag decals on helmets that will be worn in practices, and in games.
Per the NFL, the player-led initiative is aimed to showcase the global influence on the league and recognize the impact that those contributing nations across the world have had on NFL rosters today, fans will see over 50 nations and territories represented.
"My dad's side of the family – he came from Nigeria, and I have a bunch of cousins and people I have reconnected with recently," Westbrook-Ikhine said. "To be able to show them their name on the back of a jersey is the biggest thing for me.
"(This initiative) brings representation. Football is still a growing sport, especially internationally, and a lot of people are coming from overseas to play. I think it's awesome they're allowing the representation."