**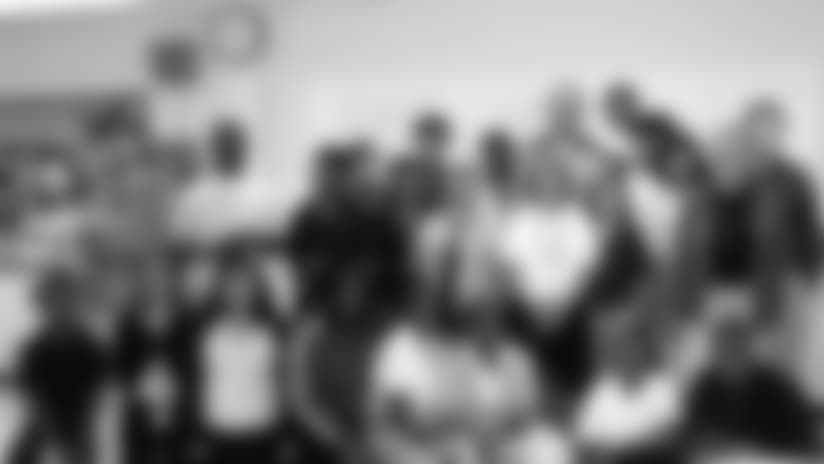 Titans safety Donnie Nickey poses with students from Rose Park Magnet School on Tuesday.
NASHVILLE, Tenn. --** Titans Safety Donnie Nickey surprised students and faculty at Rose Park Magnet School on Sept. 29 as part of the Titans Tuesday program.  Nickey was the guest of honor at a special school-wide assembly to encourage the youth and share a personal message.  The school was chosen to participate in the Titans Play 60 Challenge and Nickey was on hand to speak about the program. 
Rose Park students will participate in the Titans Play 60 Challenge to become more physically active and will receive various prizes at the end of the challenge.  Nickey also stressed the importance of leading an active lifestyle which includes a healthy diet and regular exercise – encouraging the students to get at least 60 minutes of active play per day. 
Nickey told the students that he wouldn't be the player he is today or have such a lengthy NFL career if he didn't make good choices.  During the assembly he also talked about the importance of getting good grades and doing homework regularly.
"In the NFL, we spend the majority of our work day in meetings, a lot like you do in the classroom," said Nickey.  "In our meetings, we learn about the other team and what we'll have to do on Sunday when we face them.  I often have homework, like you, in the form of game film, which I watch at night to prepare for the next game.  Even after you leave school, homework doesn't end."
After the assembly, 25 students were chosen by the school for their leadership, grades and behavior to spend additional time with Nickey for a meet and greet opportunity.  The students were able to ask questions and were given an autographed poster and Play 60 materials.  Every student in the school also received a Titans team poster.
About "Play 60"
The Titans "Play 60" initiative encourages youth to get at least sixty minutes of physical activity or play per day in effort to fight childhood obesity. Partnerships with local non-profit organizations, like the American Heart Association and the National Dairy Council, have enhanced this mission and opportunity to reach out to America's youth.  Since the NFL's Play 60 inception, the NFL has committed over $100 million to youth health and fitness through programming, media time for public service announcements and grants from Titans Owner K.S. "Bud" Adams' Jr., and his fellow NFL owners and players.  For more information about the NFL's Play 60 campaign please visit http://www.nflrush.com/health