**
 [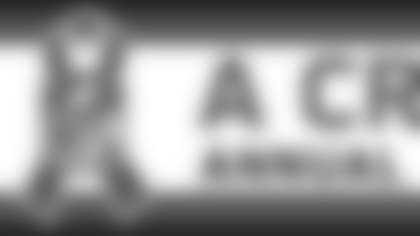 ](http://www.nfl.com/news/story?id=09000d5d812e36ef&template=with-video&confirm=true)
NASHVILLE, Tenn. --** The National Football League and its players will support October's National Breast Cancer Awareness Month with its largest on-field presence and a national screening-reminder campaign. In collaboration with the American Cancer Society, the initiative, called "A Crucial Catch: Annual Screening Saves Lives," encourages annual mammograms for women over 40.
Beginning on October 4 and continuing throughout the month, NFL Breast Cancer Awareness games will feature:
• Players wearing pink cleats, wristbands, gloves, sideline caps, helmet decals, captains' patches, sideline towels and quarterback towels
• Pink sideline caps for coaches and sideline personnel and pink ribbon pins for coaches and team executives
• On-field pink ribbon stencils and Crucial Catch wall banners
• Pink goal post padding in end zones
• K-balls with pink ribbon decals
• Pink coins used for coin toss
• Crucial Catch pink rally towels for all fans attending Sunday Night and Monday Night Football games on October 4-5
Game-worn pink merchandise and K-balls will be autographed post-game and auctioned off at NFL Auction (www.NFLAuction.NFL.com), with proceeds benefitting the American Cancer Society and team charities. Special pink merchandise will be available at www.NFLShop.com and in stadium retail stores, with a portion of proceeds going to breast cancer charities. 
In addition, members of the NFL Referees' Association will donate a portion of their game pay to breast cancer charities in October. Their donations will total $24,000.  Officials will don pink-accented caps and pins for games throughout October.
From cleats to gloves, towels to caps, NFL partners including Nike, Reebok, adidas, Gatorade, Wilson, Under Armour, Cutters Gloves and McArthur Towel and Sports are creating pink merchandise for breast cancer awareness games. Many NFL licensees also will create special pink product, with a portion of proceeds benefitting breast cancer charities.  In addition to creating pink sideline towels for players, Gatorade will produce 1.9 million pink ribbon bottles, on sale at retail stores throughout October; Gatorade sideline carts will feature pink ribbon decals during October. Trading card companies Panini, Topps, and Upper Deck will produce special pink trading cards featuring facts on breast cancer awareness; they will be available, free of charge with purchase, at stadium retail stores.
Fans can visit www.NFL.com/pink to learn more about breast cancer detection and prevention tips.