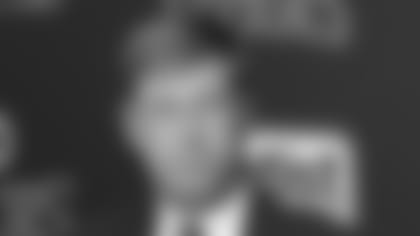 Titans General Manager Ruston Webster
NASHVILLE, Tenn. --The Titans new general manager says the team is in good hands with the quarterbacks they have.
Ruston Webster understands why some Volunteer fans want Peyton Manning to continue his NFL career in the state where he played in college. With Manning's future in doubt due to neck surgery and a $28 million bonus due from the Colts in March, some fans put together a website and solicited money for billboards in Indianapolis imploring the quarterback to return.
But the Titans tried to downplay the Manning talk Tuesday in a conference call with season-ticket holders as Webster addressed the topic before taking questions. Webster called Manning a great player in the NFL and noted he was under contract with another team.
"We also feel like we're in good hands,'' Webster said.
The Titans signed Matt Hasselbeck to a three-year deal worth more than $20 million last July, and he led them to a 9-7 record. Webster said Hasselbeck brought the Titans through a tough time after losing top receiver Kenny Britt. Hasselbeck threw for 3,571 yards, the most by a Tennessee quarterback since 2002.
Jake Locker played well enough in relief to make the Titans happy they used the eighth pick overall in 2011 on the quarterback. Locker threw for four touchdowns with no interceptions and a 99.4 passer rating coming off the bench in relief of Hasselbeck during the season.
Coach Mike Munchak already has said Hasselbeck and Locker will compete to be the starter in 2012.
"He showed enough during the season to warrant a chance to win the job, and he'll have a good shot to do that,'' Webster said of Locker.
"Very talented player, he brings a lot of excitement to the game, and so we are as excited as you are about seeing him out there. It'll be a good competition. It won't just be Matt's job or anything like that, and Matt knows that. The best man will win.''
Webster said the Titans are in good shape with about $35 million in salary cap space, but he intends to address the offensive line among other positions as they fix a running game ranked 31st in the NFL in 2011. The defensive line and linebacking corps also are due for upgrades after Tennessee had only 28 sacks in 2011.
The Titans will pick No. 20 overall in the first round of the draft in April, and defense could be the big focus.
"What we want is to be like the old Titans' defense,'' Webster said. "We want to play fast and tough and physical and have teams fear us when they come in and play us. That's what we're going to work toward improving our pass rush, which hopefully will help those defensive backs out on the backside too.''
The Titans will be trying to use some of that cap space on keeping some of their own players off the free agent market. Tennessee has 17 pending free agents led by cornerback Cortland Finnegan and defensive linemen Jason Jones, William Hayes and Dave Ball.
Webster refused to give hints on which players he wants to sign before March 13 to avoid painting himself into a corner. A couple fans lobbied for him to keep Finnegan. The cornerback bolted training camp in August upset when the Titans made a counter-offer to his agent for a new deal, and there were no talks during the season.
"I spoke to his agent briefly at the Senior Bowl,'' Webster said. "Just talked to him for a minute. We're still kind of going through all that, making decisions on what we want to do with all our players free agent-wise, including him.''
Webster did give fans a bit of good news about Britt. The receiver tore his right ACL in September after the best start of his career.
"Kenny's been working hard, and he's coming fast, probably even a little faster than I thought he would so I'm real happy about that,'' the general manager said. "We expect to have him out there for training camp. The good thing about this injury, if there was a good thing, is it happened early. And he's a very strong young man and bounces back pretty quickly from these things.''