ATLANTA – Butch Spyridon, CEO of the Nashville Convention & Visitors Corp., grew up in Pascagoula, Miss., a city made famous because of catchy songs from Ray Stevens and Jimmy Buffet.
But here on Wednesday, he was singing the praises of Nashville, his home of 27 years – and the home of the 2019 NFL Draft.
On the day the NFL's plans for the event were made public, Spyridon and his staff spent the day at a booth at the Media Center for Super Bowl LIII. When he left town after a flurry of interviews, other members of his staff passed out information about the city, and what to expect. They'll be here all week.
"This will be the biggest and best NFL Draft in the history of the draft," Spyridon said. "Free music, walkability, and a ton of fun. They are probably thinking they should be coming to Nashville anyway.
"So we are just going to give them a good weekend to come."
Among the things we learned on Wednesday:
The main NFL Draft stage will be on First and Broadway. Draft picks on the main stage will take place the evenings of April 25 (Thursday) and April 26 (Friday) and during the afternoon of April 27 (Saturday).
Schermerhorn Symphony Center will be host to Selection Square, which features the team tables where representatives from each club will make their draft selections.
The NFL Draft Experience, a three-day football festival, will be held in the parking lots and areas surrounding Nissan Stadium.
The NFL Draft Red Carpet will take place on April 25 (Thursday) at The Green at Riverfront Park.
Concerts with "high level talent" are being planned for on the main stage on Broadway all three days, and on another stage across the Cumberland River. The performers will be announced at a later date.
Admission is free. There will be limited seating areas (and some VIP areas), but the idea is most fans can stand, and walk.
The NFL and the city are expecting crowds approaching 300,000 for the weekend in an area organizers are calling the largest festival footprint ever for an NFL Draft.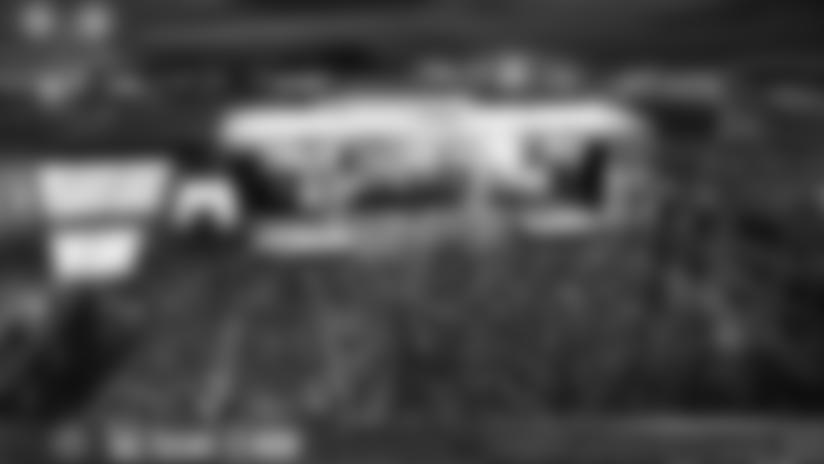 Here at the NFL Draft booth, renderings of what Nashville will look like on April 25-27 – on Broadway Avenue and across the Cumberland River at Nissan Stadium -- decorated the space.
The team handed out Goo Goo Clusters, guitar picks, a Rolling Stones magazine highlighting the city, and more information about Nashville. A brochure gave passersby a chance to register for a free trip to the draft.
Fans and media have swarmed the Super Bowl LIII Media Center all week. Nashville Convention & Visitors Corp. will have a presence here through Saturday.
The NFL invited Spyridon and his crew last week.
"We want to hype and promote the draft and do the right thing," Spyridon said. "We are happy to be here."