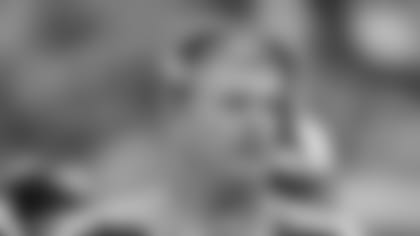 Head coach Mike Munchak has the Titans focused on the second half of the season.
NASHVILLE, Tenn. - Mike Munchak has no explanation for exactly why the Tennessee Titans have won 13 of their past 14 games against the NFC.
Luckily for Tennessee, Atlanta and Tampa Bay are up next.
The Titans (5-4) have won two of three overall after a 30-3 rout of Carolina on Sunday to stay 1 1/2 games behind the Houston Texans (7-3) in the division.
Their defense smothered Cam Newton and the rest of the Panthers' offense, while Chris Johnson ran for a season-high 130 yards. They even got a touchdown on a punt return.
"I hope it continues,'' Munchak said Monday of the Titans' success against the NFC. "We'd like to see that happen. It's hard to figure out why that is, but I hope the pattern stays the same. ... Going to Atlanta's going to be a great challenge.''
With the win in Carolina, the Titans are 27-10 against the NFC since realignment in 2002, and that's the second-best interconference winning rate in the NFL in that time at 73 percent behind only New England (33-5, 86.8 percent) with Pittsburgh at 72.4 percent (27-10-1).
Munchak has been preaching that the stretch run offers a fresh start for a team still set on winning the AFC South. The Titans are a win away from matching the six victories of last season, and this team won only once in the final nine games in a finish that led to the decision to cut Vince Young and part ways with coach Jeff Fisher.
The new coach said he never set a number for wins in his first season except enough to win the division.
"That's our goal, that's been our goal,'' Munchak said. "I don't know how many that's going to take. Obviously, it's going to take a lot more than we have right now. We're in position to be able to do that so we just got to look at it that way that there's no number. Just whatever number gets us into the playoffs.''
Munchak has encouraged his Titans to forget about the stats and rankings built up through the first eight games. The Titans seem to have seized upon this idea that they can start fresh despite being last in the NFL in rushing and other struggles.
"The biggest thing is we do have seven more, and we have to take them one at a time,'' receiver Damian Williams said.
"I've told a couple people that before I don't remember too many 12-4 teams not making the playoffs. If we go one at a time and keep doing what we're doing and play our best football at the end of the season, I think we'll have a good shot.''
The Titans spoke while Texans coach Gary Kubiak announced a significant foot injury to his starting quarterback Matt Schaub.
But the Titans can be encouraged by their own play in Carolina. Johnson had 177 yards from scrimmage as the offense finally looked to be in synch running the ball with the offensive line opening big holes for him.
"You watch the tape, yeah that's us,'' Munchak said. "That's how we block. That's how we play.''
Williams had 107 yards receiving off five catches to give Tennessee a 100-yard receiver and 100-yard rusher for the first time this season. Matt Hasselbeck threw a touchdown pass in his ninth straight game, his longest such streak to start a season in his career.
The defense had a season-high five sacks and held the Panthers to 279 yards, looking more like the unit that was the NFL's stingiest in points allowed early in October while starting 3-1. The Titans did it despite starting three rookies on defense with a fourth, tackle Karl Klug, getting plenty of work as well.
Marc Mariani, a Pro Bowl returner as a rookie, also pitched in with his first touchdown this season off a 79-yard punt return.
The Titans had nine penalties for 92 yards, but Munchak noted they didn't have any offsides, false starts, illegal motions. He used video of the penalties they were flagged for as teaching moments trying to clean up those mistakes.
"You get a chance to run the ball, it's good for everybody,'' Munchak said.