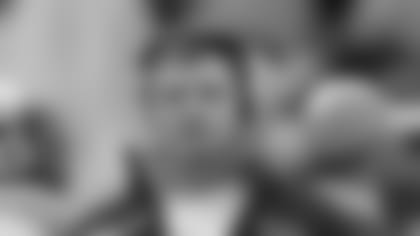 Mike Munchak said he is not interested in becoming the next head coach at Penn State.
NASHVILLE, Tenn. --Mike Munchak says he is not heading to Penn State as coach.
The Titans coach says Wednesday he's flattered to be mentioned for his alma mater, but insists he loves what he's doing in Tennessee.
"You all know Penn State means a lot to me. I obviously went to school there and I'm real concerned for what they've gone through the last couple of months. I'm flattered that people think I'd be a great fit for the coach there," Munchak said Wednesday after practice.
"They have not contacted me in any way or talked to me about the possibility of working there. I have not reached out to them. I have a job that I enjoy quite a bit."
This is the third time since Paterno was fired that Munchak has denied interest in the job. He denied it the day after Paterno was fired and again Dec. 2 when his name came up in connection with the opening. He was linked again Wednesday to the job and did his best to squash the idea he might leave the franchise he has worked for as either a player or coach since 1982.
The only assistance Munchak is ready and willing to give is advising his alma mater in the search process.
"I'm sure they're going to find themselves a great coach and if I can help them in any way to do that, obviously I would do that," Munchak said. "I'd love to stay involved with Penn State some way, but I'm very involved with the Titans and I love what I'm doing."
The first-year NFL head coach is busy trying to get his 8-7 Titans into the playoffs, which would be the team's first postseason berth since 2008 and third since the 2003 season. The Titans need a victory in Houston on Sunday and then help from at least two other games to make the postseason as the AFC's final wild card.
"That's what I'm really thinking about and excited about," Munchak said. "It's unfortunate that it came up this week because I don't want the focus taken away from what we're trying to do as a team here."
Munchak said he considered the "what-ifs" of the Penn State situation when the job came open. He never went any further with that possibility.
"You always think of the what-if, what would that be like, going to college (coaching) or moving back to Pennsylvania, and I think that's when we realized how much we don't like the winters and how hard that would be moving back with the snow, and how we do like Nashville quite a bit more," Munchak said.
"You think about it and how it would be fun to be a part of something. I feel like I grew up there, but that's kind of where it stops. I'm happy with what I'm doing and the opportunity I've been given here has been awesome."
His general manager is Mike Reinfeldt, a former teammate with the Houston Oilers. His defensive coordinator, Jerry Gray, is another former teammate.
Munchak's Titans were glad to hear him respond so quickly to this latest rumor.
"Honestly, my heart was kind of beating this morning when I saw that go across the ticker on the bottom of the screen, because you don't know what's going on," receiver Nate Washington said. "But he's not a guy that gets caught up in that sort of thing. He's very happy where he's at, and I'm very proud of coach Munchak and very happy with the leadership he has given us throughout the year."