**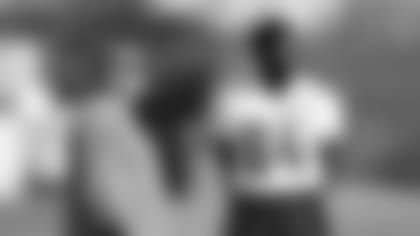 Offensive coordinator Mike Heimerdinger (left) can't wait to mix Randy Moss into one of the NFL's top offenses.
NASHVILLE, Tenn. --** Which Titan will benefit the most from the acquisition of six-time Pro Bowl receiver Randy Moss?
Quarterback Vince Young with another target? Running back Chris Johnson with more running room? Other receivers with fewer defenders assigned to them? Defensive players who go against Moss in practice? Tennessee's coaching staff with more options? Or Moss with a clean start and eight games left this season?
"Hopefully, we all do," guard Jake Scott said Wednesday. "Hopefully we win more games. He's a great player. He's proven that throughout the years. He should be able to make some big plays for us, and if we can get some different looks, maybe take a guy out of the box, that could help (Johnson), too."
Young has the NFL's second-best passer rating of 103.1, which is 20 points higher than his previous career high of 82.8 in 2009. Young's average passing yards per game (142.6) ranks 32nd. The fifth-year pro has shown the ability to connect with Titans receivers on deep passing routes this season, but has been sidelined for parts of two games and all of another with an ankle sprain. Young practiced on Thursday for the first time in more than a week.
Johnson is fifth in the NFL in rushing yards with 721. It's bordering pace for nearly a 1,500-yard season, which is elite, but would keep the third-year pro from becoming the first running back in NFL history to have back-to-back seasons of more than 2,000 yards. Opposing defenses have smothered Johnson, cheating up with defenders and containing Johnson from multiple big gains each game.
Johnson believes the addition of Moss will keep defenses from targeting him as much or Moss will make them pay.
"It's up to the other defensive coordinators," Johnson said. "If teams still want to be stubborn and just put all their guys in the box, Randy's going to have some great games."
Titans coach Jeff Fisher frequently talked about the team's receivers being one of the deepest groups he coached. That was before Tennessee claimed Moss, who ranks ninth all-time in receptions (948), fifth in receiving yards (14,778) and second in touchdowns (153), off waivers from Minnesota on Nov. 3.
Kenny Britt leads the Titans with 23 receptions for 434 yards and seven touchdowns but will miss Sunday's game at Miami with a hamstring injury he suffered at San Diego on Oct. 31. Johnson has caught 22 passes for 90 yards. Nate Washington has 21 receptions for 351 yards and four touchdowns. Washington has scoring receptions of 56 yards and 71 yards on the season. Justin Gage (nine catches, 143 yards) has missed the past four games with a hamstring injury but is expected to play against Miami. 
Washington said Tennessee (5-3) has done a "pretty good" job in its first eight games, but the addition of Moss will help the Titans in multiple ways during the second half of the season.
"This is the part where we need to turn it on all the way," Washington said. "He's going to give us some extra legs and some extra boost to turn it on all the way. It's going to give us an opportunity to come out and look different in the middle of the season. A lot of teams get so accustomed to running the same thing that you see a lot of the same guys on film."
Cornerback Cortland Finnegan said he and members of the secondary can learn what Moss has done to be so successful in his 13-year career and prevent opposing receivers from doing so.
"I'm super excited about what he can do for the football team," Finnegan said. "He's been nothing but great since he's been here. With Coach Fisher at the helm, I like what he can do. I'm thrilled to have him on the team. I'm also thrilled the guys have put in the hard work these first eight games."
Fisher and offensive coordinator Mike Heimerdinger have added a player to the offense who has had at least one catch of more than 50 yards in each of his first 12 seasons. Moss's long this season is a 37-yard touchdown.
"He is what we expected him to be. He's very talented," Fisher said. "He's having fun here. He's learned the offense as quickly as he can. He's going to play. How much depends on how much he's able to absorb by the end of the week. He's really smart. He's got a good feel. He's here to help us win games."
Moss has surpassed 100 receiving yards 67 times in his career. This season, which includes four games with New England and four games with Minnesota, Moss has 22 catches for 313 yards and five touchdowns.
Fisher met with Moss early Monday and stressed two points: That the Titans are happy to have him here, and that they want Moss to be happy here. Fisher said mutual feelings were established within minutes.
Moss said Wednesday in his first public comments since he was acquired by Tennessee on Nov. 3 that he feels good about the acquisition, appreciates the history of the Oilers/Titans franchise, and that Fisher's resume "speaks for itself."
"I left a lot of good friends, a lot of good guys in Minnesota," Moss said. "I'm sorry it didn't work out but the show must go on. I keep saying time and time again this is a business. I think when people start understanding the business side of football, it will make it a better league.
"I look forward to helping this team do whatever I can, whatever my role is," Moss said. "Hopefully I fit into Coach Fisher's team, and hopefully go out here and try to make some plays to keep winning."