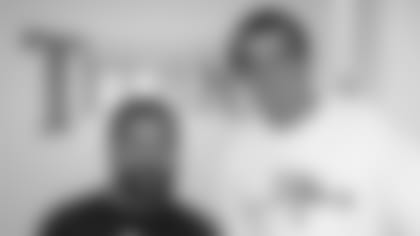 Joey Barranco (left) and Matt Thompson (right) put many advance hours into making sure the footballs are in perfect shape for game days.
NASHVILLE, Tenn. --** Coaches and players prepare for opponents each week, but Joey Barranco makes sure another component is ready for the game.

Barranco, the Titans' assistant equipment manager, is tasked with selecting game balls used on offensive plays by Tennessee's players each week. Prior to kickoff, he hands officials a bag of 12 balls that the Titans will use on offense each week.

Some balls — like players — have been developed since training camp. Others have been folded into the mix during practices after the attrition of a player keeping one or throwing one into the stands after a special play.

"It takes at least a week to a week and a half to get a game ball ready," Barranco said. "During training camp we'll try to get at least 80 balls going. That way, they'll be ready when the time comes."

Barranco, who is in his 11th season with the Titans and sixth overseeing  game balls, has a counterpart on the opposing sideline that does the same thing each week.  That person has his own bag of 12 balls that the opposing  team likes to use per recommendation of the quarterback.

Tennessee had starts by Vince Young, Kerry Collins and Rusty Smith at quarterback this season, but Barranco said there weren't many changes to the game balls. He said Young prefers balls that have "really good nubs on the side and the laces raised" but Collins and Smith didn't express a preference.

Barranco is in the middle of reps at practice. He snaps the ball to quarterbacks during some drills, then corrals the balls — often with one-handed snags — after receivers make their catches and run back to the line of scrimmage.

Barranco thinks his best showing is eight one-handed catches in a practice and said receivers Justin Gage and Damian Williams have strong arms and (running back Chris Johnson) "thinks he does."

Every once in a while, a player will tell Barranco that a ball is good or that it is bad. Barranco pulls a Sharpie from where he's hooked it on his collar and marks the one that is going to be removed and replaced.

"Sometimes you're lucky where you can have the same set of game balls for four weeks, five weeks, and maybe you'll have to replace two or three balls a week," he said. "When you have a good set of 12, you try to keep it. Sometimes it's impossible if a guy gets an interception, they like to take the ball. Sometimes on touchdowns, they like to go into the crowd and give it to a family member. Sometimes you look at it like, 'Man, I worked so hard getting those balls ready,' but then again these balls are for the guys to do their best with."

Home teams provide an additional bag of 12 balls to be used by either team if the weather conditions are severe. The backup bag is rarely called upon, whether the Titans are home or away, Barranco said. Officials then return the game balls to the teams at the end of the games.

"After a game I'll go through and count what we have," Barranco said. "If we need to add more, I have a bag in the back that we worked the balls through during training camp or during practice. I'll just refill it with the 12 that I think are good. Quarterbacks usually throw with them during the week so they know what they're getting in the game. Some guys don't care what ball they have in the game."

While teams are allowed to work with game balls used on offensive plays during the week, separate rules apply to balls that are used on kicking plays. Each week officials bring a new box of balls to be used for kicking plays and summon a representative from each team who has a 45-minute span to condition the new balls.

Titans equipment assistant Matt Thompson, who is in his fifth season, handles this task each week. Thompson said he and his counterpart on the other team usually condition two apiece of the eight new balls each week.

Titans kicker Rob Bironas, who has accurately kicked 22 of 24 field goal attempts and all 38 point-after-touchdown attempts this season, said Thompson does a good job and "works diligently" to get the balls ready for kicking. Bironas said the brand new balls travel about eight fewer yards on kickoffs until they are conditioned.

"At the beginning of the year, (Bironas and Titans punter Brett Kern) show him how they want the ball and he'll model it after that," Barranco said. "He gets it the way the guys want them. People don't understand it's a brand new ball out of the box, and Matt has to make it feel like it's been kicked 100 times already."