**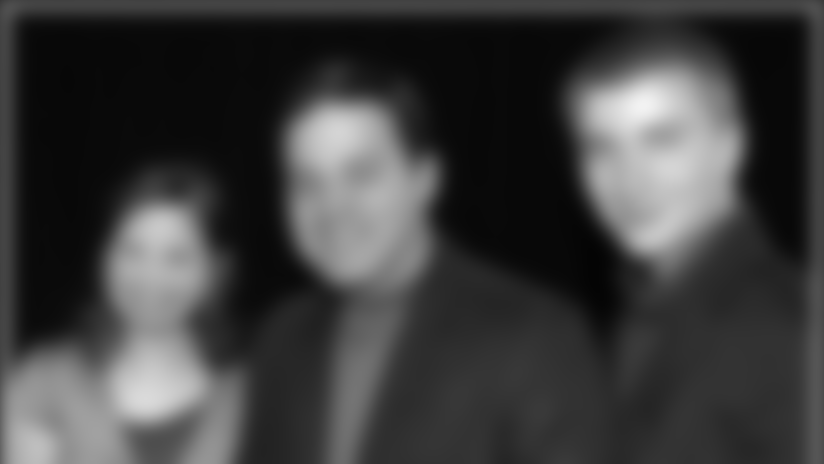 Pictured with Mike Keith (center) is Girl of the Year, Jamie DuBois and Boy of the Year, Ben Bjork.

NASHVILLE, TN, June 11, 2008 —** Mike Keith, Director of Broadcasting for the Titans, was named the Leukemia and Lymphoma Society's (LLS) 2008 Nashville Man of the Year.
During a ten-week fundraising period beginning with a kickoff celebration, the Man and Woman of the year candidates were judged solely on their success in generating funds to advance the Society's mission. According to LLS, every dollar raised by the candidate counted as one "vote." Keith was the male candidate with the most "votes," and was awarded the title of 2008 Man of the Year at a grand finale celebration on June 5, 2008. The candidates competed in honor of the Society's Boy & Girl of the Year, local children who are blood cancer survivors and sources of inspiration to others.
"I am so pleased to announce that Mike Keith is The Leukemia & Lymphoma Society's 2008 Man of the Year," said Colleen Grady, Executive Director of the Nashville Chapter of the Leukemia and Lymphoma Society. "He raised $54,480 in just 10 short weeks. Cortland Finnegan, Tennessee Titans cornerback, is our Man of the Year Runner-Up, raising an impressive $37,376. Overall, this campaign raised more than $250,000, and we are grateful for the time and energy that Mike, Cortland and the other candidates invested on behalf of blood cancer patients and their families."
Keith said that this was a challenge he knew he wanted to take, especially after having personal connections since childhood with at least seven different people suffering from blood cancer in one form or another.
"I was anxious to be a part of this competition to raise $50K for blood cancer research, largely in honor of one of my son's classmates, Jack Woods," said Keith.
He did indeed surpass his goal of $50,000 and due to his fundraising success; LLS will be honoring both Keith and an LLS researcher with naming rights to a research grant in their honor. There is, however, one twist in naming rights, according to Mike.
"Jack Woods' name will be on this special research dedication," said Keith. He is the hero of this story. I'm very proud to have been able to be a part of this for LLS, for Jack Woods and for the many families who face this battle daily."
He admits that raising over $50,000 in less than ten weeks was no easy feat. Along with the help from his family, Keith mailed over 800 letters regarding the program. He described this endeavor as "another job," one which he would not have been able to do without the support of his friends, family and the Titans organization.
"There will be people who disappoint you, but for every one that does, there will be five that blow you away," said Keith describing his amazement at people's responses and support of his cause.
Keith was impressed with Cortland Finnegan's efforts and how inspiring he is at this stage of his career to be so community oriented. In the beginning, Keith admits there was a little trash talk between the two, but at the end of the day, he would have been happy for Cortland to win because, ultimately, it was for the same cause.
"The candidates' goal wasn't to be named man or woman of the year, we did it to raise money for LLS research," said Keith.
Following his tremendous efforts Keith says he is overwhelmed by the generosity of so many people that was unexpected. He credits their generosity as the main reason he exceeded his goal of $50,000.
About LLS:
The Leukemia & Lymphoma Society, headquartered in White Plains, NY, with 68 chapters in the United States and Canada, is the world's largest voluntary health organization dedicated to funding blood cancer research and providing education and patient services. The Society's mission: Cure leukemia, lymphoma, Hodgkin's disease and myeloma, and improve the quality of life of patients and their families. Since its founding in 1949, the Society has invested more than $550 million in research specifically targeting leukemia, lymphoma and myeloma. Last year alone, the Society made 2.5 million contacts with patients, caregivers and healthcare professionals.