NASHVILLE, Tenn. – **Renee Bobb is uniquely positioned to understand homelessness and the pathway to emerge from the plight better than most.
Five years ago, Bobb was a single mother of two desperately trying to bounce back from homelessness when her family was hit hard by a plunging economy. Bobb found help she needed at Nashville-based Safe Haven Family Shelter.
Bobb recovered with help from the shelter-to-housing program that is in its 28th year of operation and turned much of her focus to help others facing homelessness.  Bobb serves on the board and teaches a class called "Vision for Success" that advocates a long-term sustainability plan.
The Tennessee Titans on Wednesday named Bobb the winner of the 2012 Titans Community Quarterback Award.  Bobb received the annual award during a special recognition luncheon hosted by the Titans at LP Field. Bobb earned a $10,000 grant for her non-profit organization, Safe Haven Family Shelter, from Titans Owner K.S. "Bud" Adams, Jr. and the Tennessee Titans Foundation.
"It is truly an honor to receive such a prestigious award. I want to thank the Titans team, and of course the judges," Bobb said. "I'm definitely shocked and surprised that I won the award, but it just goes to show that when you do good work and you give back to the community, it's wonderful to be recognized for what you've done."
Bobb was nominated for her work, and a panel of 16 judges selected her as the 2012 Titans Community Quarterback Award Winner. Adams and the Titans also awarded a $5,000 grant to Interfaith Dental Clinic on behalf of Dr. Roy Thompson in recognition of his work with the charity agency in Murfreesboro and Rutherford County, and a $2,500 grant to Nashville-based Preston Taylor Ministries on behalf of Margaret Neblett.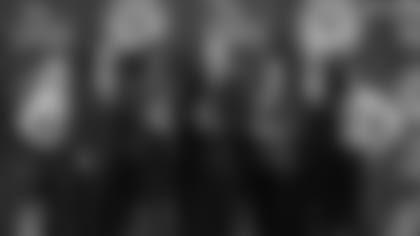 ](http://www.titansonline.com/media-center/photo-gallery/2012-Titans-Community-QB-Award-Luncheon/6bed428d-0e63-4449-a5ae-471b43fa6a88)
Renee Bobb was selected as the 2012 Titans Community Quarterback Award Winner and presented a $10,000 grant for Safe Haven Family Shelter from Titans Owner K.S. "Bud" Adams, Jr. Bobb, third from left, is joined by runner-up Dr. Roy Thompson and finalist Margaret Neblett. Titans Executive Vice President Don MacLachlan, quarterback Matt Hasselbeck and cheerleaders Tiffany and Chocez presented the awards at a special luncheon at LP Field on Wednesday. Click here for a slideshow of photos.
Mr. Adams and Titans representatives were proud to salute the work done by the three finalists in continuation of the Community Quarterback Award program that has awarded $270,500 on behalf of outstanding volunteers through statewide contests over the past 13 years.
"We have been presenting the Titans Community Quarterback Award since 2000 and we are continually amazed at the magnificent volunteer work throughout the state," Adams said. "Renee Bobb continues the tradition of statewide winners who give so much to non-profit organizations in Tennessee.
"Like our winners before her, Renee is an inspiration to us all," Adams continued. "Community involvement is very important to me and the entire Titans organization. We are pleased to present this grant to the Safe Haven Family Shelter in recognition of Renee's dedication. We salute not only today's three grant winners but everyone that was nominated for this year's Titans Community Quarterback Award! I say this every year, and it continues to be true – this program shows that Tennessee truly is the Volunteer State."
Bobb said she hopes that everyone gains an increased understanding of homelessness, how big the problem is, and the importance of implementing remedies. She served five-and-a-half years in the Navy and is well-educated but did not have a plan of action when tough economic conditions struck. She also hopes to bring attention to the number of veterans who experience homelessness.
"Thank God there was a place that I could go, that I could take myself and my two children and get the help that I needed. It gave me the resources, it gave me the coaching. It just really helped get myself back in order."
Bobb said she was proud for Safe Haven Family Shelter to be recognized alongside the work of Interfaith Dental Clinic and Preston Taylor Ministries. The Titans also recognized the work done by the team's community game-day partners who organized seven charitable drives at LP Field with help of donations by generous Titans fans.
Titans quarterback Matt Hasselbeck presented representatives from American Paper & Twine, LP Pencil Box, Nurses for Newborns, Cell Phones for Soldiers (U.S. Army's 5th Special Forces), YWCA, Liv2Giv Foundation, Second Harvest Food Bank and the U.S. Marine Corps Reserve with an autographed football in a display case and posed for photos with each of the groups and the Titans Community Quarterback finalists. The Titans also gave each organization a ball featuring Titans coach and Hall of Fame player Mike Munchak to distribute to one of its volunteers.
Hasselbeck, a Titans Community Man of the Year finalist, told the guests he is proud of their efforts and the way the organization emphasizes the importance of community service.
"I think as players we're really proud of the efforts that we put out on the field but also the efforts that the team supports us with in the community," Hasselbeck said. "This was a great opportunity that I had to come out and say, 'Thank you,' to our community partners, those groups that are doing such an amazing job around our city and our state."
Hasselbeck said involvement in the community has helped his family feel more at home in Nashville.
"I think the biggest thing for us is we've learned so much about what's going on here and different charities that we've jumped on board with here," Hasselbeck said. "In particular, 147 Million Orphans was a charity that we had never heard of. We came here, and it seems like everyone that we know is touched by that organization in one way or another. There are so many great charities and so many great people doing things, it makes me proud that the team that I play for, the company that I work for, is just as excited about that kind of stuff as my family is."
Hasselbeck said he was greatly impressed by the Titans Community QB finalists and the impromptu acceptance remarks that Bobb delivered.
"We met great people all day, but Renee's story is probably the most inspiring," Hasselbeck said. "I think she's a really deserving winner. I was struck by how they surprised her and said spontaneously, 'We need you to speak, to say a few words,' and it was the best speech you could have ever written. I think when your story is authentic and genuine, it comes across that way, and her story is wonderful. I think she's a perfect winner for this award."