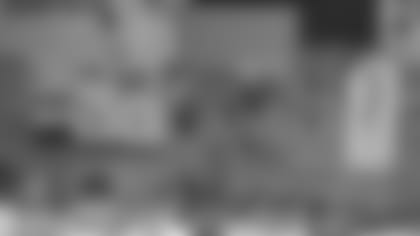 QB Jake Locker stressed the importance of studying hard in the classroom and getting 60 minutes of exercise each day to students.
BLOUNTVILLE, Tenn. — Jake Locker's favorite hat and broken-in boots will make him almost as recognizable the next time he's in East Tennessee as his No. 10 Titans jersey with his name on the back.
Locker, donned the hat — a hunting camouflage pattern with a Titans logo on the front and a mesh back — and brown boots that have a lighter shade of brown dirt in the wrinkles they've developed from their use at three school visits and two public autograph signings Wednesday during the 14th Titans Caravan, sponsored by Grange Insurance.
Locker told students of Holston Elementary and Middle Schools in Sullivan County, students of Hampton Elementary in Carter County and students at Mosheim Elementary in Greene County the importance of being active as part of the NFL's Play 60 campaign and the importance of studying hard in the classroom. He said he continues to study the Titans playbook and offense and opposing defenses, and the amount of study he puts in equals the amount when he earned his college degree from Washington.
"It's a great opportunity to get to know some of the fans in the different parts of Tennessee and surrounding states, let them know that we appreciate their support and encourage them to come out and have fun at our games this year," Locker said.
Titans mascot T-Rac and Tennessee State Parks mascot Ramble the Raccoon helped Locker deliver the message about the importance of playing 60 minutes a day to more than 2,000 students during the three school visits. T-Rac and Ramble delivered a high-energy and educational program that entertained the students and drew laughter from teachers in the audiences that greeted the Titans Caravan with enthusiasm and warmth.
Locker said the mountain views reminded him of his hometown of Ferndale, Wash., which is about 10 minutes south of America's border with Canada, except the mountains in his native state are taller and less green. An avid outdoorsman, Locker frequently surveyed the landscape during his trip across the region before going to Knoxville for an autograph signing offered free to fans at Academy Sports and Outdoors, where the autograph line started forming about four hours before the event's start.
Jeff Selvage, of Knoxville, was the first fan to greet the Titans' first-round draft pick in the 2011 NFL Draft.
"He seems like he'll be a good quarterback and a good person," Selvage said. "I think they'll be good (this season). I think they'll get in the playoffs, but injuries are always important."
Chad Lewis, of Knoxville, and Scott Blanton, of Oak Ridge, were next in line to greet the Titans' second-year quarterback.
Lewis said he's followed Locker since he played collegiately for the Washington Huskies, and Blanton has followed him since the draft. Both said they've been impressed with how Locker played last season in a reserve role and in how he and veteran QB Matt Hasselbeck have built a great relationship, even though they are expected to compete for the starting job.
Locker appeared in five games last season, garnering significant playing time in three games that Hasselbeck left early because of injuries. He completed 34 of 66 passes for 542 yards, four touchdowns and no interceptions.
"I got the opportunity to get into a few games," Locker said. "The nice part about that is I did get my opportunity to play. It's not going to be completely new to me. I know what to expect somewhat, and I think that will help me going forward."
Hasselbeck, who signed with the Titans when the lockout ended last July, became the second person in Titans/Oilers franchise history to throw for more than 3,500 yards (joining Hall of Famer Warren Moon). Hasselbeck completed 319 of 518 passes for 3,571 yards and threw 18 touchdowns and 14 interceptions.
Titans coach Mike Munchak has said publicly that Locker and Hasselbeck are in open competition for the starting job this offseason. Locker and Hasselbeck have said that is how they've always treated it.
"My goal last year was just to be prepared for when I do get my opportunity and make the most of it," Locker said. "As a player, you want to be on the field. If you go back further, 10 or 15 years, there's success stories both ways (of quarterbacks who started immediately and those who waited multiple seasons before starting), and all the people that have been successful, whether it's early or later, what they've done is take advantage of their opportunities, and that's my goal."
David Coots and his mother Myra Coots, of Oak Ridge, said they enjoyed the opportunity to meet and greet Locker, who they described as "awesome and really friendly" during the session and "tough as nails" on the field like former Titans first-round QB Steve McNair.
Amanda Palmer, who moved to Madisonville from Indianapolis in January, used the opportunity to get a ball signed by Locker for her friend Ron Bultman, who still lives in Indianapolis and is a die-hard Titans fan.
"He has a whole room that's Titans memorabilia," Palmer said.
Locker and the Caravan then continued with a stop at Academy Sports and Outdoors in Chattanooga, where the QB was joined by explosive receiver Kenny Britt, who is recovering from a knee injury that cut his 2011 season short in the third game.
Britt has been putting in a lot rehab work on his knee so he will be ready to return to action as soon as possible, but said the Caravan would offer a nice, short breather.
"This is definitely going to help me out because they've been working me hard in that training room each and every day of the week," Britt said. "It's a long process. I've been going there about seven months now, going into my eighth month. We don't get to see the fans (when we're) on the field. We know that they're in the seats or watching on TV and cheering us on, and we hope they keep doing that."
Locker and Britt were greeted with great enthusiasm in Chattanooga, providing a great ending for Locker's time on the Caravan and solid beginning for Britt, who stayed on for Thursday's stops in Tennessee and Alabama.