NASHVILLE, Tenn. —** Jake Locker's participation was limited at Wednesday's practice, but the second-year pro and Titans coach Mike Munchak were pleased with what the QB was able to do.
Locker said he "definitely" expects to make his second career start Sunday when Tennessee (0-1) visits San Diego (1-0).
Locker's first start ended prematurely when he suffered an injury to his left, non-throwing shoulder while tackling New England safety Patrick Chung. The tackle ended a play that was initially ruled a fumble by Nate Washington but was later correctly determined an incomplete pass. Washington, who also was injured on the play, did not practice Wednesday but is expected to return Thursday, Munchak said.
"It felt great today," Locker said. "I was able to do everything I wanted to, probably could have been able to do more. We kind of have a schedule that we made earlier in the week, and it will increase as the week goes.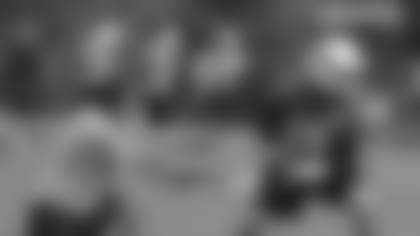 Quarterbacks often duck and cover after a turnover, but Locker was determined that the Patriots would not score points on the play early in the fourth quarter. It was a way he displayed the kind of competitive spirit and leadership that resulted in his selection as one of five Titans captains last week. He continued to show his fire on the sideline by lobbying Munchak to go back in the game.
"He's a competitor, wants to play, said he felt a lot better (Wednesday)," Munchak said. "He came out, again, we kept him limited, but he participated in all the periods but just in a more limited fashion, threw the ball pretty well when he was in there, so we feel good about his chances to continue and play on Sunday. We'll just continue each day to add more to his plate, and I'm sure by Friday, he should be doing most of the work."
Locker went 23-of-32 passing for 229 yards and a 29-yard touchdown pass to Washington, but also threw one interception and lost a fumble on a sack that the Patriots quickly turned into a TD. He also recorded two rushing attempts for 11 yards on a day that the Titans struggled to run the football against the Patriots.
In his first practice since the injury, Locker took the normal about of reps in seven-on-seven passing and individual drills. The Titans, however, reduced his reps during the team periods of practice
"So far, so good," Munchak said. "I think he passed the first test. I think we're excited about the fact that he should be ready to go on Sunday."
Locker said he had gotten in some productive work with the Titans' training staff and hopes to increase his activities progressively each day. Locker said he did not expect the injury to impact the mobility that enables him to scramble when receivers are covered or go on a designed run.
"I can control a lot when I get outside of the pocket," Locker said. "I can control when I get down and all those sorts of things. I don't see that being a concern for me."
Locker was somewhat pleased by his debut but not satisfied. He said Tennessee's offense can improve on some of the things it did well and eliminate mistakes as the season progresses.
"I thought we moved the ball well," Locker said. "I thought it was really positive for us to take the opening drive of the first and second half and be able to go down and get points. Those are things that I think we can build off."
The Chargers ranked fifth in the NFL with 25.4 points per game, third with 22.4 first downs per game and sixth with 393.1 yards per game in 2011. San Diego moved the ball well in its opener and benefitted from advantageous field position that resulted from Oakland's blunders on special teams Monday, but settled for five field goals and one touchdown.
"They're a good football team," Locker said. "They've been a good football team the past five or six years. They play physical, they play with an attitude, and it's a team that you've got to come prepared to play against. It will be their home opener, they'll be excited, their fans will be excited, so it will be a cool atmosphere."
Receiver Kenny Britt's return from a one-game suspension and rehabilitation from knee surgeries is expected to help even though Britt and Locker have not played in a regular season game together.
"Kenny will definitely be getting back into his rhythm out there, and we've got the opportunity to find that with him, so I'm not worried about not being on the same page or anything like that," Locker said. "We'll have the opportunity to work this week and get familiar with each other, and I look forward to that."