NASHVILLE, TN, Sept. 9, 2008 – Just two days after an exciting win to open the 2008 regular season, players from the Tennessee Titans started off this season's Titans Tuesdays program with a hospital and school visit.  Tuesdays are the only day off during the week for the players, but the Titans take time each Tuesday to make appearances in the community. 
Linebackers Colin Allred, Ken Amato, Keith Bulluck and Stanford Keglar were the first players to visit patients at Baptist Hospital this season.  Amato and Allred were greeted with bright smiles and animated conversation as they visited in the maternity ward and the Neo-Natal Intensive Care Unit. One mother even showed the visiting group a picture of her ultra-sound.  Ken Amato was especially talkative with the new or expecting mothers because he himself has a 16-month old daughter at home. 
Keith Bulluck and rookie Stanford Keglar spent time with patients awaiting surgery.  One patient's mother was so excited to meet Bulluck that she followed him into the hallway and asked for an autograph on her very own shirt. While both groups walked up and down the halls passers-by could not help but stare and smile at the large group, but in particular the four players wearing the Titans blue "In the Community" T-shirts.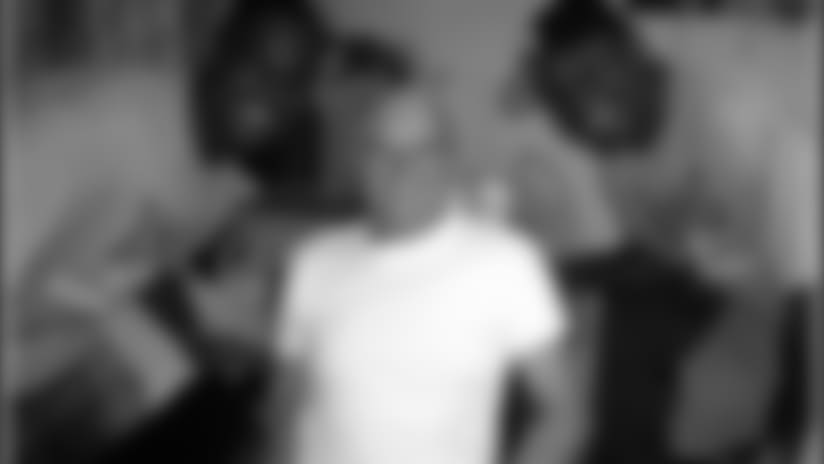 Linebackers Stanford Keglar (L) and Keith Bulluck were happy to visit with patients at Baptist Hospital.

While his teammates spent time with the patients, Linebacker Josh Stamer spoke to over 400 students at David Lipscomb Middle School.  He stressed the importance of having a "never-quit mentality" in everything from sports to school work.  Stamer commented that as a professional athlete, he feels it's important to give back to the community.  He grew up in a small farming community in Iowa, a state without pro sports teams, and he sees it as "an honor to make a visit like this and talk to kids."
Stamer also discussed how much time he still spends in the classroom each week, reviewing his game film and studying plays.  He emphasized the importance of working hard throughout school and he is no stranger to the dedication it takes for a good education.  He received his undergraduate degree in business administration and master's degree in professional accounting in five years at The University of South Dakota.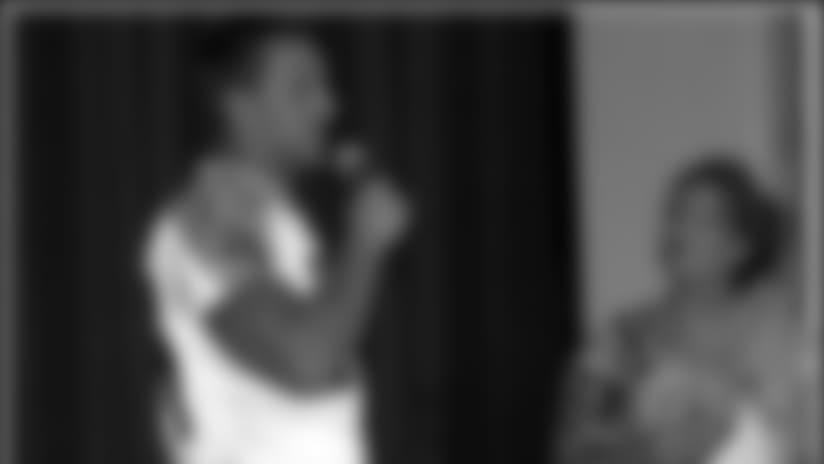 Linebacker Josh Stamer talks to children at David Lipscomb Middle School while Titans Manager of Community Relations Tresa Halbrooks looks on.

A multi-sport athlete growing up, Stamer also encouraged the students to be physically active as part of the NFL's
WHAT MOVES U/Play 60
program in conjunction with the American Heart Association.  The program encourages youth to get an hour of physical activity each day in effort to fight childhood obesity.  This season, as a part of the What Moves U program, there will be six-week challenge at the schools the Titans visit for students to become more physically active.  One dedicated student from each participating school will be chosen to attend a meeting with Coach Jeff Fisher and tour the Titans facility at the end of the season.  
In addition to the Titans' commitment to promoting fitness, nutrition, and physical activity of kids through the What Moves U program, the team is also working with The National Dairy Council to promote healthy lifestyles.  As part of a five-year program and $250 million commitment, the NDC and NFL will encourage students to adopt healthy behaviors, make nutritious food choices, and actively inspire positive change among their peers.