**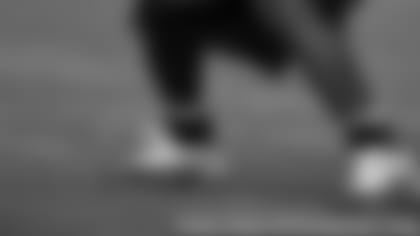 Rookie linebacker Rennie Curran recorded back-to-back 100-tackle seasons at Georgia. Now he's looking to make his mark in the NFL with the Titans.
NASHVILLE, Tenn. --** Rookie linebacker Rennie Curran always wanted to play professional football. He silenced critics who discounted him for his 5-foot-11-inch stature, by becoming a standout player at the University of Georgia and a third-round draft choice for the Titans. Even with Curran's success, however, he hasn't abandoned his roots.
Curran was born into a highly-respected Liberian family. His parents, Rennie Sr. and Josie, traveled to the United States in the mid-1980s so that Josie could earn her master's degree in nursing from Emory University. Meanwhile, Rennie Sr. started a shoe repair business in Marietta, Ga.
Shortly after Curran was born, the Liberian Civil War broke out in 1989. As a result, Curran's parents decided to remain in Georgia. They even used much of their income to support family members in Liberia and to bring many to the States.
"My dad and my mom worked countless hours," Curran said. "When I started playing football, they couldn't come to my games most of the time. But I understood they were working hard for us."
Some of his family remained in the war-torn country. Curran's paternal grandmother was a nurse, who delivered numerous babies during the war. His grandfather, Arthur Kulah, is a nationally recognized bishop, and he played an important role in the country's peace efforts throughout the war.
"He had about 26 orphans living with him," Curran said. "He would take in kids during the war and speak out against the president. He eventually had to go into hiding so that he wouldn't get killed."
In the States, Curran's family had to make sacrifices as well. Growing up, he said he often had to give up his bed for other family members. But he believes his childhood was a "humbling experience."
"It really just makes me appreciate where I'm at now – knowing where they came from and what a lot of my family has been through," Curran said. "It showed me the importance of making the best of my opportunities and not taking anything for granted."
Curran's great-grandfather was a tribal chief in Liberia and had 25 children. Although Curran cannot possibly stay in touch with all of his cousins, he said he's proud of his family's rich heritage.
"A lot of people might not know their culture or their background," he said. "But I'm lucky enough to know who my great-grandfather was, for example, and that's always been a part of me."
Curran said his family's strength and work ethic has always pushed him to strive for his full potential. Therefore, when fans, media and scouts bashed him for being too small to be a linebacker, he practiced even harder to silence his critics.
"All I ever heard was that I was undersized," Curran said. "Even coming out of high school, people said I probably wouldn't do anything in the SEC."
In both of his final two seasons at Georgia, Curran led his team in tackles and became the first Bulldog since 1996-97 to record at least 100 stops in back-to-back years. As a junior, he recorded an SEC-leading 130 tackles.
Since Curran's high school years, former Atlanta Falcons Pro Bowl linebacker Jessie Tuggle has served as one of his mentors. The two met during former Atlanta Falcon Stacey Bailey's football camp, and Curran and Tuggle have stayed in contact ever since.
 "I'll call him up sometimes and ask him for advice," Curran said. "He always has great things to say. Sometimes I'd go over to his house and watch film with him, and he'd give me some tips."
Tuggle gives Curran helpful advice about techniques to overcome an opponent who is bigger than himself. In fact, the two originally bonded because of their similar stature and style of play.
"He was a guy they said wasn't tall enough, but he played and had a long career in the league. And he said to me a countless amount of times that if he can do it, I can do it," Curran said. "It's just great to have somebody like that in your corner – somebody you can emulate who is a great guy with great character."
Character is tremendously important to Curran, and he said one of his biggest goals during his professional career is to become an active member in the community because "it's not just about football."
"You've got to be able to give back. I believe you have to use the blessings you were given to be a blessing to others," Curran said. "You can have all the money in the world, but if you don't ever have any effect on anybody, it doesn't say much about you. Anybody can be a good football player."
But that doesn't mean he doesn't have aspirations for the gridiron, too.
"Right now my biggest goal is to earn the respect of my teammates and coaches," Curran said. "I'll play some special teams, maybe become a starter eventually, and I want to be a leader on the field."
After the season, Curran plans to do something he has never done before – travel to Liberia, where he can finally experience his family's culture firsthand. He hopes to earn enough money in his football career so that he can eventually take his entire family back to the country for a visit.
Fans can follow Curran on Twitter at @liberiandream35.