Nashville, TN, Feb. 21, 2008- Titans linebacker David Thornton was the guest speaker at an annual alcohol and drug awareness seminar held by Belmont University's Athletic Department for their student-athletes on February 20th. Thornton addressed more than 200 student-athletes at the local university on the importance of good decision making and the impact of decisions on both their athletic and personal lives.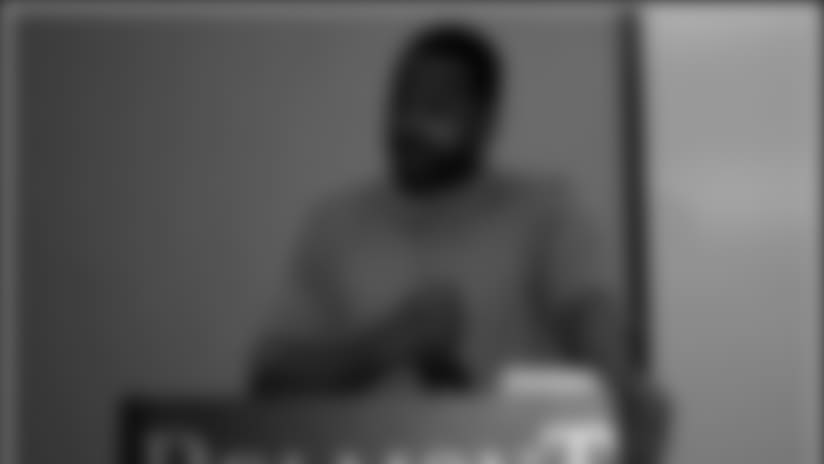 Thornton answers questions from Belmont student-athletes during a QA session.

Thornton shared his personal journey with the student-athletes, describing his upbringing and his long and arduous road from a non-recruited walk-on for the University of North Carolina football team to NFL stardom. Thornton said that having to earn his way onto the team and earn the respect from his teammates and coaches through hard work taught him the value of perseverance.
"I really didn't play much at all at Carolina for four years as a walk on, but I used that as motivation to continue to push to my goal which was just to play," said Thornton. "I try to make a lot of wise decisions that first and foremost are pleasing to God and secondly just knowing that these opportunities don't come often, they seldom come in life. Perseverance is all about in spite of what you go through, in spite of where you come from, in spite of whatever background you have, you're determined to follow your goals and do what someone may have said you couldn't have done."
Thornton began by giving a few examples of athletes who have put themselves in bad situations from the decisions that they have made and who are now suffering the consequences for their actions. Thornton then spoke to the students about how their decisions affect their identity, image, and impact on others.
"The decisions you make ultimately will have an influence on your life," Thornton stated as he continued to emphasize the impact of decision making.
Thornton's speech included a number of questions directed to the students and asked the students to "be true to themselves" and to think when making a decision if that decision aligns with their identity.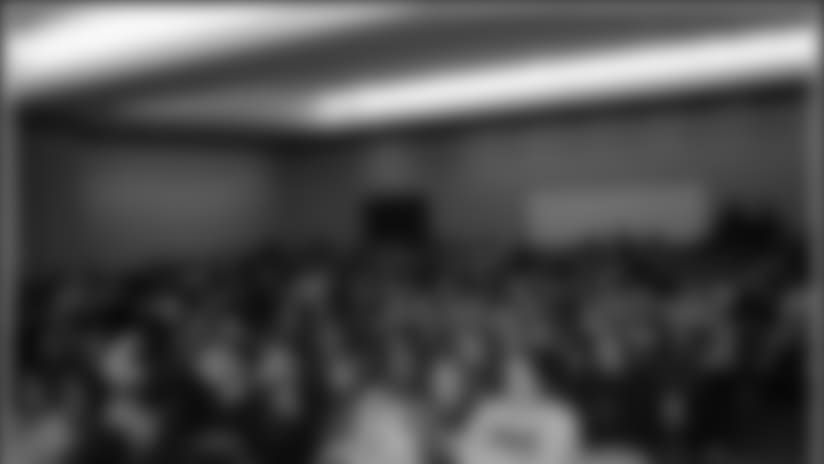 Student-athletes listen attentively to Thornton as he shares his personal experiences.

"If you make enough poor decisions, your reputation may be stained and it may be hard to fix it, whether it's involving yourself in drugs or alcohol or other things," Thornton said. "Every single decision you make does have an impact, whether it's great or small. It will not only impact you but will also impact those around you; including your family, friends, teammates and your school."
A member of the Indianapolis Colts before joining the Titans as a free agent in 2006, Thornton attributed some of the wisdom he has gained throughout his career and life to friend and Colts Head Coach Tony Dungy.
"Coach Dungy is a man of true character. He not only is trying to build champions on the field, but off the field, he teaches players about commitment and handling adversity," Thornton continued. Thornton also stated that Coach Dungy told him that it is easier to make positive decisions when "you surround yourself with other people who also make smart decisions and who stay out of trouble."
Thornton, a man of strong Christian faith, spoke openly about the work of God in his life and used scripture to emphasize the importance of "not being foolish and understanding what God's will and impact is in your life. It is not always easy to make the right decision and everyone will make mistakes, but it is important to listen to your heart and use it as a guide to do what you know you should do."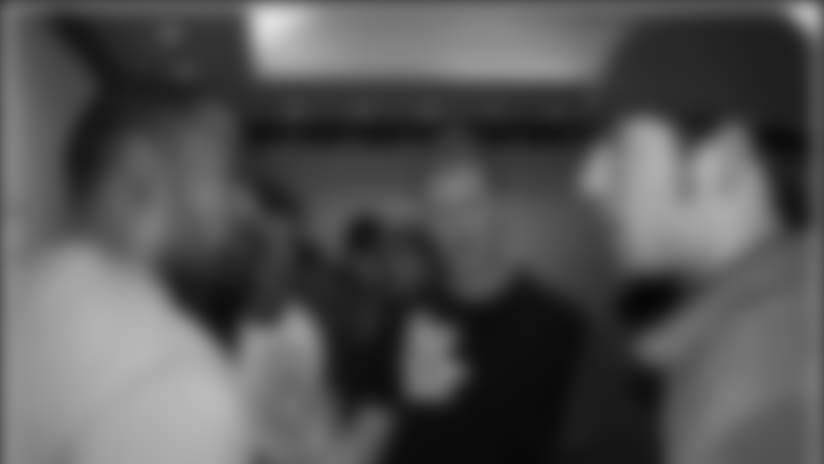 Thornton speaks one-on-one with student-athlete Josh Moffitt (far right) after the seminar while others listen in.

Thornton is currently enjoying the offseason in North Carolina with his family and flew to Nashville specifically to address Belmont's student-athletes on these issues. The annual program is part of an education effort by both the NCAA and the Atlantic Sun Conference to educate student-athletes on alcohol and drug awareness.
When student-athletes were asked about the seminar, they had positive things to say about Thornton and his message.
"I felt like he was very real and spoke about subjects in a way that students could really relate to," said Jennifer Rix, a women's soccer player from Indianapolis, IN.
Josh Moffitt, a baseball player from Nashville stated "I liked the way he came here and talked about faith, the way he was comfortable talking about things like that, it was important to hear, especially for some of the younger guys. I really enjoyed hearing what he had to say."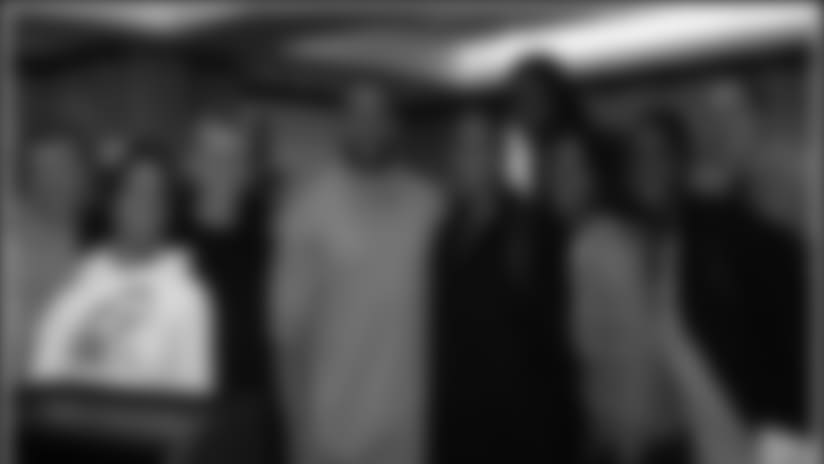 Thornton and Belmont student-athletes share a lighter moment following the night's events.

Betty Wiseman, Belmont's Assistant Athletic Director for Student Services stated that Thornton's humble approach to the subject related the message to the student-athletes very well because he was not preaching to them, but was rather connecting to them from a human interest level. She also commented that his recurring themes of motivation, encouragement, and discipline throughout his talk were important for the students to here and his personal connection with the students made him an even more effective speaker.
"Hearing it [the message] from someone who walks the path, demonstrating what he [Thornton] talks about makes him a very positive role model for young adults," said Wiseman. "He is more than welcome to come back and talk any time!"