NASHVILLE, Tenn. — "Everything he does is saving a kid somewhere."
That sentiment, shared by Metropolitan Nashville Police Department chief Steve Anderson about Titans defensive tackle Jurrell Casey, was echoed by You Have the Power on Tuesday afternoon. The group recognized Casey as their 2017 Powerhouse Award winner for his continued efforts to empower and encourage local youth.
Casey was the featured honoree at YHTP's annual Powerhouse Award Luncheon, and he accepted the award gratefully. "It means a lot," he said. "It just shows what the community means to me and everything I've been trying to get out there for the world to notice."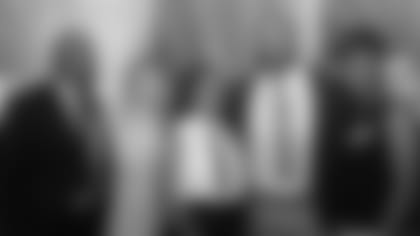 You Have the Power, founded by former Tennessee First Lady Andrea Conte in 1993, is a local not-for-profit group that seeks to empower individuals whose lives have been impacted by crime. They focus on advocating for victims, educating the community, and raising awareness about crime and justice issues. Each year since 2013, YHTP has given the Powerhouse Award to a local individual who exhibits a passionate commitment to serving victims and educating others.
Casey, also the Titans' most recent recipient of the Walter Payton Man of the Year award, and his wife Ryann established the Casey Fund, which works to support formerly incarcerated individuals and mentor inner-city youth. His own experiences with an incarcerated brother served as the catalyst for his desire to help those in similar situations. He is also a spokesperson for United Way of Metropolitan Nashville, and frequently participates in events hosted by the organization.
"Jurrell understands he has an incredible platform as a professional athlete and has seized every opportunity to make a difference," said Tina Tuggle, Titans Director of Community Relations. "I know he will continue to do so long after his playing days. He is a man of outstanding character."
Casey's extensive work in the community has not gone unnoticed by his coaches and teammates, who also speak highly of his character and commitment.
"Jurrell is a consummate professional, teammate, and leader, exemplifying the highest standards of excellence, both on and off the field," said Titans head coach Mike Mularkey. "His commitment to this organization extends far beyond the football sphere, as he continues serve our community with honor. He is a remarkably impressive steward of the National Football League, and we are proud to call him a Tennessee Titan."
Casey was understandably pleased with his most recent award, but has no plans to slow down when it comes to work in the community. "That's what I'm going to continue to do — keep on uplifting people's spirits and keep on changing people's mindsets. That's what it's all about."
Titans DT Jurrell Casey is honored at the fifth annual Powerhouse Award luncheon in Nashville. (Photos: Gary Glenn)