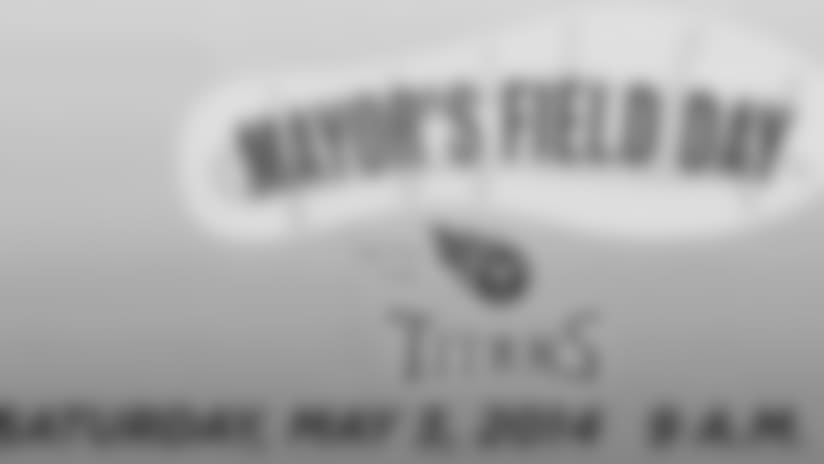 ](http://www.mayorsfieldday.com/)

NASHVILLE, Tenn. — Cornerback Jason McCourty joined Nashville Mayor Karl Dean at LP Field to announce the return of Mayor's Field Day with the Titans.
The third-annual event, scheduled from 9 a.m. to noon on Saturday, May 3, is free and open to the public. Registration in advance at www.mayorsfieldday.com is strongly encouraged but not required.
Mayor's Field Day will include the continuation of traditional activities such as a football toss and relay race on the playing surface, as well as healthy snacks and hydration stations and an educational fitness fair.
"It promotes healthy living, it promotes being active and it teaches our youth that exercise can be fun, and then you're around role models like the Titans who are folks in incredible condition, who are there to encourage kids and get them involved in healthy living," Dean said during a press conference. "It's a lot of fun. I've enjoyed it every year. The crowds are fantastic, and the booths and the information that's available is very interesting. The exciting thing is you can't beat this for your family: you're here on the field at the stadium and with the Tennessee Titans, and that's a special thing for any family."  
Mayor Dean announced that the day's festivities will also launch his third Walk 100 Miles with the Mayor campaign. Attendees can participate in a 1-mile walk that will begin at 8:30 a.m. on May 3 at LP Field and end by walking through the same tunnel the Titans use to take the field. This is the first time that a walk has been included in Mayor's Field Day.
The day can be enjoyed as an individual or with a team of co-workers, club members, church or school groups. Participants that complete the day's activities will receive a free T-shirt and a family four-pack of tickets to the Music City Sports Festival, which will be held May 31-June 1 at Music City Center.
McCourty said Titans players are looking forward to attending Mayor's Field Day and reinforcing the NFL Play 60 message about the importance of active and healthy lifestyles.
"It gives us a chance to be a kid again, for us to go out there, throw footballs with them and do some of the exercises, their excitement is matched by ours and we just want to run around and put a smile on their face," McCourty said. "It's very important because we're preaching the same thing, for kids to be able to get out and get those 60 minutes of activity and run around. An event like this gives them an opportunity to come out with their friends and family, run around and have fun while doing so."
Dean thanked McCourty for his help in promoting the event and the Titans organization "for being such a wonderful partner in all of our health initiatives."