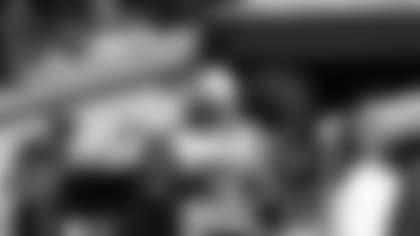 NASHVILLE, Tenn. --** Chris Johnson is using his Twitter account seeking touchdown celebration suggestions because the Tennessee running back wants to top the antics of Terrell Owens and Chad Ochocinco.
"I'm trying," Johnson said Tuesday. "I need help. I'm pretty sure they have somebody to help them, so I'm thinking hard now."
Johnson isn't new to TD celebrations. He drew a $10,000 fine from the NFL last October for celebrating a 66-yard TD run in Kansas City by banging on drums in the end zone -- and wasn't happy being fined for trying to have fun. He tweeted last Friday asking for help and also alerted his followers to "pay close attention to what i have in store."
This is the running back who was the only rookie voted to the Pro Bowl in 2008, and he wasn't happy at finishing a distant second to Atlanta quarterback Matt Ryan for the NFL Offensive Rookie of the Year award. He and teammate LenDale White called themselves Smash and Dash last season, but Johnson also has tweeted that he wants to be called Every Coaches' Dream.
Johnson complimented the variety of celebrations by Ochocinco, the Cincinnati receiver once known as Chad Johnson.
"I just got to come up with something that can beat the drums," the running back said.
Titans coach Jeff Fisher's stance on celebrations is simple. He wants his players to act like they've been in the end zone before.
"I'm not expecting him to do anything that will cost the team a penalty nor any of his teammates," Fisher said.
Johnson has gotten about 20 replies to his request, but none of the suggestions are something he plans to try. With Nashville being nicknamed Music City for its country music industry, he thinks someone should be able to come up with something different.
"They're used to good entertainment," he said.
And should any fan that provides the perfect inspiration be expected to help pay any fine?
No. Johnson plans to handle that.
"If it's better than T.O. or Ochocinco, I'll pay the fine," Johnson said.