**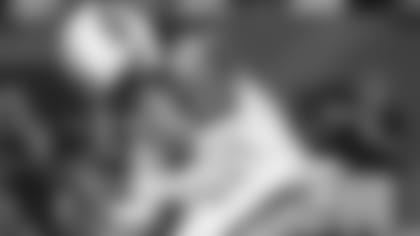 Chris Johnson celebrates after his 2-yard touchdown run gave the AFC a 41-34 lead late in the fourth quarter in Sunday's Pro Bowl.
MIAMI, Fla. --** Titans running back Chris Johnson scored on a 2-yard run with 5:44 remaining in regulation, lifting the AFC to a 41-34 victory over the NFC Sunday at Sun Life Stadium in Miami, Fla.
Johnson combined for 67 yards, including four carries for 19 yards and four receptions for 48 yards. QB Vince Young saw limited action, completing 6-of-12 passes for 47 yards with an interception. Defensive end Kyle Vanden Bosch was credited with one tackle.
Light showers fell for much of the game, stirring memories of a rainy Super Bowl in Miami three years ago. But uniforms remained mostly spotless, with more pushing and shoving than tackling.
"It's different. It was like 7 on 7," NFC linebacker Brian Orakpo said. "Everybody came out here trying not to get hurt and give the fans a good show"
Matt Schaub of the Houston Texans threw for 189 yards and two AFC scores, and was chosen the most valuable player.
"It's a game you watch growing up as a kid and wonder if you could ever be in," Schaub said. "To actually be a part of it is incredible."
Aaron Rodgers also threw two touchdown passes, and NFC teammate DeSean Jackson had two scoring catches.
From the standpoint of ticket sales, this year's new venue and slot on the league calendar was a success. The crowd of 70,697 was the largest for a Pro Bowl since 1959 in Los Angeles.
Spectators included Peyton Manning, Drew Brees and other Pro Bowl players from the Super Bowl teams. Manning and the Indianapolis Colts will face Brees and the New Orleans Saints on the same field next Sunday in the biggest game of the season.
The NFL sought to transform the Pro Bowl into a bigger game by playing it before the Super Bowl for the first time. In a one-year experiment, the league also moved the game from Honolulu, its home since 1980.
The stadium was half empty by the third quarter, perhaps partly because of the rain and temperatures in the 60s. It was sunny and 82 in Honolulu at game time.
Did the weather dampen the players' enthusiasm for Miami?
"It's beautiful. It's paradise," NFC receiver Steve Smith said. "Too bad it's not Hawaii."
Eager to host more big events, the Dolphins have proposed adding a roof that would cover fans as part of stadium improvements that could cost $250 million or more. NFL commissioner Roger Goodell says the upgrades are needed if South Florida is to remain competitive in bidding for future Super Bowls.
Nearly 40 percent of the players originally selected for the game didn't play. One of the AFC replacements, David Garrard, threw for 183 yards, including a 48-yard touchdown to Vincent Jackson.
"It's so awesome," Garrard said. "One of my goals coming into the game was to just be relevant and show all the people who said, `What is he doing in there? The Pro Bowl has dropped off a few pegs,' that I do belong."
Vincent Jackson made seven catches for 122 yards. Chad Ochocinco had a 40-yard reception but didn't do any kicking after practicing placements and punts for the AFC during the week.
"That's OK. It was fun anyway," Ochocinco said.
DeSean Jackson scored on a 7-yard pass from Rodgers and a 58-yard pass from Donovan McNabb, his regular quarterback with the Eagles.
"I'm just out here having a great time," Jackson said. "And at the same time I'm trying to put out a little effort."
There were plenty of other big plays. Joshua Cribbs caught a punt at the goal line and returned it 65 yards. A penalty negated LaMarr Woodley's 64-interception return for a touchdown.
"I slowed up to get a little camera time," Woodley said.
The AFC totaled 517 yards and the NFC 470. Both teams threw for more than 400 yards.
Redskins linebacker London Fletcher, a 12-year veteran playing in his first Pro Bowl, found the AFC's offensive approach exhausting.
"They came out with a bunch of screens and had us running around," Fletcher said.
But there were no complaints from Fletcher's teammate on defense, first-time Pro Bowler Justin Smith of the 49ers.
"The pace is nice," Smith said. "You don't have to worry about working too hard."
The game will return to Honolulu in 2011 and 2012, but the league hasn't decided whether to hold those games before or after the Super Bowl. The Pro Bowl site for 2013 and beyond hasn't been determined.