**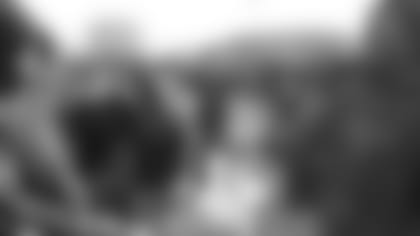 Titans RB Chris Johnson hands out shoes to local youth in need after Wednesday's practice.
NASHVILLE, Tenn. –** Titans running back Chris Johnson and his foundation partnered with Shoe Carnival to provide approximately 50 children from the Monroe Harding and Centerstone Youth Programs non-profit agencies with a new pair of shoes, socks and sports bag for the Christmas holiday this past Wednesday.
"I remember when I was young and how much I loved getting new shoes at that age," said Johnson.  "It was a big deal and I'm glad I can help do that for these kids."
Johnson and a few of his teammates, along with a representative from Shoe Carnival, greeted the children at Baptist Sports Park, as they receive their new shoes.  The players signed autographs, posed for photos and visited with the youth after practice. 
Johnson was more than willing to help out just in time for Christmas.
"A lot of people don't get anything for Christmas, so for them to get something for Christmas means a lot," he said.
"We know the excitement a new pair of shoes can bring," said Steve Meyer, Senior Vice President of Store Operations. "We are pleased to provide these new shoes, socks and bags through our partnership with the Chris Johnson Foundation and the Tennessee Titans."
Centerstone has provided mental health services for over 50 years. The organization serves more than 69,000 children, adolescents, adults, seniors, and their families annually. Centerstone has more than 120 facilities and outreach in over 150 schools and community partnership locations throughout Indiana and Tennessee. CARF Accredited, the organization is in the forefront of research and technology.
Monroe Harding is the lead agency for the Middle Tennessee Collaborative, a group of child welfare agencies in the state.  Through this Performance Based collaborative, agencies work together to provide a continuum of quality and timely services promoting positive growth for children, youth, and young families.
Monroe Harding's Programs includes, Independent and Cooperative living residential homes, RSI Foster Care and Adoption Services, Youth connections (Connecting youth to their community) and Project  S.H.A.R.E. Visit http://monroeharding.org/n for information.