**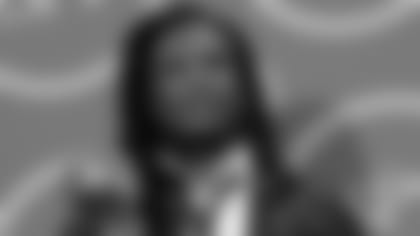 Chris Johnson poses with the award for Breakthrough Athlete in the press room at the ESPY Awards on Wednesday, July 14, 2010 in Los Angeles.
LOS ANGELES, Calif. --** Chris Johnson says contract talks with the Tennessee Titans are at a standstill.
The running back spoke Wednesday night after receiving the ESPY for Best Breakthrough Athlete. He says he wasn't sure about reports the Titans were talking with his agent about converting incentives into a $2.5 million bonus to get him more money this year.
"I'm letting my agent and the team handle that. Right now we're at a standstill, and hopefully when camp starts we'll have an outcome,'' Johnson said.
Johnson reiterated in an interview with ESPN's Hannah Storm backstage at the ESPY Awards that he's seeking a long-term deal, but said he'd also be satisfied with a short-term solution just to get him into camp.
"I want a long-term deal," Johnson said. "But if I don't get a long-term deal then a short-term deal just to get me to camp -- I have no problem with that."
Johnson ran for 2,006 yards in 2009 and wants a long-term deal with at least $30 million guaranteed.
Titans quarterback Vince Young, who was also interviewed backstage at the ESPY Awards, said that he supports Johnson.
Young said he understands both Johnson's and the team's positions in the contract talks.
"I pray to God that he gets in [for the start of camp]," he said.