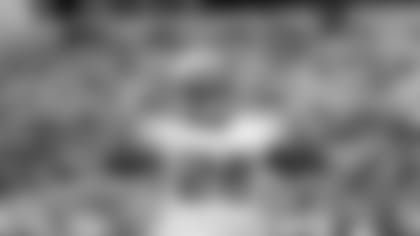 Chris Johnson combined for 174 yards from scrimmage and scored his second rushing TD of the season in a 30-3 victory at Carolina.
CHARLOTTE, N.C. - When Chris Johnson entered the media room following Tennessee's latest win, Matt Hasselbeck grinned and shouted across the room, "Fantasy points!''
Johnson smiled and laughed.
"Matt told me I was on his fantasy team, and that he stepped out at the 1 to help me get in the end zone,'' Johnson said with a laugh after scoring just his second rushing touchdown of the season in the Titans' 30-3 win over the Carolina Panthers on Sunday. "So all of the fantasy owners have to thank Matt.''
Johnson is laughing again, which is a good thing for the Titans. The fact that he's putting up big numbers again is even better.
After a lengthy training camp holdout Johnson appears to be hitting his stride - and just in time for a Titans team that is 5-4 and in need of a strong push down the stretch to make the playoffs.
Johnson came into the game with only 366 yards rushing, but had 174 yards from scrimmage and eclipsed 100 yards rushing for the first time since Oct. 2. Johnson carried 27 times for a season-high 130 yards, including 104 in the second half. Johnson's touchdown was set up when Hasselbeck scampered 21 yards on a quarterback bootleg before getting knocked out of bounds at the Carolina 1.
"We finally gave him carries. This was one of those games we have been waiting for,'' Titans coach Mike Munchak said.
Tennessee piled up 383 yards of offense, 172 on the ground.
"We were on the same page as an offense, executing plays,'' Johnson said. "Some of the plays we ran in the second half, we'd run in the first half and didn't have a lot of success. There are those situations as an offensive line and as a running back to get more of those opportunities to run the same plays, and eventually, it will work out.''
The Titans also got big performances from their special teams and their defense.
Defensively, they put on spy on Cam Newton and tried to confuse him.
Tennessee's defense left the rookie shaking his head in disbelief.
The Titans (5-4) sacked Newton five times, intercepted him once and took away Carolina's downfield passing game. The Panthers came in ranked fifth in the league on offense and first in plays of 20-plus yards, but the Titans limited Newton to 209 yards passing and held Steve Smith, the NFC's leading receiver, to 33 yards.
The Titans sacked Newton four times on first down and put the Panthers in several third-and-long situations.
"(Newton) holds the ball,'' said defensive tackle Jurrell Casey. "If a quarterback is going to hold onto the ball like that, we're going to get to him. We kept him in the pocket. He couldn't do anything but sit there. Having the spy on him meant he couldn't run, and our guys got to him.''
After the game, Newton still seemed confused over what the Titans did exactly to disrupt what had been a potent offense throughout the first half of the season. Newton said he couldn't remember playing quarterback in a game in which his team didn't score a touchdown.
"Never, ever, ever,'' Newton said.
Newton's longest completion was 19 yards, and the Panthers failed to pick up a first down on seven of their 13 possessions.
"This is embarrassing, man,'' Newton repeated three times while shaking his head. "This is as poor of a performance as a team as I've ever seen. Poor performance by myself. There's no pointing fingers without looking at yourself and asking yourself what you could have done better. I know I could have done a lot of things better. It's a reality check, that's what it is. "
The Panthers (2-7) came in averaging 415 yards and more than 23 points per game behind a big-play offense, but Tennessee's defense completely took away their downfield passing game - and just about everything else.
At times Newton rolled out in the pocket and couldn't find anyone to throw the ball to.
"The thing is, Cam has the ability to extend plays, then slingshot one down the field 50 or 60 yards,'' said Titans safety Jordan Babineaux. "We knew coming into the game they had some down-the-field threats, and we couldn't let No. 1 get comfortable. We did a good job of harassing him and making sure he didn't have time to get back on his feet and make accurate throws.''
Tennessee also got a big play from Marc Mariani, who returned Jason Baker's punt 79 yards for a 7-0 lead just 64 seconds into the game. It was the third long punt return for a touchdown allowed by the Panthers this season and the 11th against Baker, the most of any active punter in the NFL.
Tennessee quickly made it 14-0 on its first possession when Damian Williams turned a short pass from Hasselbeck into a 43-yard scoring play after defensive backs Sherrod Martin and Darius Butler missed tackles. Williams finished with 107 yards receiving.
Hasselbeck was 15 of 27 for 219 yards with his only mistake, a third-quarter interception, leading to a Carolina field goal. Even then, the Tennessee defense held after the Panthers took over deep in Titans territory.
Five of Carolina's eight first-half drives ended in three-and-outs and two others were halted by costly mistakes by tight end Greg Olsen. Olsen fumbled in the red zone early on then dropped an easy 16-yard reception late in the first half that would have made for a short field goal attempt by Olindo Mare. Instead, Mare missed the ensuing 50-yard kick on the final play of the first half, and the Titans took a 17-0 lead into the locker room.
"We didn't do anything right,'' Olsen said. "There isn't one thing that we can hang our hat on. It was just an overall pathetic effort by us.''
NOTES: Rob Bironas' 38-yard field goal in the second quarter was the 200th of his career. ... Chris Gamble's third-quarter interception was the 26th of his career, giving him the Panthers all-time franchise record. ... The Panthers are 4-21 over their last 25 games. ... Newton said after the game that his shoulder did not affect this play. Newton had an MRI on his right shoulder Friday, but it revealed no damage.