Two Additional Finalists were recognized as Tennessee's Top Volunteers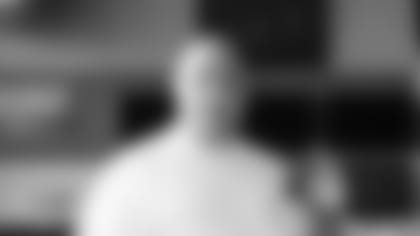 *John Blackburn of Centerville, Tenn. is the 2010 Titans Community Quarterback Award Winner. *
NASHVILLE, Tenn. - The Tennessee Titans announced John Blackburn of Centerville, TN as the 2010 Titans Community Quarterback Award Winner.  Blackburn received the annual award during a special recognition luncheon hosted by the Titans at LP Field East Club.
Blackburn earned a $10,000 grant from Titans owner K.S. "Bud" Adams, Jr. and the Tennessee Titans Foundation for his non-profit organization, Hickman County Long Term Recovery Committee (HCLTRC).
"We are a small rural county [Hickman] and we had had over 1,500 applicants for FEMA (following the May flood).  I and other members of the HCLTRC have managed to shorten the list to only 50 applicants," Blackburn said. "This $10,000 will help a lot folks recover from the devastation in our county. I can't say enough to thank the Titans, my fellow volunteers and everyone else involved."
Blackburn, 62, was one of three volunteers recognized for their volunteer work with non-profit organizations. These volunteers were chosen based on their leadership and dedication to bettering their hometown communities.  Two finalists who also earned grants for their organizations were Jesse McIntyre of Hands on Nashville and Sister Lakshmie Napagoda of the DeNeuville Learning Center in Memphis!
The following two paragraphs are excerpts taken from Blackburn's nomination submitted by Jeanetta Hitt, Board Chair of HCLTRC:
"The Hickman Co. Long Term Recovery Committee (HCLTRC) is a non-profit organization dedicated to the assistance of members of the community that have suffered repercussions to their lives during times of disasters, be it natural or made-made, fires, storms or epidemics.  Our goal is to insure that no one falls through the cracks.  Our committee is made up of concerned citizens that volunteer their time to make this happen.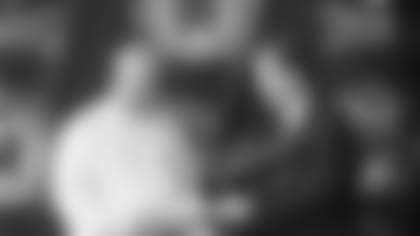 On behalf of Titans owner K.S. "Bud" Adams, Jr. and the Tennessee Titans Foundation, Blackburn was presented a $10,000 grant from Titans EVP Don MacLachlan (right).
This is a large undertaking and one that requires cooperation of many entities, non-profit and government alike.  HCLTRC coordinates efforts and resources from the community and other agencies in order to help families reach a new, safe normal life. 
John Blackburn is a founding volunteer and Board Member for the HCLTRC since its founding in 2008.  He is the Vice Chairman of the committee and the Chair of the Unmet Needs Committee, part of the HCLTRC.  He has also served in the Red Cross for the county as well as during national disasters such as Hurricane Katrina in both Mississippi and Louisiana since 2002."
Blackman says volunteering to help others in the community is extremely important to him.
"It's just a part of me," he said. "I was first involved with the Red Cross and now HCLTRC.  We created our National Banana Pudding Festival as a fundraiser and it is most fun I have ever had.  Yes, this is a plug.  I hope people will come join us for some great banana pudding on Oct. 1.  (For information on the Banana Pudding Festival, visit http://bananapuddingfest.org/).
The Titans Community Quarterback Award program is a statewide contest that recognizes outstanding volunteers, ages 13 and up, of non-profit organizations in Tennessee.  The winners were awarded grants from the Tennessee Titans Foundation that totaled $17,500, bringing the total grants awarded since the program started in 2000 to $233,000.
"We have been presenting the Titans Community Quarterback Award since 2000 and we are continually amazed at the magnificent volunteer work throughout the state," said Titans Owner K.S. "Bud" Adams, Jr.   "John Blackburn continues the tradition of statewide winners who give so much to non-profit organizations in Tennessee."
"Like our winners before him, John is an inspiration to us all," continued Adams.  "Community involvement is very important to me and the entire Titans organization.  We are pleased to present this grant to the Hickman County Long Term Recovery Committee in recognition of John's dedication.  We salute not only today's three grant winners but everyone that was nominated for this year's Titans Community Quarterback Award!  I say this every year, and it continues to be true – this program shows that Tennessee truly is the Volunteer State." 
Below are excerpts taken from the finalists' nomination entries regarding their volunteer efforts:
Jesse McIntyre, 31, Nashville - Hands on Nashville (HON)
"Jesse McIntyre serves as Volunteer Project Leader for Hands on Nashville's recovery and rebuilding programs that aid flood-impacted homeowners.  In this role, he has already led 700-plus volunteers in only eight months and devoted 800 hours to flood relief volunteerism through Hands On Nashville. This amounts to a $48,000 economic impact, according to Independent Sector research. In the immediate aftermath of the flood, Jesse developed a home assessment program that connected volunteers to devastated neighborhoods and personally gutted a dozen homes.  As work progressed, he oversaw volunteers' rebuilding efforts that resulted in the return of 30 low-income families to their residences. Since May 2, Jesse's enthusiasm, hard work, compassion and resourcefulness has characterized the spirit of the Middle Tennessee community as we all who came together to help one another, strangers and neighbors alike."
* *
Hands on Nashville received a $5,000 grant from the Tennessee Titans Foundation honoring McIntyre's efforts.
Sister Lakshmie Napagoda, 53, Memphis - DeNeuville Learning Center
**
"**Sister Lakshmie Napagoda began DeNeuville Learning Center over 14 years ago. She has been the glue that has kept this organization thriving. Walk into the center and you will feel Sister's lovely firm hand. Sister works endlessly, over 12 hour days, yet she never tires of sitting with a mother and helping them through whatever issues they are facing. Sistergreets all students and ensures that the student/tutor match is working well. She helps the mothers celebrate their accomplishments as she schedules and plans full graduation ceremonies twice a year. Sister Lakshmie constantly benchmarks with other agencies to ensure that she is abreast of other Memphis agencies that can help her students. Sister Lakshmie is involved with the Women's Foundation and Assisi Foundation and has received awards for her outstanding contribution to Memphis."
The DeNeuville Learning Center received a $2,500 grant from the Tennessee Titans Foundation honoring Napagoda's efforts.
Previous Titans Community Quarterback Award Winners are:
2009 – Tasha French, "The Contributor," Nashville
2008 – Wayne Howell, Franktown Open Hearts, Franklin
2007 – Bill Boss, Hands-On Science Center, Tullahoma
2006 – Mary McEwen, Bethlehem Center, Nashville
2005 – Sondra Clark, Christ Presbyterian Academy, Nashville
2004 – Mary Cunningham, Meals on Wheels, Kingsport
2003 – Wayne Watson, Colonial Heights United Methodist Church, Kingsport
2002 – Lynn Dunwoody, Auxiliary Probation Service, Memphis
2001 – Anna Sternheimer, Nashville Family Shelter, Nashville
2000 – Georgeanna Chapman, Martha O'Bryan Center, Nashville 
To further salute volunteerism, the Titans recognized volunteers who assisted the team during eight gameday charitable drives that collected a variety of needed items for area locations.   Each of the eight drives below had approximately 40 volunteers collect items donated by Titans fans at collection points surrounding LP Field.  Assisting the Titans with these drives was American Paper &Twine, who provided trucks and drivers to collect items collected at the various charity drives.  Those eight drives were:
9/2/10 — Nurses for Newborns Baby Shower
9/12/10 — LP Pencil Box School Supply Drive staffed by volunteers from LP Building Products
9/19/10 — YWCA "Undie Sunday" – Ladies Undergarment Drive
10/3/10 — AT&T Cell Phone Drive
10/24/10 — Titans Foundation Coat Drive staffed by volunteers from Liv2Giv Foundation
11/21/10 — Second Harvest Food Bank Drive
12/5/10 — U.S. Marine Corps Reserve Toys for Tots Drive
12/19/10 — Soles4Souls Shoe Drive – *The Tennessee Titans announced *John Blackburn of Centerville, TN as the 2010 Titans Community Quarterback Award Winner. *Blackburn received the annual award *during a special recognition luncheon hosted by the Titans at LP Field East Club.