NASHVILLE, Tenn. – Card No. 486 was a winner once again at the JDRF Promise Gala, on a night when everyone impacted by Type 1 diabetes had a reason to smile.
Titans general manager Jon Robinson, who famously held up the card at last year's fundraising event, clutched it again in his right hand on Saturday night at Nissan Stadium, his young daughter under his left arm. Tears filled their eyes as Robinson kissed Taylor on her forehead after making a winning bid on a special painting.
It was another memorable snapshot from an important night, when a record-breaking total of more than $1.8 million was raised for JDRF. The money the foundation raised goes toward helping find a cure for children and adults with the disease.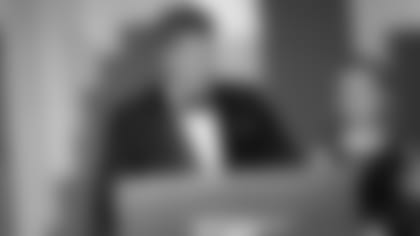 Jon Robinson, the team's Executive VP and General Manager, and his wife, Jaimie, served as the 2018 JDRF Promise Gala chairs. Their 12-year-old daughter, Taylor, was diagnosed with Type 1 diabetes in April 2012, on Easter Sunday. She is on an insulin pump and a glucose monitoring system.
The Robinsons donated $100,000 to research at the event, not counting the $8,000 winning bid on a special painting "Under the Stars." At last year's event, Robinson outbid everyone else for a "Dreams of the Future" painting inspired by youth ambassadors.
With a smile, Mary Lyn Schuh, Executive Director of the JDRF Middle Tennessee Chapter, said it was "fairly clear" Robinson would not be outbid for the item again this year.
"It is so neat, because they continuously described it as a dream come true to get to chair this event," Schuh said of the Robinsons. "I think they feel so fortunate that they have been blessed and have been put in a position to where they can have such a huge impact for a cause that means so much to them.
"Everything from the venue to sponsorship dollars that came in, people donating in their honor, incredible auction items. And just their leadership is totally the reason we were able to have such a successful and record-breaking total by the end of the night."
Roughly 1,000 turned out for the event, which included a VIP reception in the locker room, a silent auction and dinner, leading up to the Find-A-Cure auction.
The biggest bids of the night?
A total of $48,000 was raised by two bidders for the opportunity to call plays in the team's first home preseason game against the Buccaneers - $24,000 for the first offensive play, and $24,000 for the first defensive play.
A total of $18,000 came from two separate winning bids of $9,000 each to play golf with Robinson and Vrabel.
The Promise Gala raised roughly $1.6 million for JDRF last year.
Jaimie Robinson has served on the JDRF board in Nashville since the family moved to town in 2016, and at previous NFL stops in Boston and Tampa, the Robinsons were involved with the JDRF community as well.
Robinson has talked openly about how important the cause is for him and his family. Taylor was diagnosed when she was six years old.
"That organization is making great strides and working on an artificial pancreas that will hopefully help slow the disease until we can eventually find a cure," Robinson said. "It is something we are very passionate about.
"I know there are certainly worse things that afflict families out there, but this one is one that impacts our family so we are going to do everything we can to thwart it."
Type 1 diabetes is usually diagnosed in children and young adults. Since the body does not produce insulin, those with the disease are required to take shots or use an insulin pump, in addition to regularly monitoring their blood sugars.
JDRF is the leading global organization funding T1D research.
"Our goal was to beat last year," Schuh said. "To come in with such an incredible result at the end of the night was awesome.
"It was just an unforgettable night, and one I'll never forget. And hopefully one that we can look back on once we've cured Type 1 diabetes, and point to that as an important chapter in that story."
Titans GM Jon Robinson and his wife, Jaimie, take part in the 18th Annual JDRF Promise Gala at Nissan Stadium. The black tie event included a dinner, auction, and entertainment to help cure diabetes. (Photos: Kristen Sheft)