**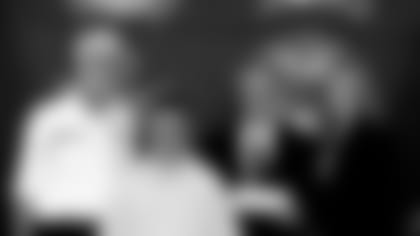 Titans COO Steve Underwood (second, right) and CFO Jenneen Kaufman (right) presented a check for $20,000 to Alan Bolick (left), president of Special Olympics of Tennessee, Tuesday at Baptist Sports Park.
NASHVILLE, Tenn. --** Nearly 150 Jazzercisers from across the state of Tennessee treated Titans fans to a special halftime show during the Titans/Rams game last season at LP Field.
Special Olympics of Tennessee was the beneficiary of their hard work this week when Titans COO Steve Underwood and CFO Jenneen Kaufman presented the organization a $20,000 check on behalf of the Tennessee Titans Foundation.
This is the fifth year the Jazzercisers raised significant dollars for the Titans Foundation, now totaling $160,000 over the history of the program. 
"All of us at Special Olympics Tennessee are truly grateful for this significant contribution," said Alan Bolick, President of Special Olympics Tennessee. "It comes during a time when we've been struggling to keep programs going due to the economy's effect on diminishing contribution the past two years.  This grant now allows us to move forward with expanding our latest and fastest growing program of Flag Football in communities throughout the state, as well as hosting a two-day state tournament this fall."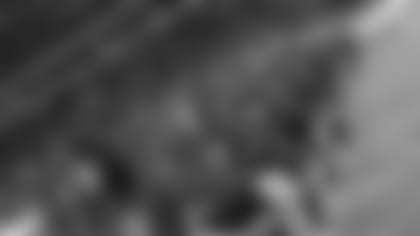 Nearly 150 Jazzercisers from across the state of Tennessee perform during halftime of the Titans/Rams game last season at LP Field.
Each Jazzercise performer, ranging from 18 to 65 in age, gathered sponsors during the season to help raise money for the Tennessee Titans Foundation, which was established by Titans owner K.S. "Bud" Adams, Jr., and his late wife, Nancy in 1999 to provide financial support and other resources to non-profit organizations throughout Tennessee. 
Jazzercisers trained with their respective groups before all 150 joined together for a pair of practices prior to the game day performance. 
"Special Olympics is the exact type organization that the Titans Foundation focuses on because it combines athletics and youth," Underwood said. "This is a great thing for us to be a part of, not only because we've had a long-standing relationship with Special Olympics, but because it engages young people with special needs who need this type of activities and involvement."
About Special Olympics:Special Olympics Tennessee offers year-round opportunities for children and adults with intellectual disabilities to participate in training and competition in a variety of 17 different sports. Through participation, these special athletes learn specific skills, develop within a positive environment of teamwork, and grow in positive directions... physically, mentally and socially.  Special Olympics Tennessee has more than 16,000 registered athletes participating in one or more sports statewide.  For more information, visit www.specialolympicstn.org.
About Jazzercise:
Judi Sheppard Missett, who turned her love of jazz dance into a worldwide dance exercise phenomenon, founded the Jazzercise dance fitness program in 1969.  Judi and Jazzercise Executive Vice President Shanna Missett Nelson have advanced the business opportunities of women and men in the fitness industry by growing the program into an international franchise business that today, hosts a network of 7,500 instructors teaching more than 32,000 classes weekly in 32 countries.
The workout program, which offers a fusion of jazz dance, resistance training, Pilates, yoga, and cardio box movements, has positively affected millions of people worldwide. Benefits include increased cardiovascular endurance, strength, and flexibility, as well as an overall "feel good" factor.  Additional Jazzercise programs include Junior Jazzercise, Jazzercise Lite and Personal Touch.  For more information about Jazzercise, go to jazzercise.com or call (800) FIT-IS-IT.