NASHVILLE, Tenn. — Titans cornerback Jason McCourty has partnered as an ambassador with the Southeast United Dairy Industry Association this year.  McCourty and OG Sebastian Tretola visited students at Rucker-Steward Middle School in Sumner county to celebrate continued commitment to youth health & wellness while encourage students to 'Fuel Up' with healthy foods so they can get up and be active for 60 minutes a day.
McCourty serves as a Fuel Up to Play 60 ambassador with the Southeast United Dairy Industry Association. Fuel Up to Play 60 (FUTP60), the nation's largest in-school wellness program, which is a partnership between the National Football League (NFL) and the National Dairy Council (NDC), in collaboration with the U.S. Department of Agriculture. FUTP60 empowers students to live active and healthy lifestyles by playing or exercising for at least 60 minutes each day and fueling up with healthy foods such as low-fat and fat-free dairy.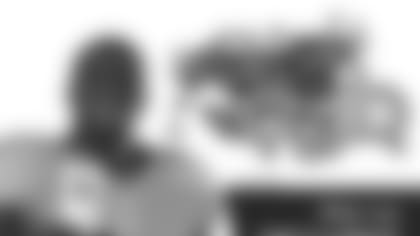 "We always have a ton of fun at events like this and I love to bring as much energy as I possibly can!" said McCourty.  "Getting the kids exited, talking about having a healthy breakfast every day, fueling your body up to do some great things throughout the course of the day and making sure to get 60 minutes of activity.  We also try to talk a little bit about leadership, so kids understand that you can start at an early age and lead your other classmates to show them positive and right things to do."
The NFL Play 60 campaign is designed to tackle childhood obesity by getting kids active through in school, afterschool and team-based programs.  The Southeast Dairy Association and the Titans work together to help make wellness part of the game plan in Tennessee schools through the Play 60 campaign/Fuel Up to Play 60.   The program encourages schools to make healthy changes in students' eating habits and physical activity.
The NFL Fuel Up to Play 60 – Tennessee Titans Hometown Grant program, focuses on priority school districts in the Tennessee Titans market.  Through the Hometown Grants program, deserving schools in the communities are identified to receive funding to help facilitate sustainable physical activity and healthy eating programs for students. Since 2014, the program has provided more than 700 schools nationwide with funds and resources, resulting in more than one million students staying physically active and making healthier food choices.  The NFL has committed $10,000 to Fuel Up to Play 60 and the Titans are providing Sumner county schools the Home Town grant to improve access to healthy eating and physical activity initiates.
This year, the National Foundation on Fitness, Sports & Nutrition is joining the partnership and providing resources, such as assessment software, training tools, and student recognition, to enable schools to implement the Presidential Youth Fitness Program, the nation's youth fitness education and assessment program. The donation is being made as part of the Foundation's #0to60 campaign honoring the 60th Anniversary of the President's Council on Fitness, Sports & Nutrition.
Many schools lack the resources to execute school wellness and this is why the Southeast Dairy Association, on behalf of dairy farmer families, is proud to support schools in the fight for healthier kids with the opportunities for Fuel Up to Play 60 schools to write for grants to kick-off or enhance their wellness plan in their schools.
"Sumner County schools are getting a $10,000 grant that will be disbursed among 5 schools.  We are part of the FUT60 program here at Rucker and we are excited about that!" said Jodi Green, principal of Rucker-Stewart Middle School.
The funds from the Hometown Grants can be utilized by the receiving schools in many ways to optimize healthy eating and physical activity based on local needs and interests.  This could range from vending machine wraps to support smart snacking, improving school breakfasts and summer feeding programs to physical activity equipment.
"Healthier students are better students said Laura Marbury, MS, RD, LD as Nutrition Affairs Program Manager with Southeast United Dairy Industry, Association.*  *  "Research shows that healthy eating and physical activity can improve academic performance. The Fuel Up to Play 60 program helps students feel their best and succeed in the classroom by encouraging them to get active and eat nutrient-rich foods like low-fat dairy, whole grains, fruits and vegetables".
"It's been awesome working with them!" McCourty said.  " I actually got the chance to go and visit the Hatcher Family Farm about a year ago just to see what they go through in order for us to have quality milk.  I'm really appreciative of them and their involvement within our school systems and making sure kids understand how important milk is."
Fuel Up to Play 60 is an in-school nutrition and physical activity program launched by the National Dairy Council, the Southeast Dairy Association and the NFL.  It's all about getting students to 'Fuel Up' with nutrient-rich foods missing from their diets, like low-fat and fat-free milk and milk products, fruits, vegetables and whole grains and to 'get-up and play' for 60 minutes a day.  New research shows that better nutrition starting with breakfast, coupled with increased physical activity can lead to better academic achievement.
Whether you are a parent, educator or friend, you can have a positive influence and make a difference in a child's life by encouraging them to eat well and play for 60 minutes a day.
Titans cornerback McCourty and guard Sebastian Tretola visited students at Rucker-Steward Middle School in Sumner county to celebrate continued commitment to youth health and wellness. (Photos: Lynne McCracken)