HOUSTON — Jake Matthews, two weeks from his eighth birthday, remembers the confetti falling from the roof of the Georgia Dome back on January 30, 2000.
He was in the stands for Super Bowl XXXIV, standing just behind the Titans bench. His father, Bruce, was on the field, just behind receiver Kevin Dyson as he stretched his right arm out toward the goal line, football in hand.
His reaction when Dyson was tackled one-yard short?
"I was ticked off,'' Matthews recalled this week. "Just an angry little kid."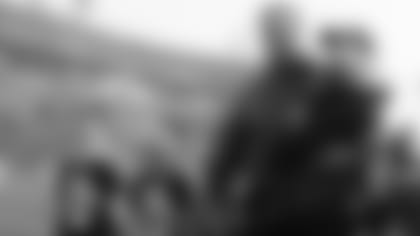 Matthews will be back at the Super Bowl here on Sunday, in his hometown, against the New England Patriots. He's a starting tackle for the Atlanta Falcons. And, in just his third season, he's in a game it took his dad, Hall of Famer Bruce Matthews, a lot longer to get to.
"It took him 17 years to win an AFC Championship game and make it to the Super Bowl – this is my third year, and he's a little envious of that," Jake Matthews said with a smile. "He never won one, so now it's my shot."
Bruce Matthews played 19 seasons, with the Houston Oilers and Tennessee Titans, and went to a record 14 Pro Bowls. He never made it back to the Super Bowl again, but he couldn't be prouder for his son.
He'll be at Sunday's game, decked out in Jake's No.70 jersey.
He said the road to the Super Bowl has been "magical." And he told his son to enjoy it.
"It is interesting when it finally happens, you think "We should have done this years before,'' Bruce Matthews said. "You don't realize how hard it is and all the things that have to happen. Just like is in '99, in hindsight it was almost magical for us, the way things worked out, whether it was the Music City Miracle or something else. Everything just fell into place. I've told him you have to enjoy it, because this could be it.
"We are really proud of Jake and excited for the whole family, especially playing in Houston."
Jake Matthews has fond memories of his dad's playing days, in Houston and in Tennessee.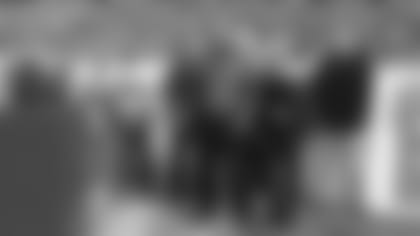 His favorite player was his dad, of course. His second favorite? Eddie George.
"Just hanging out in the locker rooms and seeing the players,'' Jake Matthews said. "I remember, probably one of the funniest things, my younger brother, Mike, every week would go in the locker room and wrestle Eddie George, like on the ground. I would be there, cheering him on. It's pretty surreal to think I was a kid, in the locker room, hanging out with my dad as he did this, and now, it's my turn and I'm doing it. It's a special feeling."
He has not-so-great memories of the end of Super Bowl XXXIV. The Rams beat the Titans 23-16 that day in Atlanta, in the same stadium where the Matthews family celebrated a win over the Packers in the NFL Championship Game.
Bruce Matthews and the rest of his family, including three sons, drove to the NFC title game in a rental van. After the game they all wore their No. 70 Falcons' jerseys with the name "Matthews" on the back. They posed for photos on the field. Jake Matthews said his father didn't cry, but he could tell he was excited. Brother Kevin Matthews, who played from 2010-12 with the Titans, was also there cheering his kid brother on.
"We were all so fired up,'' Jake Matthews said, "just hugging, and slapping each other, and just having a good time."
"It was special,'' Bruce Matthews said. "I love wearing my kids' jerseys. I always get more enjoyment out of watching them than myself, other than it being a little nerve-wracking."
Like his father, Matthews has been a dependable and consistent pro since being drafted sixth overall by the Falcons in the 2014 NFL Draft out of Texas A&M.
"Jake's had a great season," Falcons quarterback Matt Ryan said. "He is playing really, really well for us. And it is probably cool for him to be able to come back and play a Super Bowl in his hometown."
"He is awesome,'' Falcons guard Andy Levitre added. "Jake is a smart guy, and he is one of the most athletic guys we have on our team. He is consistent. I can't say enough good things about him."
On Sunday, Jake Matthews hopes to have a better ending than the one his father experienced 17 years ago.
That's still a painful memory for dad, and son.
"I think the most vivid memory is the confetti coming down,'' Jake Matthews said. "I thought for a second that Kevin Dyson had made it in and that they were going to have to go to overtime, but that didn't happen.
"Still, every time that we watch it, we're thinking, 'We're going to score this time, we're going to win it. We know we're going to come back.' It's just such a letdown that they came up so short. But, you know, it's my turn now, let's make a good memory out of this Super Bowl."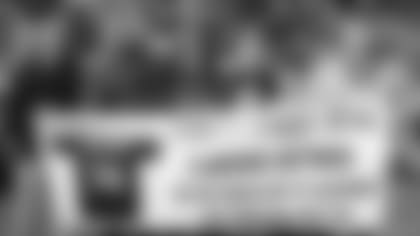 Photos: AP, Donn Jones, Getty