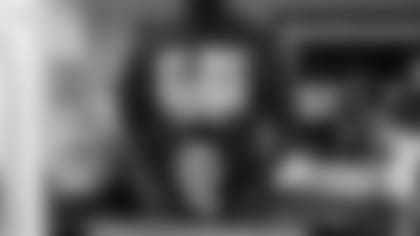 Tight end Jared Cook pictured with 10-year old fan Jackson Gobbell in Jackson, Tenn.
NASHVILLE, Tenn. -- During each year of our annual Caravan, Titans players and staff have hundreds of personal encounters with fans.  The first year of Titans Caravan was 1998 and since that time, Titans Caravan has made more than 700 stops and interacted with well over 100,000 fans. 
For the players and staff members fortunate enough to be meeting so many terrific Titans fans each year, there always seems to be a special story that drives home the reason Mr. Adams allows us to invest so much energy and resources into Titans Caravan.
For this staff member, one such special moment occurred last week as we checked into our hotel Tuesday night in Jackson following Day 2 of the caravan.  
Jackson Gobbell, age 10, and his mother, Melanie, were standing on the sidewalk admiring the specially-decorated Caravan bus.  When asked if he were a football fan, Jackson's smile was his answer.  When asked if he was a Titans fan, the excitement seemed to increase as he said "of course I am!"
I asked Melanie if she would watch my bags while I returned to the bus to retrieve copies of our player posters, schedule posters, T-Rac cards and bumper stickers. 
"There are several copies of each of these items, so please give the extras to your friends," I told Jackson.
At that point, the meeting that resembled thousands of others since '98 took a sudden change.
"They will look so good in his new room," said Jackson's mom.  "Our house burned to the ground last July and we've been living in this hotel for months. We hope to move back in our home next week."
At that point, it became clear that we needed to add more memories to our chance visit with Jackson.  I asked the family to join us the next morning at breakfast and told him I would introduce him to Jared Cook and have Jared autograph his posters.  I informed them that we would also be staying a second night at that hotel and that we would introduce him to Colin McCarthy and Alterraun Verner the next morning as well. 
After breakfast Wednesday, Jackson was also given an autograph football by Cook.  McCarthy and Verner also signed the ball the next morning. 
Jackson's mother Melanie shared her thoughts of their Caravan experience with the following words:  
"I just wanted to write a quick note to say thank you for the kindness and generosity that the Tennessee Titans showed our family for the last two days.  On Tuesday night we saw your bus pull up to the Residence Inn where we are living at the moment.  My 10-year old son and I went down to the lobby and tried not to act stars-truck.  While trying to be incognito, we went out to look at your bus.  Bob Hyde saw Jackson and asked him if he was a football fan.  Yes, was his answer!  Bob gave him some posters and stickers and asked where he was from.  When Bob found out that we lived at the hotel because our house had burned down to the ground last July, his kindness showed no bounds.  At breakfast the next morning, Bob surprised us with an oil painting he received as a gift from the hotel for Jackson to hang in his new room. Jackson was so excited, he was beaming.  You even gave him a football!  The players were so humble and kind.  They willingly let us interrupt their breakfast to take pictures and to sign the picture and ball that Bob gave us.  Everyone made us feel so special.  Jackson really had a story to tell his classmates. I'm sure that I drove everyone at my work crazy showing pictures and talking about the Titans to anyone that would listen.
This has been such a hard year for us.  It is hard to lose everything that you own in a matter of minutes.  As a mother, it was especially hard to know that my son had no toys at all.  We were shaken to say the least.  Our faith is strong though and the Lord has really helped us through the hard times.  We have rebuilt our house and hope to be back home soon.  To get to know and to be treated so kindly by your team has definitely been a bright spot in our life.  We just wanted to say a huge thank you for making us feel so special and for the cool stuff to decorate Jackson's room. (Although he told me that he wants the football to go on the mantle in the living room.)  We have always been Titans fans, and will continue to pull for the best team in the NFL. Wow! What an experience.  Thank your from the bottom of our hearts."
---Kimber, Melanie, and Jackson Gobbell; Jackson, Tenn
As the second week of Titans Caravan 2012 gets underway, it is our hope that many more Titans fans will enjoy meeting our players.  Week two of caravan begins with former Titans greats Blaine Bishop and Frank Wycheck on Monday's first-ever "Legends Day."  They will be followed by Rob Bironas, Jake Locker, Kenny Britt and Marc Mariani the rest of the week.
On behalf of the entire Titans organization, we would like to say thank all of the great fans we see each year on our Caravan.  We share your excitement during these two weeks as it remains one of biggest highlights of our off-season!