INDIANAPOLIS —Ezekiel Elliott looked the part at the NFL Combine on Friday, in more ways than one.
The Ohio State running back, projected as a first-round pick in this year's NFL draft, said prior to running the 40 on Instagram today he planned to wear special cleats to promote awareness for victims of domestic violence.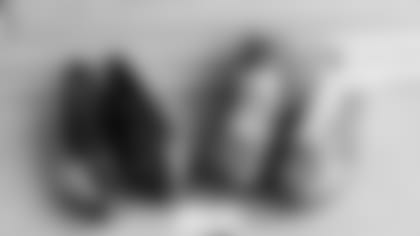 Ezekiel Elliott has custom cleats at combine to raise awareness for domestic violence victims. (via @EzekielElliott)
"Today I will be wearing these customized cleats during the combine to help raise awareness for victims of domestic violence. Both pairs will be auctioned off for charity and the proceeds will go to charities in Columbus, Ohio and St. Louis, MO that support and help victims of domestic violence,'' Elliott said. "Join me in the fight to help end domestic violence! Follow this hashtag to lend your support and stay informed of the charity auction. #RunEZE"
Elliott then posted impressive time of 4.47 the 40 later in the day.
He said on Thursday he hoped to run "in the 4.4, 4.5 area."
Alabama running back Derrick Henry posted an official time of 4.54 in the 40.
Elliott ran for more than 1,800 yards in each of his final seasons at Ohio State, with 41 total touchdowns.
NFL Network draft analyst Mike Mayock said he expects Elliott to go in the first round of the NFL Draft.
Ohio State tackle Taylor Decker complimented Elliott's approach, and attitude here this week.
"He's definitely one of my favorite guys. He's just a goofy guy, a ton of personality. I think that's kind of different for the running back position from other guys I've seen,'' Decker said of Elliott. "He was just fun to block for. I'd say the No. 1 thing was regardless of what he was doing on a play, he was going to go full speed.
"I've said it a bunch of times before but some of my favorite plays of him were of him blocking people or cutting people. He's going a million miles an hour and whoever is ahead of him is going to get hit. He loves it. He always talks about how he wishes he could be a lineman. He's kind of got that mentality and attitude. You appreciate a guy who gives you some love."
After an impressive collegiate career, Elliott hopes to make a good impression on NFL scouts here at the combine.
"I think the thing that sets me apart is my versatility,'' Elliott said. "I'm a guy that can play three downs. You don't have to take me off the field. I value blocking more than anything. I obviously love to run the ball and I think I have great hands out of the backfield."