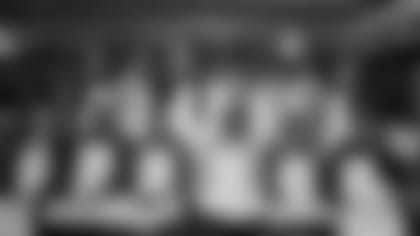 Several Titans players joined teammate Chris Hope at his 2nd Annual "Night With the Secondary" Monday night at Shogun in Brentwood, Tenn.
NASHVILLE, Tenn. --** Tennessee Titans Safety Chris Hope and several of his teammates spent Monday evening behind the hibachi grills of Shogun Japanese Steakhouse, "cooking" up a good time for a sold out crowd of over 160 guests. The 2nd Annual "Night with the Secondary" charity event raised several thousand dollars for shoe charity Soles4Souls.

Fans were invited to join Hope and numerous members of the Titans defense for the evening. Along with the four-course meal, they were able to bid on over 30 unique and priceless silent auction items while receiving autographs and posing for photos with players.

Hope's teammates in attendance included Cortland Finnegan, Kyle VandenBosch, Michael Griffin, Vincent Fuller, Rod Hood, David Thornton, Jason McCourty, Ryan Mouton, Colin Allred, Stanford Keglar, Stephen Tulloch, Gerald McRath and Nick Schommer.

"This event was such a good time to host," said Hope. "It really benefits a great charity in Soles4Souls and it is awesome for my teammates and I to interact with so many fans. I think a great time was had by all, and several of the guys came away with a new appreciation for cooking."

Hope is the National Spokesperson for Soles4Souls and donates his time to the charity by helping distribute shoes to those in need in the Tennessee and South Carolina areas, as well as donating $100.00 for each tackle made during the season. To date, Hope's personal support has raised over $30,000, equaling 15,000 pairs of new shoes for the non-profit.

Fans who want to support Hope and honor his dedication to the non-profit can help today by texting HOPE24 to 20222. A $5 donation will be made in Hope's name to Soles4Souls for each text. This is an opportunity to "Step Up" and help Soles4Souls with their mission of the "Changing the World, One Pair at a Time"

Nashville-based Soles4Souls® facilitates the donations of both new and used shoes, which are used to aid the hurting worldwide. Soles4Souls has distributed more than 5.5 million pairs (currently donating one pair every 9 seconds) to people in over 125 countries, including Honduras, Uganda, Romania, and the United States. The charity has been featured recently in Runner's World and the Green Guide by National Geographic. It has also appeared on CNN, NBC, ABC, FOX, CBS, and hundreds of regional outlets around North America. Soles4Souls is a 501(c)(3) recognized by the IRS; donating parties are eligible for tax advantages. Visit www.giveshoes.org for more information.