Nashville, TN, March 26, 2008 –Titans Safety Chris Hope stopped by the Nashville Rescue Mission in between a busy day of team workouts on Wednesday to participate in the Soles4Souls Shoe Donation, an event benefiting local persons in need by providing them with new pairs of shoes. A strong supporter of the organization, Hope pledged $100 for every tackle he made in 2007 to Souls4Souls, accumulating in a $6,000 donation. Hope will again pledge $100 for every tackle he makes in 2008.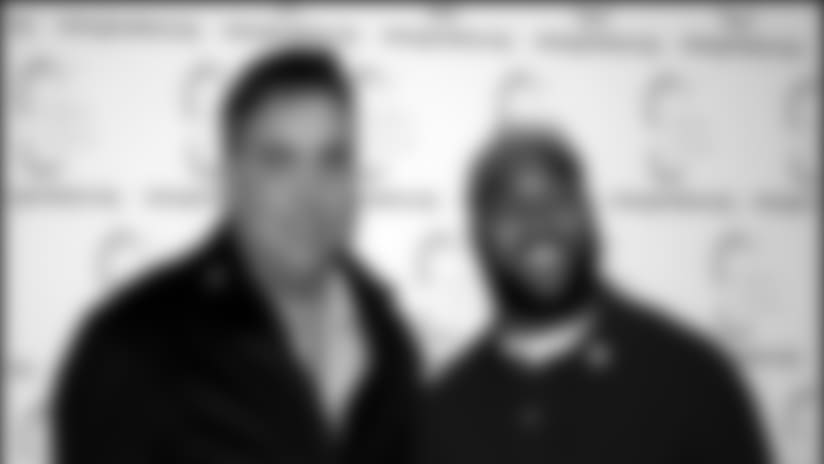 Soles4Souls founder Wayne Elsey (L) and Hope have partnered several times to help the less fortunate benefit from new pairs of shoes.

Held in the usual game lounge for visitors of the Mission, Soles4Souls provided 1,000 pairs of new shoes to residents of the Nashville community. The event marked the third shoe distribution within the past 10 months in the charity's ongoing commitment to those in need of one of our most overlooked necessities — shoes. Hope helped recipients try on shoes, find the right style and locate the right sizes, all the while providing words of encouragement.
Started in 2004 during the aftermath of the tsunami that ravaged Southeast Asia, founder and CEO of Soles4Souls Wayne Elsey commented on how much it meant to the participants to have Hope lending his time to the event.
"Having Chris involved lets them (today's recipients) know that they are important to him. To give them a pair of shoes, something that we take for granted everyday, will help them out in the future and help put a smile on their face," said Elsey.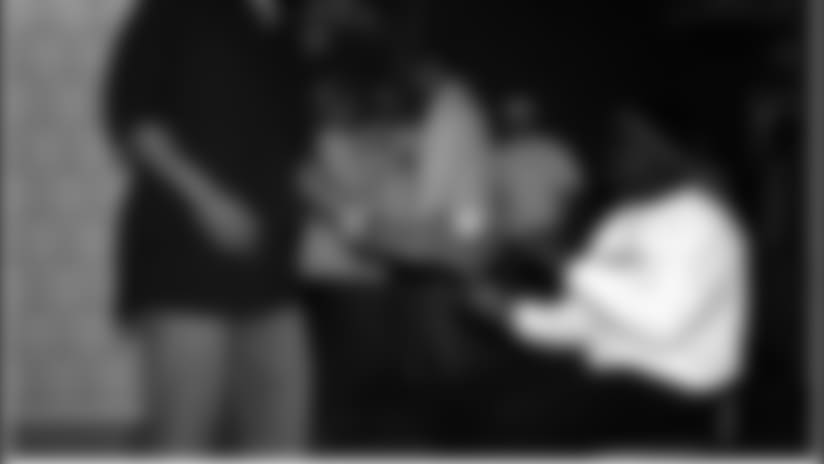 Hope helps a recipient get fitted for a new pair of shoes.

Inspired by the large turnout, Hope talked about what it meant to him personally to be involved with the shoe donation and why Soles4Souls is one of his favorite organizations.
"Working with Soles4Souls gives me the chance to give my time, meet people in need, and touch them in a different way. When you give someone a pair of shoes, you can see their faces light up, almost like they're a kid again," said Hope. "I consider it a real blessing to be involved in something like this, and I'm thankful I was able to participate."
 
The Titans hosted a Shoe Drive to benefit Soles4Souls this past season versus the Houston Texans on Sunday, Dec. 2 at LP Field.  Titans fans helped donate approximately 7,400 shoes during the drive to benefit events and non-profit organizations such as the Nashville Rescue Mission.
 


Soles4Souls distributed 1,000 pairs of new shoes to needy recipients in Nashville during the shoe donation.

According to Soles4Souls, it's estimated that Americans have 1.5 billion pairs of unworn shoes lying in their closets. The charity can use each and every one of these pairs to make a tangible difference in someone's life. 
Based in Nashville, Soles4Souls facilitates the donations of shoes, which will be used to aid the hurting worldwide.  The organization has distributed more than three million pairs of shoes since January 2005 (or one pair of shoes every 28 seconds). For more information about Soles4Souls, please call (866) 521-SHOE, visit
www.giveshoes.org
or
www.soles4souls.org
.