**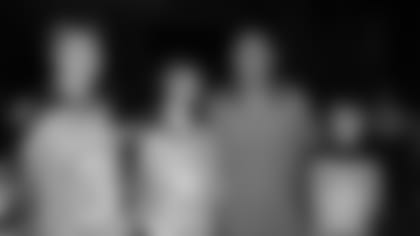 On the field, Cortland Finnegan is as tough as they come. Off of it, he enjoys being a role model and mentor for children in the community.
NASHVILLE, Tenn. --** When watching Cortland Finnegan on the field, you'll find one of the NFL's feistiest players, a physical cornerback who goes toe-to-toe each week with the league's top receivers and is not willing to back down to anyone.
Off the field, there is a much softer side to the 26-year old, which is apparent when looking inside his locker at Baptist Sports Park. Hanging on the inside walls are several pictures and drawings that young fans have sent him over the years.
The marker drawings on notebook paper, he said, are the ones that especially keep him young.
"A lot of this stuff is from kids," Finnegan said. "Stuff that is inspirational and its humbling at the same time for kids to have a role model such as myself and look up to me. When you grew up, you wanted someone to wear your jersey. Playing and seeing kids do that is a humbling experience."
The Titans drafted Finnegan in the seventh round in 2006. He played safety in his college career at Samford, but Tennessee moved the 5-foot-10, 188-pound Finnegan to cornerback. The speedy Finnegan ran the 40-yard dash in 4.33 seconds in pre-draft workouts, and the scrappy defender adjusted quickly, winning a starting job in 2007. He earned a Pro Bowl selection in 2008, along with Titans safeties Chris Hope and Michael Griffin.
Finnegan recorded five interceptions in 2008, including one that he returned 99 yards for a touchdown in a win against Houston. In 2009 he became the first Titans/Oilers player to make five interceptions in consecutive seasons since Daryll Lewis (1994-97). The secondary struggled to open the 2009 season, but started 2010 on a stronger note.
"We're trying to get back to the 2008 form," Finnegan said. "We've got a chip on our shoulder. We've got a great coach who believes in us, an excellent defensive coordinator and a great scheme. We've just got to go out and execute and make the plays. We want to get back to that form where all four go (to the Pro Bowl). If we can do that, it would be wonderful."
Finnegan has played right and left cornerback in the NFL. Secondary coach Marcus Robertson, who switched from cornerback in college to playing safety in the pros, said moving across the field isn't an easy task. Robertson said Finnegan is up to the challenge.
"Cortland's done an outstanding job making the switch from the right side to the left side," Robertson said. "You know you're going to get a lot of the looks from the quarterback, being that the majority of the quarterbacks in the league are right handed. The other thing is the technique is a little bit different, so you've got to look at things from a different perspective. He's out here working hard every single day, working to try to perfect his technique on that side."
That's not the only change Finnegan is preparing for. He and his wife Lacey Finnegan are expecting their first child in the spring.
"If I plan it right, I want to have five kids," Finnegan said. "Someone's got to take care of me because I'm a lightweight in a heavyweight fight. There's going to come a time and a place where I have to walk away from the game, and I want someone to be there to take care of me that I can love on."
Finnegan is one of the most active football players in any community. He started The Cortland Finnegan ARK31 Foundation in 2009. A cornerstone of the foundation is "Karaoke for the Cure," which raises money for the Leukemia and Lymphoma Society (LLS). The foundation, www.ark31.org, also hosts "Kid's Carnival Day at the Nashville Zoo and "Cortland's Christmas Dinner" for families from LLS and Special Olympics of Middle Tennessee. Finnegan donates money to those organizations for each tackle he makes.
"It's life after football, but it's a chance to give back to Tennessee because they've given so much to me," Finnegan said. "Starting my own foundation has been a wonderful thing, a chance to give back to kids. I'm a big kid at heart. I want to have five, so any chance I can give back to a community that's given so much to me and to a great cause and things that are dear to my heart, then I'm going to do it."
Cortland and Lacey Finnegan met through their passion for helping others. He is president of the ARK31 and she is executive director. Lacey previously worked for former Atlanta and current Dallas linebacker Keith Brooking's Children's Foundation in Atlanta.
"She's actually into non-profit work," Finnegan said. "She's so diligent in helping me and being great. We became friends. We had the same passion about helping kids with leukemia and lymphoma. Her friend had just passed away from lymphoma, so we hit it from the jump and we were friends. The next thing you know, we fell in love."