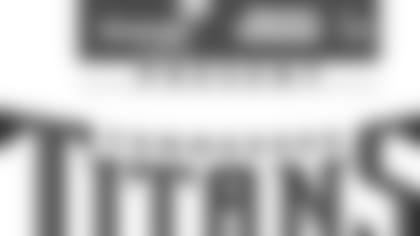 NASHVILLE, Tenn. – Tennessee Titans offensive lineman Michael Roos, quarterback Matt Hasselbeck and cornerback Jason McCourty will kick off the 14th Titans Caravan on Monday, April 30, headlining the first day of the team's two-week annual tour through the Mid-South.  The Caravan, sponsored by Grange Insurance, will stop Monday in the communities of Greenbrier, White House, Smiths Grove, Bowling Green, Hopkinsville and Clarksville.
Roos will begin the day in Robertson County, Tenn. Students from Greenbrier and Watauga Elementary Schools will come together at Greenbrier High School (126 Cuniff Street) to hear from Roos in a special Titans Caravan school program.
The school program features a high-energy, educational message from seven-time Pro Bowl Titans mascot T-Rac, host Rhett Bryan and at least one Titans player.  The Titans use the opportunity to speak to the youngsters about the NFL's Play 60 program, which stresses the importance of getting at least 60 minutes of active play each day, and also the benefits of making good choices in all parts of their lives. T-Rac and the Titans school program are sponsored by Tennessee State Parks, which celebrates its 75th anniversary in 2012 and will provide several unique surprises to viewers during the program.
Hasselbeck will join Roos at the White House, Tenn., Kroger (510 Highway 76) at 11:15 a.m. for a public autograph signing.  The duo then heads to Smiths Grove to visit with students at South Edmonson Elementary School (1058 Chalybeate School Road) at 1:30 p.m.
The day concludes with three consecutive public stops: 3:30 p.m. at Shoe Carnival in Bowling Green (2945 Scottsville Road), 5:45 p.m. at O'Charley's in Hopkinsville (4223 Fort Campbell Boulevard), and 7:30 p.m. at Kroger in Clarksville (1489 Madison Street).  In Clarksville, McCourty will join the group.
The public events allow fans to meet the players, T-Rac and the "Voice of the Titans" Mike Keith.  Posters are provided to all Caravan attendees for autographs, and photos are encouraged.  Every Titans Caravan public event is sponsored by the Trusted Choice agents of the Insurors of Tennessee and is done at no charge to fans.  Public stops generally last one hour.
Also for the first time, the U.S. Army will be joining the Titans Caravan public stops.  Fans will have the opportunity take part in a cornhole competition, test their skills at a variety of team-building exercises and claim free commemorative Titans Caravan 2012 dog tags.  U.S. Army representatives will be on hand to share the exciting opportunities available in today's Army.
A product of Eastern Washington, Roos has become one of the NFL's top tackles and one of the franchise's building blocks.  He has been among the most durable of all current linemen, registering starts in every game in his first seven seasons—15 games at right tackle and 97 contests at left tackle.  His total of 112 consecutive starts currently ranks as the NFL's second-longest active streak.
Hasselbeck is entering his 14th NFL season.  In 2011, his first season in Tennessee, the three-time Pro Bowl quarterback produced one of the best seasons of his career.  His 3,571 yards made up the fourth-highest total in team history, and his 18 touchdown passes were the most for the team since 2004 (Billy Volek).  Hasselbeck, formerly of Boston College, signed with the Titans as an unrestricted free agent in 2011 after spending the majority of his professional career with the Seattle Seahawks.
In only three seasons, McCourty has emerged as one of the young leaders of the Titans defense.  Originally a sixth-round draft choice in 2009, the former Rutgers standout set a career high in 2011 with 15 starts.  He also led the club with 13 passes defensed, tied for the lead with two interceptions, and scored his first career touchdown on a blocked punt.
Titans Caravan began in 1998 as a small effort to spread goodwill through the region. This year, six full-time staffers will travel to 50 total stops with Titans players and T-Rac through the Mid-South on a specially-decorated motor coach provided by Grand Avenue.  Since 1998, Titans Caravan has made over 700 stops, traveled approximately 50,000 miles, visited close to 300 schools and allowed the team to interact directly with an estimated audience well in excess of 100,000 fans.